Because no one reads the newspaper, and SportsCenter's anchors are too perky for this early in the morning, Deadspin combs the best of the broadsheets and the blogosphere to bring you everything you need to know to start your day.
•Police clashed with protesters in downtown Vancouver, arresting seven. What were they protesting? Nothing in particular. Authorities say many of the crowds were Anarchists, who are apparently offended by a well-planned, smooth-running Olympic games. Also, anarchists? Really? When did Canada become America's labor movement circa 1890?
•USA! USA! Hannah Kearney wins our first gold, edging out the Canadian favorite in the moguls. Had I heard of her before? Nope. Do I fully understand what's going on in moguls? Not really. But do I know what country she's from? USA! USA!
•Apolo Anton Ohno becomes the most underwhelming six-medal winter athlete in history Two Korean dudes wiped out on the final turn, giving Ohno the silver and teenager J.R. Celski the bronze in the first podium appearance for America. I had forgotten that short track is basically rollerball on ice.
•David Stern swears the NBA will lose about $400 million this season, and that's why there needs to be a new, owner-friendly CBA. I mean, maybe if the Rockets hadn't signed T-Mac to that six-year, $400 million contract extension (It only seems like that).
G/O Media may get a commission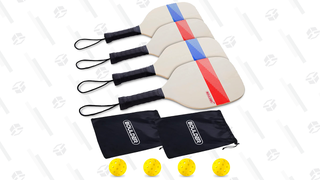 It's Pickleball
Pickleball Sets
•One thing's for certain: I hope they're not planning to make up that deficit by selling tickets to the dunk contest every year. Nate Robinson won his third title by...being a short dude. Barkley wondered aloud if anyone had to win, and called it lackadaisical. We wonder if the new CBA won't give David Stern the exclusive right to decide who participates.
•••••
Good morning. Depending on your point of view, today is either Valentine's Day, or the Daytona 500 (it cannot be both). Let's remove the restrictor plates from our heart...together.