Big choices today, folks. On the one hand, you could do something fun and enriching and squeeze a little enjoyment out of your weekend; on the other hand, you could subject yourself to the misery of what might be the worst playoff quarterback matchup in NFL history. Tough call!

The Texans are stuck with quarterback Brick Ostenpfeffer after replacement Ted Sewage suffered a concussion in Week 17, while the Raiders chose rookie Common Cook over Matt McGroin, who is both bad and also is recovering from a left shoulder injury. Without franchise quarterback Derek Carr, Oakland is in a shitty enough situation that they brought in journeyman practice squad quarterback Carrot Gilbert this week as an emergency backup. For a playoff game!
None of these men are any good at football. You can see why this might make for a less-than-spectacular game of football.
Playoff games are meant to decide which team will advance to the next round, but the "winner" of this game gets to go have the Patriots turn them into Sad Cowboys Fan on national television. There is nothing at stake. The only reason to stage this exhibition at all is so the putrid Texans can host an extra home game. It couldn't possibly matter less who wins. Throw this game in the garbage.
Spend your late afternoon watching Hidden Figures (it's good!) or binge-watching episodes of the original Law & Order, finally programmed against the NFL as God intended. This abomination of a matchup will work itself out whether you force yourself to bear witness or not. By the time the primetime game comes around, there'll be plenty of good college basketball and interesting NBA basketball to occupy your attention. Behold:
Other Sports
7 p.m. — ESPN News — NCAA Men's Basketball: Oklahoma State vs. Baylor (2)
Oklahoma State's first real bummer of a loss came Wednesday, when they dropped a tight one to lousy-ass Texas. The Cowboys even got some top-25 votes in last week's USA Today Coaches Poll. They'll need a hell of an effort against Baylor to keep those votes, especially now that Baylor can expect to vault to number one overall if they win this one and remain undefeated.
G/O Media may get a commission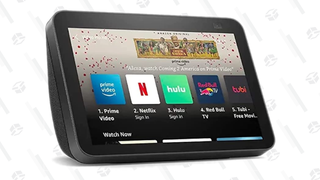 7 p.m. — NBA League Pass — NBA Basketball: Knicks @ Pacers
Ah yes, world-beating super-duper-star and Future of Basketball in New York City Derrick Rose leads his valiantly overachieving Knicks, with their pristine 23rd-ranked net rating, into battle against their historic foe the Indiana Pacers. Why, with Rose's track record in New York of shooting 26 percent from beyond the arc and averaging almost—almost—1.8 assists per turnover, coupled with his terrific 108.4 defensive rating and 50.5 percent True Shooting on 26 percent usage, it's pretty clear why fans around the globe are using their votes to put him in the upcoming All-Star game! Actually it's good that fans get to pick the All-Stars!
7:30 p.m. — FOX Sports 1 — NCAA Men's Basketball: Marquette @ Villanova (1)
Villanova is looking to rebound from their first loss of the season, Wednesday night at Butler. Marquette is no Butler, and the Golden Eagles don't have the advantage of the home court, but they hung tough on the road against a good Seton Hall squad on New Year's Day, and they might give the Wildcats a test.
7:30 p.m. — NBA League Pass — NBA Basketball: Pelicans @ Celtics

The Pelicans are sixth in defensive rating, which is useful, because their offense is horrible—third-worst in the NBA by points per possession, ahead of only the awful 76ers and the broken Heat. You could almost talk yourself into this game being a contest of contrasting strengths—the Celtics have a top-10 offense, but their defense is ranked in the bottom half of the league. They also struggle mightily on the defensive glass, but the Pelicans are in no position to take advantage of this vulnerability—New Orleans is the very worst offensive rebounding team in basketball, probably in no small part because they insist upon using Anthony Davis as a perimeter isolation player, and not as a pick-and-roll monster or low block weapon. Still, with Boston's deficiencies and the very specific strengths of the Pelicans (pretty much just The Brow), this could be a game.
8 p.m. — ESPN — NCAA Men's Basketball: NC State @ North Carolina
NC State's 12-3 record wouldn't be especially impressive, given the strength of schedule overall, except that they beat the absolute hell out of 21st ranked Virginia Tech Wednesday night. UNC's first two conference games haven't been real encouraging: a 12-point loss to Georgia Tech, and a one-possession win at Clemson Tuesday night. But NC State has far-and-away the most interesting player in the game in freshman point guard Dennis Smith. This has a good chance of being a pretty fun game.
8 p.m. — NBA League Pass — NBA Basketball: Raptors @ Bulls
This is one of two games today that might not otherwise be interesting, except the better team is the visiting team and is scuttling just a little. The Raptors are still great, and they're worlds better than the Bulls, but they got absolutely thrashed by the Spurs on Tuesday, and pissed away a perfectly winnable road game against the Suns last week while licking their wounds from their loss to the Warriors the previous night. Those three losses, sandwiched around a win over the cratering Lakers, made up Toronto's worst stretch of the season, and they'll be hoping to get healthy against a Chicago team looking to score their first three-game win streak since mid-November.
8 p.m. — NBA League Pass — NBA Basketball: Nuggets @ Thunder
The Nuggets are part of that miserable four-team group sucking their way around the Western Conference 8th seed. God they're annoying. They'd won six of nine headed into their last game of December, a stone cold lock of a home game against the putrid Sixers. They shat that one away and have since tacked on three straight losses, inspiring head coach Mike Malone to raise hell about his team's lack of veteran leadership. Meanwhile, the Thunder are back home after a tough three-game road trip, and both teams are desperately looking to get right. Hopefully that will mean a fiercely competitive game.
8 p.m. — NBA League Pass — NBA Basketball: Jazz @ Timberwolves
This is the fourth stop in a five-game road trip for the Jazz and the first leg of a back-to-back that continues tomorrow night in Memphis. This is also the second time they've visited Minnesota—they won comfortably there in late November despite playing without Derrick Favors. The Wolves still haven't figured things out—they recently dropped consecutive games to the infuriating Blazers and the goddamn Sixers—but they're capable of putting on a show, and it will be cool to watch Karl-Anthony Towns and Rudy Gobert slug it out, if nothing else.
8:30 p.m. — Watch ESPN — NCAA Men's Basketball: Arkansas @ Kentucky (6)
The Razorbacks played reasonably well against Florida last week, but don't yet have anything close to a signature win. But you're not tuning in to see if goddamn Arkansas can secure a big win against Kentucky. You're tuning in to see if Kentucky freshman Malik Monk will go off and score 40 points with highlight reel play after highlight reel play. He's insanely fun to watch.
8:30 p.m. — NBA League Pass — NBA Basketball: Hornets @ Spurs
The Hornets are a weird team. They've already had two four-game losing streaks this season, and the closest thing they've had to a good road win was the thumping they put on the Grizzlies the night Mike Conley fractured his back and the whole world thought he was pretty much dead. But the Hornets are good! They're a well-coached team with some solid depth, and they played the Spurs pretty tough in their first meeting, in Charlotte. And, at least theoretically, they have the lineup flexibility to not be too flustered by San Antonio's floor-spreading bigs. Who knows, this could be a good game.
10 p.m. — NBA League Pass — NBA Basketball: Pistons @ Trail Blazers

Without any doubt, these are the two teams in the NBA that are the furthest behind preseason expectations. The Pistons seem like they might be a couple losses away from a full-scale meltdown. On December 14 they were third in the NBA in defensive rating and were a game above .500 with their roster finally getting back to full strength. From December 15 to today, they've lost 8 of ten games and have the 29th ranked defense in the NBA. That's an incredible, horrifying slump for a team whose talent, coaching pedigree, and roster stability suggested big things for this season. And the Blazers....woof. They're hoping to rebound from a miserable 4-11 December and climb back into the playoff picture in the West. The good news is, their preferred starting lineup (Damian Lillard, C.J. McCollum, Moe Harkless, Al-Farouq Aminu, Mason Plumlee) has a strong net rating on the season (8.7), and is finally back in action after Aminu missed a bunch of time last month. If they can defend they've got a chance, because you know they can score.
TV Reruns
4 p.m. — ION Television — Law & Order: Special Victims Unit
SVU is a regular Sunday marathon on USA, but also has a Saturday marathon on ION.
4 p.m. — BBC America — Star Trek: The Next Generation
This Saturday marathon wraps up at 8 p.m., when BBC America shifts to a Star Trek movie. Solid.
4:30 p.m. — TV Land — The Golden Girls
Heh. I actually had no idea TV Land was riding the Golden Girls wagon all weekend.
5 p.m. — WeTV — Law & Order
This is like the parting of the counterprogramming skies. The great unicorn of NFL counterprogramming power moves. Except, in this case, the NFL came to WeTV's regular Saturday Law & Order marathon, and not the other way around. What would it take to get Sundance or WeTV to shift or expand their regular Law & Order binge marathons to Sundays? Alas.
5 p.m. — Logo — Roseanne
Wherever the NFL goes, there's a Roseanne marathon overlapping somewhere. Probably on Logo.
Movies
4 p.m. — Ovation — The Big Chill
Mostly I want to use this space to complain about TNT's lineup today. They've got the 2014 Godzilla flick wrapping up right before today's playoff games, which is fine, but then they've got a couple of Percy Jackson movies lined up into primetime. I have literally never heard of these movies before typing this paragraph. They're not even trying, today.
4:30 p.m. — AMC — The Dark Knight
This comes immediately after Batman Begins, a pretty good counterprogramming slate for a network that often falls back on serial reruns.
5 p.m. — Syfy — A Nightmare on Elm Street
This is actually the end of an afternoon-long Freddy Krueger marathon on Syfy. They shift from here to Final Destination movies, if that's your thing. This afternoon's programming is pretty horrible, but Saturdays are pretty poor in general.
5 p.m. — FXM — The Sandlot
It's a day of kids' stuff on FXM, including something called Cowgirls 'n Angels, and then, after Sandlot, back-to-back airings of Rio 2.
5 p.m. — Sundance — Mississippi Burning
You've got a few choices, if you're determined to ride the couch tonight. But it's even less inspired a slate of options than the average Sunday, owing in part to the fact that Saturday programming is generally far worse than Sunday programming. This one has some good scenes and a good Gene Hackman performance.
8 p.m. — AMC — First Blood
It's an odd choice to follow the first two Christopher Nolan Batman movies, but is a perfectly fine movie to happen upon while scrolling through channels on a blustery Saturday.
8 p.m. — BBC America — Star Trek: Insurrection
Kind of a cool way to cap a marathon of Star Trek: The Next Generation episodes.
8 p.m. — IFC — Inception
A perfectly solid move by IFC, even if they're once again pissing away their no-content-edits strategy on a movie that requires zero content edits on network television.
8:55 p.m. — Comedy Central — Office Space
If you're hanging around Comedy Central today, you can catch the end of a Futurama marathon earlier in the afternoon.
Stay warm out there.