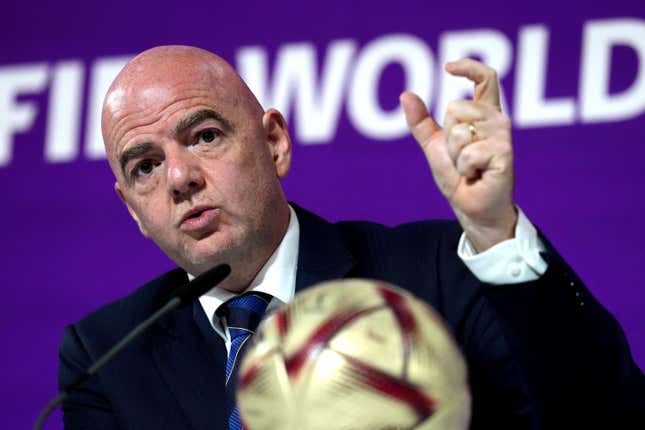 It wasn't quite the theater of the idiotic that his pre-Qatar speech was, but FIFA president Gianni Infantino had to get in front of a mic before the kickoff of the women's World Cup in Australia and New Zealand and certainly wasn't in any more of a mood to take any responsibility for problems with the tournament or FIFA's administration of it all.
Will the Saudi Basketball League poach NBA stars? | Agree to Disagree
Infantino was only too happy to point out the boost in prize money for this tourney over the last one four years ago. And certainly $110 million is better than the $30 million that was doled out in 2019. However, when the subject of where that money goes exactly, Infantino once again pulled out the, "Hey I just work here!" routine.
"We have issued recommendations but we are an association of associations," Infantino said. "So whatever payments we do will be through the associations, and then the associations will make the relevant payments to their own players."
Yeah huh, see, in a vacuum that would be fine. But this isn't a vacuum. Current Euros champion England's players are in a dispute with their FA because the Football Association no longer thinks it has to pay the regular bonuses it used to to the players because of the new FIFA money. Nigeria has players that haven't been paid by their FA for two years, according to their coach, so they'd be excused if they were a touch skeptical that money given to their FA is going to end up in their accounts. Same goes for Jamaica. Or South Africa. Canada's disputes with its FA are well-documented. This is only part of the list.
FIFA could certainly sanction any FA that doesn't send prize money to the players, and open up an avenue for players to lodge official complaints with them should they not get it. That seems like more paperwork than Infantino wants to fill out.
Infantino already oversaw the splitting of TV and marketing rights from the two tournaments, which certainly allowed him to get on his high horse about how European or Japanese TV wasn't as committed to promoting the women's game as he was. Infantino probably saw the splitting of the World Cup bidding process for TV and marketing as an avenue for FIFA to just gobble up more money instead of anything well-meaning, though he will certainly claim that. The fact that it didn't provide the cash Infantino had dreamed of is probably what caused him to shit a chicken about it in the press not so long ago.
There was simply nothing keeping FIFA from keeping the World Cup as a single-entity and splitting the prize money down the middle for both, such as you may find at tennis's four majors (though it took a couple of them a really long time to get to that point). Yes, both World Cups do not take place at the same time as Wimbledon does, but it's still the WORLD CUP. There's nothing keeping FIFA from dipping into their $5.7 billion of profits from last year to equalize the prize money either. The $310 million it would take to do so would be 5.4 percent of their profits, to be a little more exact. If promotion and growth of the women's game is really the aim of Infantino and FIFA, then it really shouldn't matter whether the tournament is self-sustainable or not. FIFA should just put on the tournament because it's the right thing to do. Remember, FIFA is a non-profit.
Much like his meltdown in Qatar, Infantino's blatherings will soon get erased by the play on the field, which is really all fans want to focus on. As most overseers of sports have found, the popularity and love these sports generate usually provide them just enough cover for their own idiocy, and, in fact, funds them to provide even more of it. Great gig if you can get it.
Dominic Canzone gets first MLB hit
MLB went a little loony last night, with 12 teams putting up 10 or more runs and four games seeing both teams score more than 10 runs. This of course will make everyone think that the ball is juiced again, such is the trust that Rob Manfred has earned while putting baseball in the trunk of his Yugo (did Yugos have trunks? Guess it's not important for now).
But anyway, it was a wacky night, and I'm always a sucker for a player getting his first MLB hit. Arizona's Dominic Canzone had gone hitless in his first 10 ABs in The Show, so he wasn't the most likely to tie a game against MLB-best Atlanta late in the game.
The smile at the end is by far the best part and the connection for most. I'm not sure what it is. Maybe it's that most of us, at least in my generation and those around it, grew up playing baseball at some point, so at some point we dreamed of doing just this while at least feeling like we know what it would feel like. Watching someone get their first hit in MLB still connects to the first time we got a hit at whatever level. We all know the throughline, even if we veered off the path long ago. That smile Canzone beams is the same one we did in some park many years ago. Part of us we can't let completely die, I suppose.
Follow Sam on Twitter @Felsgate and on Bluesky @felsgate.bsky.social