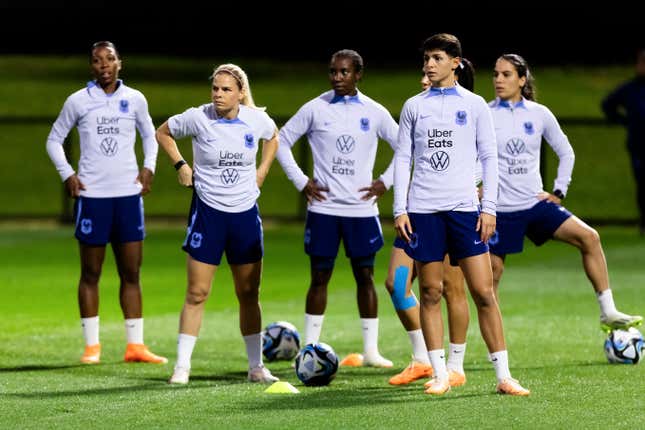 Sadly, the story for a lot of teams in this World Cup are those taking the field in spite, or directly to spite, their FAs. Canada, Spain, England, Nigeria, Haiti don't even complete the list of teams that are having problems with their governing organizations as they enter the biggest tournament in the world. In the long view, this is progress and bringing these fights to the brightest lights possible is how progress gets made, but it doesn't make for the best preparation for the World Cup.

Luis Rubiales' mom locked herself in a church and is on a hunger strike
But what about France, who successfully got a manager the players absolutely loathed shitcanned and replaced by an accomplished international manager? Which caused a boost to their already overflowing wealth of talent, and leaves them as one of the prime favorites to win the whole thing. Can happiness lead to success? We'll never know around here, but France might find out!
Can player happiness translate to wins?
So the full story, Corinne Diacre, who led France into the previous World Cup and Euros, drove everyone nuts (YARRRR) with inexplicable personnel decisions and training methods that left everyone, at best, bemused, and at worst, horribly frustrated. She stripped perhaps France's greatest ever player, Wendie Renard, of the captaincy without explanation, booted other stars off the teams for reasons in her own head, and accepted no discussion from her roster over those decisions or her training methods. She was such a burden on players that Renard retired from the national team rather than continuing to endure Diacre's reign. She was hardly alone, and eventually the French FA, navigating their own problems, realized they couldn't waste another major tournament on Diacre.
So out she went, and in came Hervé Renard, recently of the Saudi Arabia men's team at the last World Cup, and winner of two Africa Cup of Nations with Ivory Coast and Zambia. He also took Morocco to the 2019 World Cup, their first in 20 years. Renard is known as a heavy-players coach, which will be quite refreshing for everyone after the maniacal term of Diacre. Wendie Renard immediately came back to the national team, and striker/legend Eugénie Le Sommer has been welcomed back after being frozen out by Diacre. Le Sommer will especially be needed as Marie-Antoinette Katoto is going to miss out with an ACL injury.
Even without Katoto, Delphine Cascarino, and Amandine Henry, this France team is stacked. At first, it looked like France's left wing would be death for all who had to come up against it. Renard had moved Selma Bacha, who normally plays fullback at PSG, up to the left forward spot in a 4-3-3 so that France could also have Sakina Karchoul on the field at that left back spot. Both are considered some of the best attacking fullbacks in the world. However, Bacha was stretchered off in their friendly against Australia a week ago, and her status is unknown. If Bacha can't go, it would harm France's depth as well as rob them of her devilish dead-ball delivery, but in would step Clara Metéo, who poured in 12 goals for Paris FC this past season. On the other side of Le Sommer is likely to be Kadidiatou Diani, who scored 17 goals for PSG.
Grace Geyoro is the hidden blade from France's midfield three, who will use Le Sommer's clever movement to ghost into the box and pop to finish off crosses and pullbacks. Sandie Toletti is the heartbeat in the deepest midfield position, and she keeps France ticking by getting the ball from defense to attack.
France's defense is obviously stout with Renard back to marshall everything, Élisa De Almeida will partner Rendard in defense and was a standout of PSG this season and is just about to hit her prime. Waiting on the bench is Léa Le Garrec, who put up 16 goals and assists in Ligue 1 with Fleury this past season, Vivianne Asseyi who terrorized midfields all over the WSL with West Ham, as well as Ève Périsset who was a regular starting fullback for WSL champions Chelsea.
You won't find a more pressing team than France, even if Le Sommer does it more through smarts and positioning than a non-stop motor these days. It also leads France to be pretty foul-y when they don't have the ball, which was their downfall against the US last time around given the amount of freekicks they have to defend. But when they win the ball high up the field, they're quite clearly deadly. Renard won't hesitate to hit the gas with this team.
What about the rest of Group F?
The draw could have been kinder. While France should top this group, they'd better because if they don't it would mean a Round of 16 date with another headliner in Germany. But should they avoid that, the quarters would likely see either hosts Australia or Canada, or possibly Denmark. But it's imperative that France win the group and put off any date with Germany until later.
France can hardly claim to be alone when dealing with injuries, but they might be unique in harmony. This should be a team unburdened, and when the differences between the favorites get smaller and smaller every cycle, that could make a huge difference.
Trying to keep France from the easier path out of Group F will be Brazil, who are in something of a generational shift this tournament. This is most certainly Marta's last World Cup, which we kind of though the last one would be but y'know, here we are. Conceivably it could be Debinha's as well, though she's 31 and still may have a part to play in four years. It may be her last as a focal point, let's say. It will also likely be the last World Cup for stalwart left-back Tamires, at 35. They will be looking at players like Kerolin, Geyse, Gabi Nunes, and Ary Borges to take the torch. As always, Brazil will be wicked entertaining in the nation's traditional 4-2-2-2 set-up, and while Marta is unlikely to be a regular starter, you know there's one or two magical moments left for her in her swan song.
The other two members of this group are some CONCACAF longshots. Jamaica will go as far as Bunny Shaw, who scored 20 goals in the WSL for Man City, and Drew Spence of Spurs can take them. There's a few NCAA players in this squad, which gives you some idea of the talent deficit they'll be facing. Panama are in their first World Cup, and will looking merely to grab a point somewhere as a marker to meet next time. Their last two friendlies saw them lose by a combined 12-0 to Japan and Spain, so you can see what they're up against.
Follow Sam on Twitter @Felsgate and on Bluesky @felsgate.bsky.social