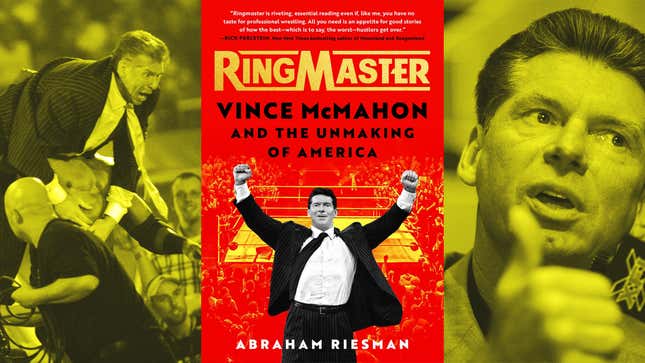 On one hand, mainstream interest in Vince McMahon, the "Walt Disney of wrestling" has never been higher: last year he retired in disgrace as CEO and chairman after allegations of sexual assault and misconduct. (He has previously been twice accused of sexual assault, and has denied all allegations of wrongdoing.) McMahon has since returned as chairman earlier this year amidst a rumored sale of the company. On the other, all of this allegedly happened in the space of six months, no mean feat for any biographer to have to fit into an already sprawling life history, let alone with publication looming.
Is Vince McMahon returning to WWE?
This is what author Abraham Josephine Riesman has attempted in Ringmaster: Vince McMahon and the Unmaking of America, released March 28, just in time for what is poised to be one of the biggest WrestleManias of all time taking place on April 1-2 in Los Angeles. The result is to varying degrees of success, with Riesman giving us a top-heavy deep dive into McMahon's early life. Ringmaster is meticulously researched, with nearly 40 percent of the book devoted to endnotes, but it's a largely dry and dense linear biography that doesn't really provide an entry point for laypeople.
This may prove a barrier for wrestling fans, too, who, if common perceptions are to be believed, aren't exactly known for their appreciation of literature.
What don't we already know about Vince McMahon?
Where Ringmaster flourishes is in its cultural study of McMahon's position in American society, as the subtitle suggests, which is an effective format that Riesman largely devotes herself to in the backend, with connections to everyone from Rick Santorum to Saddam Hussein and, of course, Donald Trump, who has appeared many times on WWE programming and is close friends with natural "heel" (wrestling parlance for bad guy) McMahon.
This ultimately peters out, though. "The earliest memory I have of my period of fandom is watching the Owen Hart memorial Raw," Riesman acknowledges, with reams dedicated to Hart's in-ring death and subsequent tribute show in 1999, which rightly rocked the wrestling world at the time. Reisman didn't watch wrestling with any regularity over the past two decades, which is perhaps why this incident looms so large in Riesman's consciousness and, indeed, the rest of this book, resulting in more recent events which arguably had a larger impact on the industry, such as the Chris Benoit double murder-suicide in 2007, being skimmed over.
What about all the...unpleasantness?
Earlier impactful events in wrestling and, indeed, McMahon's career, such as the alleged murder of Nancy Argento by one of McMahon's wrestlers, Jimmy "Superfly" Snuka ("The potential for scandal—dead girl, live wrestler, previous incident, blind eye turned—was enormous," Riesman writes, but "one shouldn't underestimate petty misogyny's ability to scuttle a domestic violence investigation.") and McMahon's alleged rape of WWE's first female referee, Rita Chatterton, in the 1980s, are peppered throughout the first half of the book's largely linear timeline (McMahon denies the rape accusation). By the millennium, this is mostly done away with in favor of more ideological musings—a format which I think the book would have been better served by adhering to from the jump.
"Vince created and inhabited a public persona so dastardly and villainous that no truth or lie, no accusation or allegation could further tarnish him," Riesman writes, ending the book on a September 2021 edition of WWE SmackDown, which she was in attendance for at Madison Square Garden. Upon asking some of the fans at the show what they thought of McMahon, Riesman notes:
This book is a powerful testimony to those things. I only hope that a) Ringmaster is picked up by some of these fans who chanted "thank you, Vince" at his retirement segment nearly a year later, and b) some of them stick this time.
---
Scarlett Harris is a culture critic and author of the book A Diva Was a Female Version of a Wrestler: An Abbreviated Herstory of World Wrestling Entertainment. You can read her previously published work at her website, The Scarlett Woman, and follow her on Twitter @ScarlettEHarris.