Last year the Yankees brought in an estimated $327 million to lead all major league baseball teams. Not bad considering that in 1973 George Steinbrenner bought the entire team for $10 million. But if you think those revenue numbers are big, you ain't seen nothing yet. When the new stadium opens next year revenues are poised to double. At least according to a pretty interesting examination of the Yankee revenue stream.
Says New York Business.com:
This quantum leap will be driven by factors ranging from higher prices for tickets and hot dogs to increased revenues from the YES Network for game telecasts. There will also be new revenue sources, such as leasing out the new stadium for concerts.
Where else does all this new money come from? Lots more dollars per seat, additional luxury boxes, and an increase in the average ticket price to $74. More from New York Business:
Plug in the $74 average ticket price implied in the team's 2009 projections, and the team's seat and suite revenues should reach about $312 million next year.
The Yankees make no secret of the fact that top seats in the new stadium will cost a fortune: Some box seats near the field, which now fetch $250, will cost 10 times more next year. The 56 luxury suites—almost three times as many as in the current stadium—will go for as much as $850,000 each, and the Yankees are seeking multiyear commitments.
G/O Media may get a commission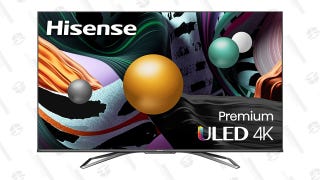 Save $350
Hisense ULED 65" Android 4K HDR Smart TV
$2,500 for box seats? A steal.
New Stadium Widens Lead In Standings [Crain's New York Business.com]
A Financial Analysis Of The New Stadium [New York Stadium Insider]