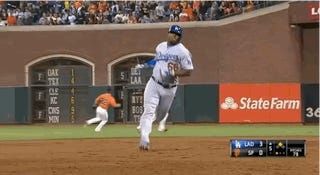 Yasiel Puig hit three triples and a double last night and made it look pretty damned easy. He finished the night 4-5 and became the second Dodger to hit three triples in one game and the first to do it since 1901. The last guy to hit three triples in one game was Denard Span did it for the Twins in 2010.
We begin in the beginning, in the first inning, with the only triple Puig even had to slide on. And that's only because it initially looked like it was a home run. A fan in a Dodgers jersey looked like he swatted the ball out of the air and back onto the field, and the first base umpire initially called it a homer. But with the ball still on the field, play carried on and Puig slid into third. The umpires reviewed the play, ruling it a triple because the ball hit the top of the fence. Even still, Puig was into third with plenty of time. The other two triples, Puig broke into a trot at around the shortstop position.
After the game, Puig was matter-of-fact, sounding like the baseball savant that he is, when answering questions like "how do you feel?" and "how'd you do it?"
''I'm tired,'' Puig said, shaking his head after sitting in the training room for more than 30 minutes wrapped in ice packs. ''I was just trying to hit the ball where nobody was.''
Yep, that'll do it.