That fan to the right of the top photo? That's basically me every time a baseball fight breaks out. "Oh! A fight!"
Benches cleared in Tuesday's 2-1 Giants win over the Dodgers in Los Angeles, as Yasiel Puig and Nick Hundley got into it at the plate. It was a typical baseball beef, a shover and not a puncher, but not due to a lack of enthusiasm on Puig's part. Keep an eye on him in the video, wading through a sea of blockers from both teams in a determined attempt to get to Hundley.
So what happened here? Puig was upset over fouling off a hittable pitch—he snatched his bat and you can hear him shout "fuck" in the video. Hundley took exception to that.
"He told me to stop complaining and get back in the box," Puig said. "When I got in his face, he told me to get out of his face, so that's when I got upset with him.

"I didn't like that he was telling me what to do, and then he said some words to me in English that I really can't repeat."
Hundley wouldn't tell reporters what told Puig, saying, "That stuff that's said on the field, that will be left out there."
Puig shoved Hundley twice, and later smacked Hundley in the mask with an open hand, which seems like a really good way to hurt your hand.
G/O Media may get a commission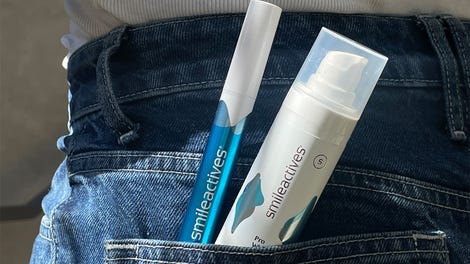 58% off
Whitening Powerhouse Pen & Gel Duo
The Giants were upset that Hundley was ejected along with Puig, despite never being the physical aggressor. Puig was just upset that this seems to keep happening.
"It doesn't happen with other teams," Puig said through an interpreter, "and it doesn't seem to happen when we're in San Francisco. … I'm not going to let them act like that in our house."
Once things calmed down, the Giants got the last laugh. Alen Hanson singled home the go-ahead run in the ninth inning off Kenta Maeda, the Dodgers' latest attempt to figure out their endgame in the absence of close Kenley Jansen. Maeda, who was clearly not happy about being taken out of the rotation, became the fourth Dodgers reliever in a row to lose a game in the ninth.
Los Angeles has lost five straight, and is now two games out of first and two and a half back in the wild card race.