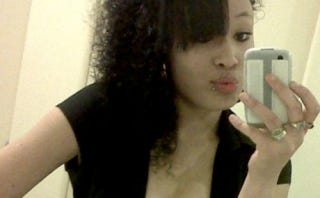 Well, this one kind of wrote itself for the Daily Star in London:
An Olympics ambassador who helped to promote the Games with London Mayor Boris Johnson was yesterday exposed as a riot suspect.

Sports star Chelsea Ives, 18, who is also a successful women's footballer with Leyton Orient, was shopped to police by her appalled mother.

She was filmed by a TV news crew apparently hurling bricks at a police car during disorder in Enfield, north London, on Sunday night.

The sports star boasted she had "the best day ever" after allegedly taking part in the mayhem that has swept the UK, Westminster Magistrates' Court heard. But she was spotted on the evening TV news by her horrified mum Adrienne, who then reported her to police.
Narc.
OLYMPIC GIRL'S RIOTING BOAST [Daily Star] (H/T Tomuban)