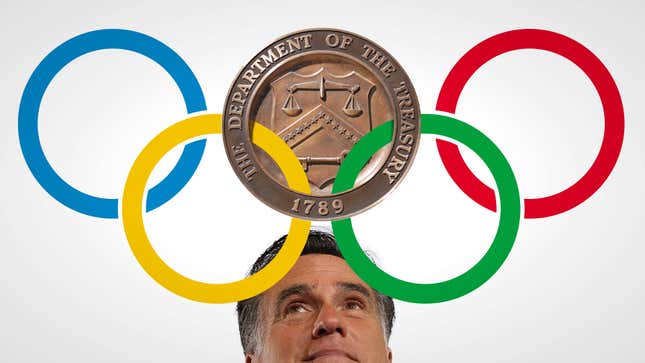 It's been called Mitt Romney's "golden moment"—the time he took over the troubled Salt Lake City Winter Olympics and led them to respectability on the world stage in 2002.
How running an NFL team is like running a restaurant | Chef Emeril Lagasse
His boosters say that Romney's stewardship of the U.S. Olympics show that he would be a fine president because of the way he managed a vast international enterprise with a huge budget.
What they don't talk about is how Romney and his Salt Lake buddies raised the money to finance the games. They took a page from the playbook of Bain Capital and other private equity funds, using an approach popular with the moneymen known as OPM—other people's money. Never put up your own cash if you can find someone else to do it for you.
For the Salt Lake games they found the biggest sugar daddy around: the federal government.
Many records were set at the 2002 Winter Games, but chances are that one will never be broken. That's the amount of federal dollars that Romney and his crew siphoned out of the federal treasury to help pay for the Olympic games: $1.5 billion. That was more than the federal government had spent on all seven Olympic Games held in the U.S. since 1904—combined. In inflation-adjusted dollars.
We discovered this during a yearlong investigation to find out who was paying for the Olympics and who in Utah would benefit from the games.
Pulitzer winners Donald L. Barlett and James B. Steele are the authors, most recently, of The Betrayal of the American Dream, which can be purchased on Amazon.
With the help of Utah's congressional delegation, Romney's Salt Lake Olympic committee pried federal dollars out of more than three dozen agencies on an unprecedented scale: $500 million for highways, bridges, roads and interchanges; $30 million for parking lots; $25 million for buses; $11 million for infectious-disease monitoring, food inspection, and medical response; $2 million to house the media; $1 million for a weather forecasting system; and several hundred thousand dollars to plant new trees in and around Salt Lake City—to name only a few of the goodies.
Romney himself lobbied Congress for a $12.7 million handout to cover the overtime pay of local police during the games. In defending the request for federal dollars, Romney said: "This is one last piece of the public-safety puzzle. You can't have the complete chain if you take out a couple of links."
No matter how you look at it, the strategy that Romney and the Olympic committee employed so effectively in Salt Lake City to underwrite the games is completely at odds with the image that he and his running mate Paul Ryan are now trying to project as stalwarts of a frugal government that disavows subsidies and expects people to stand on their own.
Their philosophy appears to depend upon where you happen to be standing.
When Romney headed the Winter Olympics, it was OK for Salt Lake City, with a metro area population of 1.6 million, to extract a $325 million subsidy from the federal government for its light rail transit system. But presidential candidate Romney now has a different view of transportation subsidies. He says he wants to end all federal appropriations for Amtrak, which serves 30 million American rail passengers a year.
The Utah Olympics provide yet another window into what a Romney presidency might mean. In addition to securing large outlays from Washington, the Salt Lake City committee helped wealthy developers and resort owners make the most of the opportunity afforded by the Olympic games.
One assist went to a multi-million-dollar ski resort owner, Earl Holding, that helped him exchange land he owned in remote Utah for a choice piece of federal property adjoining his ski resort. It was said this was necessary to make his downhill property more Olympic-ready, but his resort would reap the benefit long after the games ended.
When we found out about this, we decided to take a look what taxpayers had received in exchange for the land in the Salt Lake City area that had once belonged to them. The drive took us a couple of hours north out of Salt Lake City to a remote area bordering Idaho. There we made an interesting discovery. Some of the parcels were so isolated that no road led into them. So in exchange for beautiful land accessible to most Salt Lakers, American taxpayers wound up with out-of-the-way tracts of land whose only visitors would be wild animals.
When we asked Romney in 2001 how he could justify the record flow of federal dollars to one community to stage the Olympics, he accused us of writing a "ridiculous" article and said, "Do you realize this is just an absurd bogus approach?"
But you have to wonder: If the Olympics were being held in Salt Lake City today, would Romney ask the city to pull itself up by its bootstraps and forgo the federal funds? Or does he secretly believe that the federal government has an important role to play in financing infrastructure and keeping the trains running?
Whatever Romney actually believes, he's taken hypocrisy on the campaign trail to new heights by touting his work as Olympics CEO while at the same time denigrating the institution—the federal government—that he relied upon for financial support to make the games a success.
Donald L. Barlett and James B. Steele are one of the most widely acclaimed investigative reporting teams in American journalism. They have worked together for more than three decades, first at The Philadelphia Inquirer (1971-1997), where they won two Pulitzer Prizes and scores of other national journalism awards, then at Time magazine (1997-2006), where they earned two National Magazine Awards, becoming the first journalists in history to win both the Pulitzer Prize for newspaper work and its magazine equivalent for magazine reporting, and now at Vanity Fair as contributing editors. They also have written seven books. Their most recent is The Betrayal of the American Dream, which is available on Amazon.
Image by Jim Cooke.