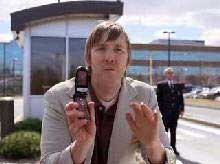 Just when you thought it was safe to watch a television commercial again ...
ESPN got driven clear out of the MVNO game, but it wants another go at winning the hearts and minds of US mobile subscribers — this time through a partnership with Verizon. "ESPN MVP" will become a new standard feature of Verizon's VCAST offering at no additional cost, offering a slew of sporty content.
Unlike the train wreck of last time, you don't have to actually buy a specific ESPN phone just for this service, which, if they hadn't have been all ESPN-hubris-y, is what they would have done in the first place. You need one of those Verizon V-Cast phones, and you have to subscribe to the service, but yeah, it makes a little more sense. Unfortunately, it still comes with ESPN programming.
Verizon To Offer "ESPN MVP" Sports Content[Engadget Mobile]