Troy Tulowitzki hit two more home runs last night, bringing his season total to nine, ballooning his slash line to .408/.512./.786, and raising his fWAR to a league-leading 3.1. Those cartoonish numbers speak for themselves, and are bound to regress, but Tulo is doing things he's never done before in his career, and if he keeps doing them, nobody's going to be able to get him out.
For the first time in his career, Tulo is walking more than he's striking out. His walk rate is currently sitting at a career-high 17.8 percent while his strikeout rate is a career-low 10.9 percent. And when he's getting the bat on the ball, he's turning just about every pitch he touches into a hard hit. His BABIP is an ungodly .408, his line drive rate is 26.4 percent, and he's turning 31 percent of the fly balls he hits into home runs, a mark good for second-best in baseball behind Jose Abreu.
So what is a pitcher to do? When a guy is hitting like this, the smart thing to do is usually to keep the ball down and away from him. This might have worked against Tulo in the past, as he (like most hitters) has struggled to do much with pitches on the lower and outer portions of the plate (Heat maps via MLB TruMedia):
That's Tulowitzki's career heat map. Now compare it to what he's doing this year:
G/O Media may get a commission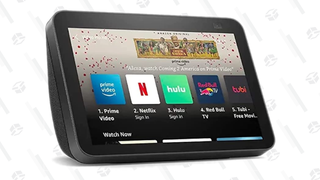 Any pitcher who has tried to work down and away from Tulo has been punished for his trouble. And it's not like Tulo is just slapping singles to the opposite field, either. He's hitting those pitches on the outer and lower half hard.
Here's the same heat map, showing slugging percentage instead of batting average:
Four of Tulo's nine home runs have been hit to the opposite field, all of them on pitches that were on the lower or outer half of the plate. Let's get even sillier and check out a heat map showing his slugging percentage on pitches outside of the strike zone:
This is just dumb. These are pitches that are meant to be nothing more than nibbles at the edge of the plate, strategically placed with the intent to bait a hitter out of his comfort zone. But here's Troy Tulowitzki, lighting the well-worn stratagems of pitching and knocking the shit out of balls that he has no business swinging at the first place.
Last year, while baseball was mired in yet another one of Tulo's lengthy stints on the DL, I wrote about why baseball needs him so badly. This is why. Because when Troy Tulowitzki is healthy and playing up to his abilities, he can do things that nobody else can do.
Heat maps via MLB TruMedia