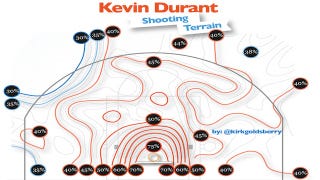 Durant is known for being able to go left or right, and finish with either hand. The data shows that to be true from near the basket and from midrange. But if you can keep KD on the perimeter, he's significantly more likely to beat you from the left.
This topographic map of Durant's shooting, with FG percentages laid out as terrain contour lines, comes to us from Kirk Goldsberry, who continues to do fascinating visualizations over at CourtVision. It's worth noting that for a volume shooter like Durant, all these numbers are fabulous (though Goldsberry says his baseline numbers aren't elite, and his 3-point shooting from the right wing [left side of the graphic] is slightly below league average.) The problem is that Durant takes equal numbers of shots from both the right and left, when he's more effective from one side.
These are things Durant can work on; he's still just 23. And again, this isn't a question of Durant learning what he can't do, but rather learning to focus on the things at which he's better than just about anyone else.
The Shooting Terrain of Kevin Durant [CourtVision]