PR people are stupid. Not all of them, just some of them. Like this person, who just sent this pitch into our tips box multiple times for a Valentine's Day tie-in. Because they are dumb.
[Sic'd]
Hi There,
I've got an idea for a quirky Valentine's Day story I thought you might be interested in. Folks are obviously not willing to fork out as much money this year, but they can still show their sweethearts a little TLC by spending good quality time together. And with statistics showing that year over year more and more females are picking up videogame's it seems that perhaps a good quality date might be to stay in and share some time playing a game together.
We took a poll of the best games to play with your sweetheart on Valentine's Day and here's what we found.
Top 10 Games to play with your Valentine:
1. The Beatles: Rock Band – What's better than busting out "I Want To Hold Your Hand" with your true love?
G/O Media may get a commission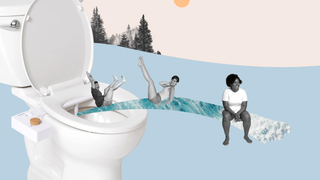 17% off
Tushy 3.0 Warm Water Spa Bidet Attachment
2. Mario Kart – Mario, Luigi and good 'ol fashion racing competition – she'll dig it and maybe even beat you at it!
3. Grand Theft Auto (series) – Let your innocent darling transform into your bad girl fantasy as she takes on the role of a hardened criminal!
4. Super Smash Bros. Brawl – In a tense relationship? Release the aggression by taking out your sweetheart in this free-for-all. Once you get it all out there'll be nothing left but time for cuddling
5. Resident Evil 5 – Zombies, guns and a creepy village! Nothing better than getting a little back up from your sweetie!
6. Dragonica Online – Not ready to settle down in real life? Show your sweetie you're not afraid of commitment and tie the knot virtually in this fun, free-to-play online game full of fantasy and adventures!
7. bittos+- Nothing like doing a good puzzle with your mate, can't afford diamonds? Give her all the diamonds in the world in this puzzler!
8. Fairytale Fights – Let your shnookems hack n' slash you all night in the shoes of a sick and twisted Little Red Riding Hood or Snow White!
9. Dance Dance Revolution – The best way to get a private dance from your mate and a great workout all at the same time!
10. A Perfect Massage – After a long gaming session with your significant other, why not settle down for a nice massage session using nothing, but this software and your XBOX 360 controller!
Would love to talk to you more about a possible Valentine's Day story stemming off of this… I'm here if you want to chat.
Thanks,
[Redacted] Reverb Communications-
So there's your link.