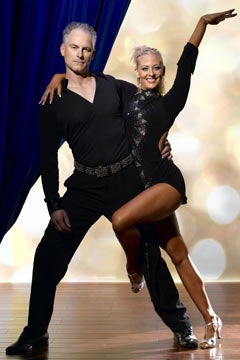 The "political" blog Newsbusters has been watching SportsCenter lately, and the folks there are calling shenanigans on tanned, nimble-footed ESPN personality Kenny Mayne. The site puts it thusly:
But watching ESPN's Kenny Mayne over the course of the last few days, I was surprised to notice that he has coined a new call. Home run at a crucial moment? Three-pointer to take the lead in a basketball game? "Obama!", exclaims Mayne.

For that matter, would ESPN let a Republican host [if there are any at the network] shout "Ch-Ch-Ch-Cheney!" to mark an outstanding feat?
Uh, we're gonna go out on a limb and say the odds are excellent that there are some Republican hosts on "SportsCenter."
For our part we would love a "Ch-Ch-Ch-Cheney!" call on SportsCenter, although we can't quite figure on when it would be appropriate. Maybe the next time someone gets hit in the face with a ball? But instead of eliminating the Obama call, we think ESPN should go the other way and add several more.
• Weak flare falls into short right field for a single: "Kucinich!"
• Diving catch: "Another vote for MITT!"
• Ball caught on warning track: "It could be ... no, its a Ron Paul."
Mayne-Stream Liberal: ESPN Host Makes 'Obama!' His Signature Call [NewsBusters, via SportsbyBrooks]