Bengals linebacker Vontaze Burfict, no stranger to unpaid time off, has received a five-game suspension for a dirty hit laid on Chiefs fullback Anthony Sherman in a preseason game earlier this month. The suspension would be for violating a newly installed NFL rule offering "defenseless player" protection to receivers running routes; Burfict intends to appeal.

Five games would be the longest suspension for a single on-field incident since Albert Haynesworth got a five-game ban for stomping on the face of Andre Gurode in October 2006. (Jonathan Vilma and Anthony Hargrove were initially suspended for longer for their roles in the Saints' bounty program, though those suspensions were overturned on appeal.)
Here's the hit. Burfict is No. 55, at the bottom right of your screen—he launches himself into Sherman, whose head was turned back toward the ball.
This is the first test of the application of the new rule, instituted this offseason, that expands the definition of defenseless players. Here's the new wording, from rule 12.2.7(a)2:
It is a foul if a player initiates unnecessary contact against a player who is in a defenseless posture. Players in a defenseless posture are...A receiver running a pass route when the defender approaches from the side or behind.
G/O Media may get a commission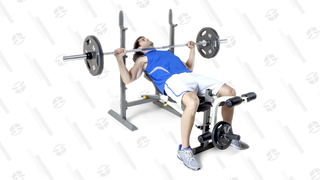 10% Off
Marcy Folding Weight Bench
Burfict's appeal is expected to hinge on his claim that he hit Sherman from the front.
The rule goes on to describe the types of prohibited contact against defenseless players:
1. forcibly hitting the defenseless player's head or neck area with the helmet, facemask, forearm, or shoulder, even if the initial contact is lower than the player's neck, and regardless of whether the defensive player also uses his arms to tackle the defenseless player by encircling or grasping him

2. lowering the head and making forcible contact with the crown or "hairline" parts of the helmet against any part of the defenseless player's body

3. illegally launching into a defenseless opponent. It is an illegal launch if a player (i) leaves both feet prior to contact to spring forward and upward into his opponent, and (ii) uses any part of his helmet to initiate forcible contact against any part of his opponent's body.
Burfict doesn't believe any of these rules apply to his hit on Sherman. "The rules say you can eliminate a receiver within five yards of the line of scrimmage," Burfict said, "as long as you don't hit him in the head and I don't think I hit him in the head."
In a statement, the Bengals proclaimed their support for Burfict and his appeal.
"The Bengals are aware of the NFL's letter to Vontaze regarding a play in last weekend's game. The film shows that the hit was legal, that Vontaze engaged his opponent from the front, and that contact was shoulder-to-chest. The Club will support Vontaze in the appeal process."
It feels like a safe bet that Burfict's suspension will be knocked down a couple of games, but also that it'll stand up in some form. Remember, Burfict was suspended the first three games of last season for what was nebulously described as "repeated violations of player safety rules," so every ban from here out can be considered as a sort of lifetime achievement award.