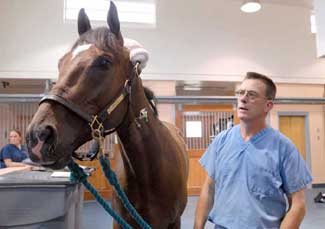 Via The Blog Of Hilarity, a fascinating tidbit from The New York Post: The cover of this month's Vanity Fair was not supposed to be Transformers "star" Shia Lebeouf. It was supposed to be the great Barbaro.
GRAYDON Carter doesn't believe in flogging a dead horse. The Vanity Fair editor-in-chief said neigh to the idea of putting Barbaro on the August cover. Instead, "Transformers" star Shia Labeouf got the nod. Sources say Barbaro - the 2006 Kentucky Derby winner who captured hearts after he shattered a hind leg in the Preakness and struggled for months to survive - actually market-tested higher than Labeouf. But Carter vetoed the equine cover. So Shia is featured, saving the actor from being beaten by a dead horse. A VF spokeswoman said, "We don't comment on covers."
Please, silly young movie star, you overly flatter yourself if you think you can even slightly compare to the international superstardom of Barbaro. You can act, actor, act, all you want ... but we're talking about immortality here.
Meanwhile, In Other Popularity Contests Across The Country [Jossip]