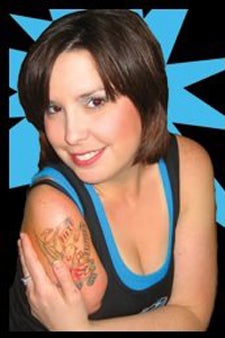 Earlier in the week Awful Announcing reported that ESPN will air a feature on the ratings bonanza that is roller derby on tomorrow's SportsCenter. Brian was obviously a bit befuddled by at the idea of roller derby getting significant airtime on the network's flagship show, but the blog Steady Burn has an idea of what ESPN might have in mind.
With no insider's knowledge of what this report will entail, my prediction is that either you'll hear a great deal about Brooke Leavitt…or ESPN will miss completely.

Leavitt is one of three women who in 2004 started the Kansas City Roller Warriors league, which started its fifth season earlier this Spring.

Like her cofounders – Eanna Johnson and Mandy Durham – Leavitt works a day job (she's a librarian) and practices and competes with her team The Knockouts on the side. Unlike the other competitors, she does this all with only one arm. At the age of 3, Leavitt lost her right arm from the elbow down in a school bus accident.
A one-armed librarian who runs a roller derby team? Assuming she likes animals and dislikes land mines, I'd say Paul McCartney is in love!
Here's a local news report on the team back when it was a start-up.
I'm just going to assume that they've improved things a bit since then.