Over at Slate the normally amiable Josh Levin is lighting torches and sharpening farm implements, trying to foment a revolution — and he needs your help! All it takes is a few minutes of your time to hector your cable company into offering you a basic service that such benighted Podunks as Ireland and Australia already enjoy: the ability to set a DVR to record all of a television show, even when that show outgrows its predicted time slot.
Why, after all, should plebes on islands that didn't produce the likes of Thomas Edison and Steve Jobs be able to watch the final six seconds of a triple-overtime Stanley Cup Final tilt while this poor S.O.B. misses out, even after he generously guesstimated the length of this live televised sporting event? Because American cable companies and cable networks aren't particularly in a rush to undercut the value of live TV, it seems. The technology exists. If you want a DVR that records a program to its actual conclusion, rather than its imagined conclusion, that can happen. But it's going to take agitators. Levin writes:
What are the chances that accurate recording will become a standard feature in these United States? TiVo's [marketing VP Jim] Denney says that, though such a thing is technically possible, it would require a lot of coordination between content providers, cable companies, and technology firms. There would also have to be some deep thinking on what to do in the event of programming conflicts, such as an extended live event interfering with another, previously scheduled recording. "Everything is doable, but it's a matter of how much effort someone's willing to put into it," he says.

What's holding everyone back, Denney adds, is the lack of demand from customers. "We don't have a whole lot of people saying, My God, I wish we could do this."

I don't think that's evidence American TV viewers don't want accurate recording. Rather, it reveals that they don't know it exists. Well, America, it does exist, and it sounds amazing. Email your cable company. Call every TV station. Tweet at your congressman. Leave a copy of this article under your neighbor's door. Say it loud, everyone: We want accurate recording, and we want it now.
Read his whole story and imagine a world in which you set your rig to record Game 4 of the NBA Eastern Conference Finals without worrying whether it'll go to double or triple OT. Then get off your duff and raise some hell. Or remain on your duff and avail yourself of the following resources:
Federal Communications Commission public comments
Your Congressperson's contact info
Time Warner Cable customer service
Cox Communications customer service
Bright House Networks customer service
Happy agitating, everyone.
Why Do Americans Have The Worst DVRs? [Slate]
Photo credit of the Stanley Cup Final Game 1: Getty
G/O Media may get a commission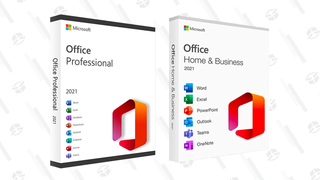 89% off
Microsoft Office Professional 2021 Lifetime License