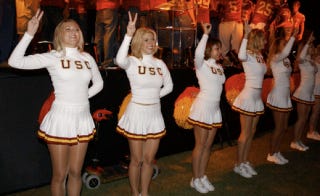 These games are competing with World Series Game Three (weather permitting) for your eyes: Tennessee at No. 2 Alabama (ESPN2); Texas Tech at No. 3 Oklahoma (ABC/ESPN3); No. 6 Wisconsin at No. 16 Michigan State (ESPN); No. 25 Washington at No. 8 Stanford (ABC/ESPN3); and No. 21 Penn State at Northwestern (Big Ten Network).
For those of you who like watching USC's cheerleaders, the Trojans play at Notre Dame at 7:30 p.m. eastern on NBC. That one, that might have some pull.
For those compulsive gamblers looking for one last break-even swing, try New Mexico State (+22) at Hawaii, midnight eastern. Which is perfect because the World Series game'll likely be approaching its terminus.