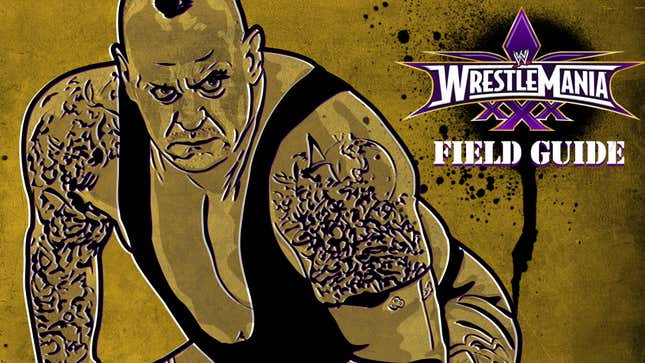 WrestleMania is the kind of thing you can really only discuss in superlatives: it's the biggest, the loudest, the most-hyped, the most outrageous, the most ridiculous, and the most fun. Yes, pro wrestling is a totally unique performance art, one of the last direct links to an old, weird America, etc., but more importantly it's a UFC heavyweight champion fighting a zombie, or a bunch of dudes wearing riot gear for no discernible reason fighting the zombie's brother, who happens to be a huge Ron Paul supporter, or some hipster getting 70,000 people to chant "YES! YES! YES!" in unison. It's everything the Super Bowl should be, and it's usually a much better show.
Up until this year, unfortunately, it was also a show that you'd have to pay at least $60 to see, unless you wanted to go to a bar with a whole lot of wrestling fans in it—an even less appealing option than you might think. However, after years of broke and/or cheap and/or cord-cutting fans being consigned to virus-infested streams, low-res YouTube videos, and post-show torrenting in the nether regions of the Dark Internet, the WWE has finally given the "WWE Universe"—their words, not mine—the chance to pay to watch WrestleMania online in real time for a reasonable price through their new MLB.tv-type service. At $10 a month with a minimum six-month commitment, ordering the show through their app doesn't actually offer any savings, but given that they're tossing in the next half-year's worth of pay-per-views, access to about a billion hours' worth of archival footage (Scott Steiner promos! old episodes of ECW TV!) and the warm feeling of avoiding piracy, it's a deal worth considering.
As a nerd, I've spent much of the last seven years justifying paying upwards of $600 a year on professional wrestling, so I'm watching anyway, but trying to figure out whether or not it's worth your time and money is a completely different story. Thus, your guide to WrestleMania. The when and where are pretty straightforward here—Sunday, April 6, at the Superdome in New Orleans—but the how, the why, the what, and the who are all a bit more involved. (We've also got odds here, via Bovada via Forbes, but bear in mind the lines are moving.) Let's get to it.
Randy Orton vs. Batista vs. either Triple H or Daniel Bryan for the WWE World Heavyweight Championship
Why You Should Care About This: If Bryan makes it: The tale of the Goat and the Viper has been easily the best in-ring singles feud over the past year, with every match between Orton and Bryan somewhere between match of the night and match of the year. Throw in the wildcard Batista, along with the ability to give him several rest spots throughout the match so he can catch his breath, and there's pretty much no way this match isn't fantastic.
If it's Triple H: You may see a world record for loudest and longest continuous BOOOOOOOO, as well as Most Pedigrees Performed in a WrestleMania main event, besting his previous record of 15 from WrestleMania 2000's Fatal Four Way match.
How This Ended Up Happening: If Bryan makes it: Years of hard work, dedication, and the complete inability of Batista to be a viable main event good guy against even the "Face of the WWE"/beautifully petulant manchild Randy Orton.
If it's Triple H: Years of hard work, politicking, a seriously inflated sense of self, and the complete inability of Batista to be a viable main event good guy against even the "Face of the WWE"/beautifully petulant manchild Randy Orton.
What This Should Remind You Of: If it's Bryan or Triple H: The Triple Threat match from WrestleMania XX, which would be celebrated as the best wrestling match ever to main event WrestleMania ever if it didn't end with Triple H tapping out to a crippler crossface applied by noted ring technician/double murderer Chris Benoit. As Brandon Stroud put it in his "Totally scientific ranking of WrestleMania Main Events":
BEST: The fact that Triple H wants his legacy to be him as the ultimate WWE performer, and arguably his best match and most selfless act as a character and performer ever is one he can never be proud of or show anybody.
Who You Should Root For: If Bryan makes it: Daniel Bryan, and the 70,000 people doing this in unison:
If it's Triple H: For there not to be a riot, and for Randy Orton because he's the actual best.
ODDS: Daniel Bryan -600, Batista +225, Randy Orton +450, Triple H +700
John Cena vs. Bray Wyatt
Why You Should Care About This: After coming down off back-to-back-to-back WrestleMania main events, it may feel like Cena is slumming it, but Bray Wyatt—pretty much all you need to know is that he's a cult leader who lives in a swamp—has been protected and booked as well as anyone in the company. While the often cartoonish Fruity Pebbles pitchman Cena feels closer in a lot of ways to Hulk Hogan, at this point his resume and role are really significantly closer to what Ric Flair's were. He's The Man you have to beat to be someone, and Bray has serious potential to be someone.
How This Ended Up Happening: Kayfabe-wise, Wyatt thinks that Cena is a thoroughbred horse that needs to be put down and that his girlfriend is "plastic," while Cena's worried about his "legacy" and people believing that he's as full of crap as Wyatt says he is. Whatever. In reality, WWE wants to make Wyatt a big star, sort of the way they pushed the Undertaker following his surprise debut at the 1990 Survivor Series. They figure they can use Cena's pretty much untouchable legacy to do it relatively easily. The fact that Cena has had the best match in the company each of the last three years while also pulling in the two biggest gates in company history probably factored in the planning, too.
What This Should Remind You Of: The match from Survivor Series 1991 when Taker won his first WWF title against Hogan, following shenanigans and heavy interference, with a strategically-targeted tombstone piledriver on top of a Ric Flair-placed steel chair. This finish should be done in a way that casts just enough doubt about the true meaning of the outcome for Cena fans to take solace in the fundamental righteousness of hustle, loyalty, and respect, while Bray gets to spend the rest of the year/eternity bragging about how he slayed a lion.
Who You Should Root For: Wyatt. He's minor wrestling royalty—his real name is Windham Rotunda, with his first coming from his godfather and former NWA champion Barry Windham and his last coming, obviously, from his father Mike Rotunda of I.R.S./Varsity Club fame—with a unique performance style and nearly transcendent promos. If he gets the ball he'll run with it.
ODDS: Bray Wyatt -300, John Cena +200
Brock Lesnar vs. The Undertaker
Why You Should Care About This:If the neckbeards manage to make it through the Daniel Bryan vs. Triple H match, they'll be treated to what may end up being the most brutal match without any blood since, well, ever. The "best pure striker in the WWE"/zombie mortician the Undertaker faces off against the Beast Incarnate BARACCCCCK LESNRRRR as he attempts to end the Undertaker's streak of 21 consecutive victories at WrestleMania, the one thing in all of wrestling that still matters.
Lesnar, the former UFC heavyweight champion, is either a rampaging psychopath or someone who does an astonishingly good impression of one. He's legitimately one of the five scariest humans on earth who doesn't have the legal authority to make every male in the country get the same haircut as him. Deep down you kind of believe that he might decide to legitimately maul someone in a scripted wrestling match, just because he can.
He's facing the Undertaker, who's old and can't walk and is nonetheless on a 10-year streak of creating masterpiece after masterpiece on the biggest, most important stage in his industry. Imagine Peyton Manning winning the MVP in the last 10 Super Bowls or Kanye coming up with a new version of My Beautiful Dark Twisted Fantasy every year at the Grammys, live on stage.
How This Ended Up Happening: After having Brock eat "The World's Strongest Man" Mark Henry's lunch, they had him beat the Big Show with a chair until he cried at the Royal Rumble. Then the Undertaker answered an open challenge from Lesnar for a match at WrestleMania by stabbing him in the hand with a pen and chokeslamming him through a table. Whatever, it's a match between one of the scariest men alive and a zombie mortician who you totally believe actually can shoot force lightning at people, trap souls in an urn, etc.
What This Should Remind You Of: The "Hippo vs. Bull Shark" episode of Animal Face-Off.
Who You Should Be Rooting For: If anyone is going to break The Streak, it should absolutely not be the guy who will only probably wrestle three or four more matches before walking directly into the Halls of Fame for the WWE and UFC. Also, it should probably not be anyone ever.
ODDS: The Undertaker -3000, Brock Lesnar +900
Daniel Bryan vs. Triple H
Why You Should Care About This:Because you like goodness, or have the ability to feel happiness, and so want to see Daniel Bryan—the longtime underground legend who looks pretty much like some guy you'd see in a bar in Bushwick and yet still won over the masses because he's just that damn entertaining—overtake Triple H, the living incarnation of corporate sports entertainment. Or because you'd like to finally be proven right in your deep convictions that Triple H does in fact really hate everyone he works with and professional wrestling and you, you personally, you with your stupid neckbeard. Or, finally, if you're me, because of the magical "The Monarch and Dr. Mrs. The Monarch in season 3 of Venture Bros." thing that HHH and Stephanie McMahon have going right now.
How This Ended Up Happening:WWE would like you to think this is the culmination of eight months of the type of booking that made Dusty Rhodes into one of the biggest stars in the history of the business, with Daniel Bryan, the people's champion, never giving in no matter how much Triple H and his evil corporate minions and hired guns tried to destroy him. In fact, CM Punk just quit the business out of nowhere, leaving Triple H without an opponent and leading someone somewhere to figure, "Hey, maybe we should pay off what's been our biggest storyline over the past year."
What This Should Remind You Of: Owen Hart vs. Bret Hart comes to mind. It might also remind you of Triple H vs. any of the people he's helped to shovel to stardom with the burial of a match against him at WrestleMania, like John Cena, Batista, Randy Orton and Sheamus. Or, maybe, Daniel Bryan's 18-second loss at WrestleMania XXVIII.
Who You Should Be Rooting For: Your correspondent will be rooting for Triple H. (Who wouldn't want to see a bunch of neckbeards sticking out of the top of ugly CM Punk ringer shirts where exploded heads used to be?) But in order to avoid another REAL petition to the ACTUAL White House to get Daniel Bryan into the scripted main event of a wrestling show he was going to headline anyways and another Occupy Raw segment (yes, they had an Occupy Raw segment), let's say Daniel Bryan.
ODDS: Daniel Bryan -2000, Triple H +800
The Shield vs. New Age Outlaws & Kane
Why You Should Care About This: The New Age Outlaws might do everyone's favorite call-and-response chant for fellatio, Kane will probably do the "flames shooting out of the ring posts" thing, and the Shield—the above-mentioned dudes inexplicably wearing riot gear, who happen to be awesome workers—will definitely bring the house down.
How This Ended Up Happening: The New Age Outlaws asking their friend—and real-life company COO—Triple H, for one last WrestleMania pay day and a chance to work with the hotter-than-the-sun Shield before they inevitably break up/break the hearts of some of the more devoted Dean Ambrose slashfic sites.
What This Should Remind You Of: Dobby the House Elf's death at the end of Harry Potter and the Deathly Hallows: Part 1 or when Mrs. Weasley kills Bellatrix LeStrange at the end of Harry Potter and the Deathly Hallows: Part 2, depending on whether or not they break up the wonderful and noble Shield in this match.
Who You Should Be Rooting For: The Shield, who just started a fantastic run as actual "Hounds of Justice" after their long run as mercenaries/henchmen for Triple H's evil Authority. The rumor mill, which for a while had the wonderfully "Rowdy" Dean Ambrose and the irrepressibly brilliant "Jeff Hardy done right" Seth Rollins turning on Roman "looking like the next Rock" Reigns, has recently moved in a less definitive direction. The hope here is that they delay Reigns' megapush as a face warring against his dastardly, backstabbing friends and let the trio sell some t-shirts to children for a while. In any event, check out this awesome Ambrose promo where he just hangs out in an alley talking about how he's going to beat up Homicide.
ODDS: The Shield -800, Kane & New Age Outlaws +425
The Vickie Guerrero Divas Invitational
Why You Should Care About This: You're not really supposed to care about this—think of it as an opportunity to go smoke or hit the head or whatever. There isn't much to it outside the possibility of a potential surprise entrant or two and, in Funkadactyl Naomi, maybe our first serious championship contender with an eyepatch since Jean Pierre Lafitte stole Bret Hart's ring jacket, inspiring this deathless monologue:
How This Ended Up Happening: Vickie Guerrero, the world's greatest heat magnet, thinks that Divas champion A.J. Lee is a "bitch" who should be destroyed. Literally, that's it. PG programming, everyone!
What This Should Remind You Of: How much less the women on the main roster are allowed to do than their minor league counterparts on NXT. Maybe, if you're old enough, Santino in drag.
Who You Should Be Rooting For: A.J. Lee, or if they use them, newcomers Summer Rae/Emma. Lee is basically the only women's worker on the main roster they allow to walk and chew gum at the same time, while Summer Rae and Emma are the first wave of the Sara Del Rey-trained Divas, who may be allowed to actually wrestle, weirdly enough.
ODDS: A.J. Lee -300, the field +200
The Andre the Giant 30-man Battle Royal
Why You Should Care About This: Battle royals are ALWAYS fun. They've also been a part of WrestleMania since the second one, where Andre the Giant won a 20-man over-the-top battle royal against an assortment of professional wrestlers and NFL players that included the "Excellence of Execution" Bret Hart, the "Black Superman" Tony Atlas, and William "The Refrigerator" Perry. This is why there's an enormous Andre-shaped trophy for the winner, which will inevitably be broken over someone's head, as is also a WrestleMania tradition.
How This Ended Up Happening: Hulk Hogan, the "host" of WrestleMania XXX, has apparently been given magical powers that allow him to create professional wrestling matches out of thin air as long as he says the words "brother," "dude," or "Hulkamania." With this, he's created the Andre the Giant Memorial Battle Royal. Why he didn't bring CM Punk back instead is anyone's guess.
What This Should Remind You Of: Your childhood, presumably. Traditional battle royals where everyone starts in the ring are as old as professional wrestling itself and a great way to push individuals while still getting as many people as possible on the show with the biggest gate of the year.
Who You Should Be Rooting For: Big E. (née Langston,) the WWE's single greatest natural resource. The sky's the limit for one of the most genuinely funny, weird, and likable members of the roster, despite being held down by the tyranny of institutional oppression against Intercontinental champions. While a #FreeBigE movement isn't necessary quite yet, a win (along with the giant trophy/weapon) would be a step in the right direction.
ODDS: It's complicated.
The Usos vs. Ryback & Curtis Axel vs. Los Matadores vs. the Real Americans for the WWE Tag Team Titles
Why You Should Care About This: Right now, this is—granted that it's been bumped to the pre-show—the best bet to steal the card. All four of these teams can go, even the elaborate farce that is RybAxel; they've also worked multi-team matches often enough to nail their distinctive timing, rhythm, and pace. These qualities are what make the difference between people wondering why Ryback has a Step Brothers homage featuring Ryback and Curtis Axel on his singlet and chanting "This is awesome" as Cesaro simultaneously swings around both members of Los Matadores and their tiny friend El Torito, a hundred times.
How This Ended Up Happening: Really shoddy story planning.
What This Should Remind You Of: Hopefully not one of the many, many, many, many, many terrible four-team tag matches that have been a staple of WrestleMania cards since WrestleMania 13's four way elimination match featuring the Headbangers, the New Blackjacks, the Godwins, and Doug Furnas and Phil LaFon. (Which, in case you were wondering, was exactly as exciting as you'd think a match involving a guy named Doug would be.)
Who You Should Root For: The Usos or the Real Americans. The Usos are two of the company's best and most reliable stars, and also part of the bewilderingly large Samoan wrestling family that counts the Rock, Roman Reigns, Rikishi, and the late Yokozuna among its members. Meanwhile, the Real Americans—comprising the "All-American American" Jack Swagger and "International Superpower" Cesaro—are essentially an Earth-2 version of the Road Warriors who sell like indie workers. The only reason to not root for them is that strapping Cesaro to the cross of copper that is a tag team title run may prevent him from inspiring more GIFs like this one.
ODDS: Usos -250, Real Americans +150, RybAxel +275, Los Matadores +600
---
Nick Bond is an Editor of Some Kind at The Classical, the Editor-in-Chief of Juice Make Sugar, writes for SB Nation and tweets @TheN1ckster—his self-appointed third-person nickname—because he lacks the ability to process shame.
Art by Sam Woolley