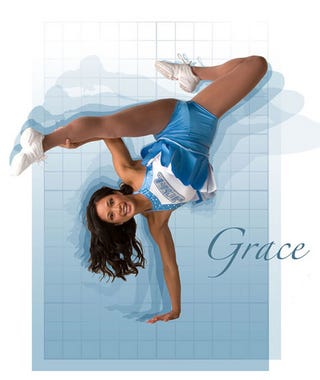 Basketbawful is here to once again tell you the only things you need to know about tonight's NBA playoff games. Remember: Tips are not required, but they are appreciated.
Cleveland versus Washington: Game 6

LeBron James. He's been the target of the Wizards' arms, elbows, fists, knees, pinky fingers, big toes, and kitchen sinks all series long. And I'm pretty sure I saw Darius Songaila jam a shuriken into LeBron's meaty flank in Game 5. King James has taken so many hits, he's started talking in third person (said LeBron: "They want to hurt Lebron James in this series."). But he's a fierce competitor, not to mention one of the best basketball players in the universe. Think he's going to just forget Caron Butler's trash talk before he missed the shot that would have won Game 5? Me neither. He's going to rain fire in Game 6.

Everybody on the Cavs not named "LeBron." Are any of the King's men going to step up? Anybody? Hello...?


The Wizards' pie holes. Apparently, Washington co-captains Caron Butler and Antawn Jamison presented their team with a "shut the hell up" edict. Said Jamison: "We just said, 'It's time to stop all the talking.' A lot of guys were trying to defend themselves as far as this and that. But it wasn't working. We said: 'The ultimate changearound is for us to just be quiet and find a way to come back from 3-1 and win the series.' I think they finally got it." Awwww...that's boring. And about as natural to the Wizards as a "no breathing" rule.

Gilbert Arenas: He's out for the rest of the playoffs. But I'm sure you'll still get to see him on the bench, squirming and worrying about his sinking free agent value.

Eddie Jordan's verbal gymnastics. The Washington coach probably sprained his tongue while trying to explain Darius Songaila's post-foul sucker punch in Game 5. "I stand my ground. I thought he got tangled up with LeBron, and LeBron tried to get untangled. And in his method of trying to get untangled, Darius' arm just flew at his chin." In other news, toxic sludge is good for you! And it tastes great on a cracker!

Caron Butler. He won Game 5 with a layup and by getting into LeBron's head. Now it seems he's the Wizards' version of LeBron James. Said Zydrunas Ilgauskas: "We believe he can win this series for them - that's how dangerous he is." Wow. No kidding? Maybe we'll see some "Caron Rules" in Game 6.

Darius Songaila. Actually, never mind. He won't be there.

Boston versus Atlanta: Game 6

Road cookin'. The Celtics entered the playoffs as championship favorites. Losing two games to the Hawks has changed all that. Plucking the dirty birds in Atlanta and putting an end to this farce would sure help them get a little momentum back.

Kevin Garnett. Can you hear that? It's the "Maybe KG really can't win the big one" whispers. I know it's hard to hear over the "T-Mac's never gonna get out of the first round" screams. It would sure make Celtic fans and Garnett's defenders feel better if he imposed his will on this game, wouldn't it?

Al Horford. He's been playing out of his mind. And now he's got the Rookie of the Year snub to motivate him. Look out.

Paul Pierce. Rumor has it he's going to use a non-menacing hand gesture in Game 6 to apologize for his use of a menacing hand gesture in Game 3. And just in case you're worried about a West Side Story-style rumble, don't worry. Said Pierce: "I 100 percent do not in any way promote gang violence or anything close to it." I guess almost getting stabbed to death outside a bar will make you a non-fan of violence.

Joe Johnson. Regarding Game 6, Joe Cool said: "We're very confident." And why not? Joe practically beat Boston singlehandedly in Game 4. Then again, the Celtics put the clamps on him in Game 5. I'm betting he has a few bullets left in the chamber.

Mike Bibby. Am I the only one who's enjoying watching him suck? I can't be.

Houston versus Utah: Game 6

Home cookin'. The Jazz have lost only five games at home this season. Two of those losses were served up by the Rockets. What do they know that the rest of the league doesn't? What Yao Ming looks like naked, that's what. How has that been helping them? Best not to ask some questions.

Tracy McGrady. Following his career feels like a death watch.

The paint. The goal for the Jazz in Game 6: Few jumpers, more layups. As Andrei Kirilenko put it: "Let's get inside," Kirilenko said. "We've never been like such a great team from the 3. We've always been successful from the paint." True enough. And speaking of Andrei...

Andrei Kirilenko. He's just so...sugary. Not to mention a real pansy in a pillow fight.

Rafer Alston. Has anybody noticed how much better the Rockets are with Rafer? I have to admit, that kind of surprised me. He really is all growed up.

Jerry Sloan. He's got such a hardass reputation, yet he's been awfully calm all year. I keep hoping he's going to explode and make Kirilenko cry. Again.

Karl Malone. He rarely attends Jazz games, but it's be awesome if he was around for this one...huntin' little Mexican woman. And by "little" I mean "13 years old." Yikes.