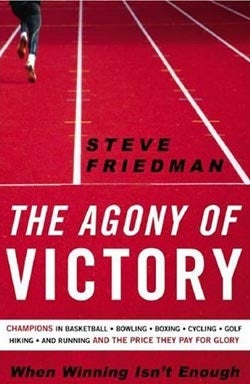 Yesterday, we introduced the Deadspin Book Club, but it's clear we should have planned better for it, since essentially we were asking you to read a discussion of a book you had not read. We're going to try to improve on that.
So we should probably tell you what book we should all be reading for the Book Club. Therefore, the next Deadspin Book Club discussion, which will be up just after Thanksgiving, is Steve Friedman's The Agony Of Victory. Friedman will also be reading at the Varsity Letters Reading Series in New York a week from tonight, if you want to wait to buy the book then.
So yeah: Now, when the book club returns in a few weeks with their full report, you'll know what the heck they're talking about. Makes sense.
The Agony Of Victory

Introducing The Deadspin Book Club [Deadspin]

Varsity Letters Reading Series [Gelf Magazine]