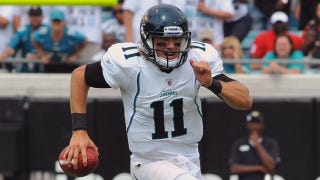 Poor, poor Blaine Gabbert. Tonight, he will not have nearly as much open field as he has in the above photo. In the above photo, there is no menacing 300-pound man in or out of the frame, just yards upon yards of EverBank Field's Bermuda bluegrass.
Tonight, there will be Haloti Ngata. There will be Ed Reed. There will be Ray Lewis, and Terrell Suggs, and Jarret Johnson and Jameel McClain and company. This will not be fun for Gabbert and co. But it will almost certainly be fun for every Baltimore Raven.
Game's on ESPN at 8:30, with This Guy and That Guy and the endlessly vexing Mike Tirico. Please watch baseball instead.