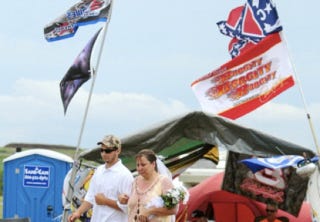 Linda Ward and Greg Waters met a year ago when fate pitched their tents in close proximity to one another at Charlotte Motor Speedway's Peninsula Campground. Yesterday, the gushing jail nurse and truck driver became one at their "Royal Race Wedding."
The bride wore an "embroidered sundress purchased at a Cherokee, N.C., souvenir shop." The groom, in shorts and a tan shirt, "tried not to cry, but I teared up because she's such a special woman."
Love is a smoke made with the fume of Goodyear slicks.
'Royal Race Wedding' at Charlotte Motor Speedway [WCNC]
A fire burns at Charlotte Motor Speedway campgrounds [Charlotte Observer]
Coca-Cola 600 victories are coveted [Fox Sports]