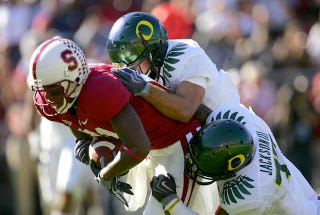 It's been a wild day already and it's not even over yet. Here is your prime time slate of games. Feel free to chat down in the comments with us.
7:00 PM
ESPNU has probably the worst match up of the day, the top-ranked LSU Tigers at home against Western Kentucky. At 7:30 PM, NBC brings you another installment of Notre Dame football and ESPN3 has Louisiana Tech at Ole Miss. ESPN will be showing Alabama at Mississippi State at 7:45 PM.
8:00 PM
Oregon at Stanford is your national prime time game on ABC. UCF at Southern Miss is your regional prime time game presumably on local stations in central Florida and southern Mississippi. You can find Fresno State at New Mexico State on ESPN3. At 9:15 PM, Idaho at Brigham Young will be on ESPN2.
10:00 PM
You late-night, west coast fanatics can try to make back all the money you lost this afternoon on UNLV at New Mexico. Then at 10:15 PM, ESPNU will show Hawaii at Nevada while Versus will have Arizona State at Washington State at 10:30 PM.