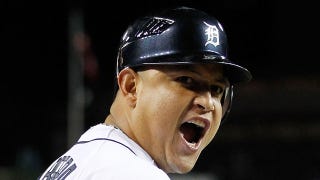 OK, so this is a four o'clock championship series game on a Monday—essentially anathema to everyone but Phil Mushnick. But that's what happens when it rains. The game will probably preempt local Maury and Steve Wilkos Show telecasts. Joe Buck will be stuck with his smallest audience since two weeks ago. It's all gonna be horrible. Except it's playoff baseball, and that's never horrible!
Max Scherzer pitching for Detroit, Derek Holland for Texas. Delmon Young, who had previously been ruled out of the series with an injury to his oblique, is batting third for Los Tigres. Weird stuff!
First pitch is at 4:19. Chat here, internet people!