After The Mighty MJD's heartfelt goodbye last weekend — after more than a year of serving as our weekend editor — the speculation has been immense. (Really!) Who's gonna take over for MJD? Well, considering it's Friday, we should probably tell you.
Because MJD is such a legend around here, we couldn't possibly replace him with one person. So we didn't even try. Instead, we have a rotation of three editors who will take turns, as we say in the sports trade, "knocking the ball out of the park." (In addition, in the next few months, we'll have special guest fill-ins from time to time too.) Without any further ado, here they are:
• Matt Sussman. Mr. Sussman has been rocking it out at The Futon Report and also brings some serious goddamned rock.
• J.E. Skeets. The legend of The Basketball Jones podcast, he filled in for a day when we were in Argentina over the new year. He is also Canadian, so forgive the spelling.
• Unsilent Majority. One of the immortals in Deadspin commenting, he's also one of the KSK crew and just about the most fun guy on Earth to go to a Wizards game with. (So we've heard: We've never been invited.) Truly on the Mt. Rushmore of Deadspin.
G/O Media may get a commission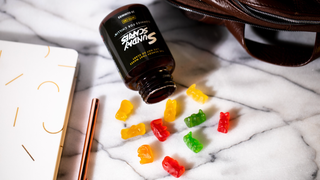 10mg CBD Gummies (22-Count)
Sussman is gonna kick it off this weekend, so email him your tips. And make them feel welcome, or at least not immediately ridiculed.