Pearl, the chuckling Rotarian nuisance who is approximately one Holocaust clown movie removed from Jerry Lewis, recently told a zinger at a fundraiser that might've gone over better if he hadn't suggested that some of his Tennessee constituents were Klansmen.
WBIR has the video. The event was yesterday. Here's what Pearl said:
I've got a tough job. I've got to put these guys from different worlds together, right? I've got guys from Chicago, Detroit — I'm talking about the 'hood! And I've got guys from Grainger County, where they wear the hood.
It's a pun, you see. Everyone in the audience had a laugh, but others apparently weren't so amused. (It's worth noting that none of his current players hails from either Chicago or Detroit.) Pearl apologized later in the day. His statement:
This morning while speaking at a private kick-off event for a great organization that benefits many local charities, I made a statement in jest to describe the diverse group our staff recruits year-in and year-out.

Unfortunately while I was trying to excite the crowd and encourage employees to give, I made an inappropriate joke. I certainly did not intend to offend anyone and I apologize to everyone, especially the people of Grainger County.

In no way am I trying to justify what I said, but I'm disappointed that the focus has been placed on me rather than the charities I was there to help. My only hope is that the visibility of this mistake will encourage those who can to give to those in need during these difficult times.
G/O Media may get a commission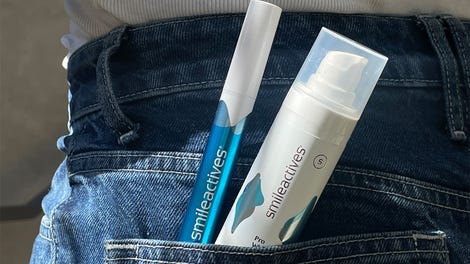 58% off
Whitening Powerhouse Pen & Gel Duo
Doug McBee, the father of Volunteers recruit and Grainger native Skylar McBee, wasn't the least bit offended. He told the Knoxville News Sentinel:
"There's no hard feelings at all,'' Doug McBee said. "We are country up here, but we're not prejudice. It was a joke, and that's how I took it.''
Besides, everyone knows that Grainger isn't a hotbed of Klan activity. The KKK wasn't founded there or anything. It was founded in Pulaski, Tenn., a few hours away.
Pearl's off-the-cuff remark could raise eyebrows (video) [WBIR]
Pearl's comment elicits apology [GoVolsXtra]
UT's Pearl Gets In Trouble For His Mouth, Too [MrSEC.com]