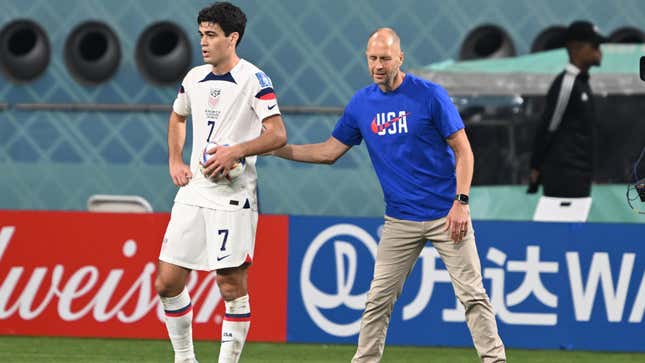 As we covered this morning, yesterday a kind of strange story surrounding the USMNT's Gregg Berhalter broke, because Berhalter got out in front of it. He released a statement claiming that someone had threatened to blackmail him over a domestic abuse situation from Berhatler's teens, so the U.S. manager decided to admit to it publicly. It occurred when both he and his wife Rosalind were 18, and according to both Berhalter and his wife, it was an isolated incident that both eventually moved past after time and counseling for him. They have been married and have four children together.

France or Argentina? Who wins the FIFA World Cup? | Agree to Disagree
U.S. Soccer later released a statement that they had been made aware of the incident in December and were launching their own investigation, and Berhalter's status as manager seemed to be on pause with the upcoming January training camp approaching.
We hit overdrive on the strangeness and ickiness over it all when it came out today that those threatening Berhalter were his former U.S. teammate Claudio Reyna and his wife Danielle, a close friend of Berhalter's wife and her former roommate at UNC. Who also just happen to be the parents of Gio Reyna, the epicenter of the first controversy surrounding Berhalter after the World Cup.
It is obviously a confounding look that the parents of a player are threatening the manager with career sabotage. And Danielle, in The Athletic story, pretty much admits that it was in response (or retaliation) for the comments and reaction to the Gio Reyna fallout. However much it was a surprise that Reyna not being an integral part of the U.S.'s World Cup, it later came to be that Gio himself had a large role in seeing his use being minimal.
It could be argued that Berhalter even did Gio Reyna a solid by taking all the bullets for him during the tournament when everyone was wondering why he wasn't starting or even playing, because there are other managers who would have had no problem telling the press that Reyna's efforts in training were dogshit and he hadn't earned the right to take the field. Berhalter erred in mentioning it at all post-tournament, at what he thought was a private seminar, because someone's always recording. But Berhalter never mentioned Reyna by name there, either. Only reporting from The Athletic's Paul Tenorio and Sam Stejskal revealed it to be the player.
Danielle Reyna has told The Athletic that the incident is much worse than the statement both the Berhalters have provided, and the two couples' status as longtime friends seems to suggest all moved past it. It is understandable for parents to try and protect a child, and are aghast at the treatment of him online. But this feels more like whiny whataboutism than some great reveal, at least until we know more.
Reyna's use during the tournament wasn't that huge of a shock, given how little he appeared during qualifying and the position he plays being the only one where the USMNT had any depth. Reyna is one of, if not the, most talented player in the squad, but you have to get on the field to prove it occasionally. The US didn't find itself chasing a goal that often, and Reyna isn't the type you'd bring on to protect a lead. At least not more than Brenden Aaronson. Which only contributes to the scorned parents factor of all this.
U.S. Soccer now has a big boy controversy on its hands. Shame it doesn't have the glory that usually comes with it.