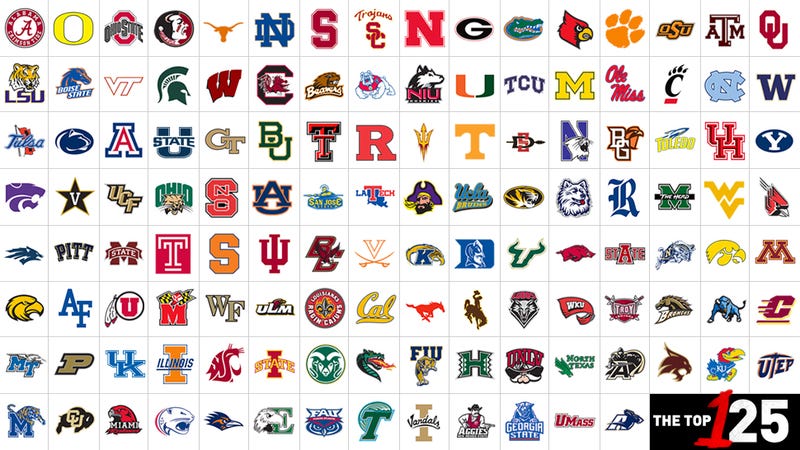 College football kicks off the 2013 season TONIGHT. Here's the absolute minimum you can get away with knowing about each of the 125 teams in the Football Bowl Subdivision, in the order that I, Matt Hinton, personally project them to finish at the end of the season.
1. ALABAMA. Yeah, sorry. I know. There's nothing I would love more than to play the visionary iconoclast amid the rabble who spotted the first signs of rust in the Crimson machine. But is it really necessary to elaborate on this point? Alabama is so good right now, it's redundant. After three BCS titles in four years, describing Alabama's dominance is like describing the wallpaper. It's always there, and it's always the same. Nick Saban has been compared to Darth Vader, Stalin and "the devil himself." But all along he's been Henry Ford, gradually turning over the business of winning to the assembly line.
2. OREGON. Like Alabama on defense, at some point writing about how good Oregon is on offense is about as useful as observing that we are a polarized nation. But the warp-speed philosophy and neon Space Jock uniforms keep the defense from getting its due: in the two major advanced metrics for defense devised by the stat gurus at Football Outsiders, the 2012 Ducks ranked second nationally according to one and fourth according to the other. That's due largely to the fact that they led the nation in takeaways, and also to the fact that so many of the yards and points that dragged down their rankings in the conventional statistics were completely meaningless. Of the 35 touchdowns opponents scored last year, 18 of them came with Oregon already leading by 20 points.
3. OHIO STATE. The best argument against Ohio State running the table in 2013 is that Ohio State ran the table in 2012. This year's non-conference schedule is every bit as lame as last year's, and the Buckeyes are clearly the class of the Big Ten. But the kind of teams that are good enough to go undefeated two years in a row in a major conference* are all-time juggernauts on the order of the Bush-Leinart era USC Trojans in 2004–05 and the Miami teams in 2001–02 that exported the entire roster to the NFL. Ohio State is not that kind of team, at least not yet. Although it survived without a loss, it was only after razor-thin calls against Michigan State (by one point), Wisconsin (in overtime) and bottom dwellers Cal, Indiana and Purdue. NCAA sanctions meant there was also no conference championship game or BCS bowl to burst their bubble at the end. Don't be surprised when they drop a game they shouldn't.
* Its on-field reputation has taken a hit lately, but you can tell the Big Ten still qualifies as a major conference because it still makes so much money.
4. FLORIDA STATE. Ditto the Seminoles, who are as monolithically talented now as they ever were in the Free Shoes University days but haven't been able to get past the level where they go belly-up against a random also-ran. Over the last eight years, FSU has dropped at least one game every season as a ranked team against an unranked underdog, all on the road, most recently at N.C. State last October. That was also the fourth time in three years under coach Jimbo Fisher the Noles lost a game they were favored to win by double digits, straight-up. They'll be favored to win every game in the ACC, but primitive farmers could plan their harvests around the one they don't.
5. TEXAS. After three years in the wilderness, Mack Brown has the most experienced roster in the country at his disposal and no excuses for failing to make the leap back to a BCS bowl. If it doesn't happen with this team, it ain't gonna happen with this administration.
6. NOTRE DAME. For the second year in a row, Notre Dame's prospects have been dramatically altered due to an offseason gaffe by the starting quarterback. And just like last year, with this defense, there's a strong argument to be made that it really doesn't matter who's the starting quarterback.
7. STANFORD. The impressive thing about the Cardinal is not only that they're bona fide nerds who are good at football, or that they've risen from the conference cellar to national relevance in a very short period of time, or that they've played in three straight BCS bowls after losing a Heisman runner-up (Toby Gerhart), a head coach (Jim Harbaugh) and another Heisman runner-up (Andrew Luck) in consecutive seasons. In age of the spread offense, the really impressive part is that the success here is built on old-school, in-the-trenches ass-kicking: Not coincidentally, those three seasons have also yielded four All-Americans and six all-conference picks from the offensive line, not counting a pair of All-America tight ends in the same span. On the other side, Stanford was the only defense in 2012 physical enough to grind Oregon's offense to a halt, holding the Ducks to 14 points in a season in which they scored at least 35 in every other game. That's more or less the same defense they'll see when they visit Stanford on Nov. 7, at which point both teams should be undefeated for one of the indisputable games of the year.
8. USC. I know you're laughing, I can hear you, because the 2012 the Trojans failed to beat a ranked opponent, dropped five of their last six and became the first team since 1964 to begin the season ranked No. 1 and end it ranked nowhere. And also, yes, because they're still coached by Lane Kiffin. I get it. But the 2013 edition has shed one Kiffin, Lane's father Monte, who finally surrendered to the spread offense last winter and retreated back to the NFL. And man-for-man it is still the gold standard for raw talent. (When in doubt, go with the athletes.) If it manages to stay healthy, settles on a quarterback and splits the difference between what last year was supposed to be and what it was, that's more than enough to take a meh South Division.
9. NEBRASKA. The preseason frontrunner for the Harvey Dent Award is prolific Husker quarterback Taylor Martinez, who owns every school record for passing and total offense and has also fumbled more times (29) over the last two years than any other FBS player. In four losses in 2012, opponents scored 52 points off Nebraska turnovers.
Note also that the Cornhuskers don't play anyone of consequence until November. Barring a collapse, anything said or written about them before Halloween is irrelevant.
10. GEORGIA. UGA doesn't move at a breakneck pace, but play for play, the offense can hang with anyone. The issue here is replacing seven draft picks on defense, made all the more difficult by the fact that one starting safety is suspended for Saturday's crucial opener at Clemson and the other is questionable. "Death Valley" is not the ideal venue for breaking in eight true freshmen on the two-deep.
11. FLORIDA. The lack of offensive firepower in 2012 was so glaring that the Gators are seriously considering two-way duty for starting cornerback Loucheiz Purifoy, just to get the ball into the hands of an explosive athlete for a change. If that doesn't work, the list of names behind him is short and not very inspiring.
12. LOUISVILLE. Every year some team rides the wave of an impressive bowl game into higher expectations than it probably deserves, and every year some team is singled out as a national darkhorse due to its obviously inferior schedule. Both of those teams in 2013 are Louisville, which created an overnight bandwagon in January by ambushing Florida in the Sugar Bowl and faces no credible threat from inside or outside of "the American." (I'm very sorry, "the American" is an actual thing now.) The Cardinals also boast this year's answer to Andrew Luck in junior quarterback Teddy Bridgewater, object of offseason hosannas from mock draftniks everywhere. In their last three games prior to the Sugar Bowl they also lost to Syracuse and UConn in consecutive weeks and had to rally late to beat Rutgers, so you know, caveat emptor.
13. CLEMSON. Tajh Boyd has been delivering consistently ridiculous numbers for a couple of years, but he changed my entire orientation toward Clemson with one throw. Down two points with 1:22 to play in the Chick-Fil-A Bowl, facing 4th-and-16 from his own 14-yard line, against a blue-chip LSU defense brimming with soon-to-be draft picks, Boyd summoned a surgical strike down the numbers that brought his team back to life. Clemson went on to score a validating upset with Boyd passing 50 times and running 29 more. True, the Tigers have a track record of spectacular flops on the national stage when saddled with high expectations. But they have not had a quarterback this good.
14. OKLAHOMA STATE. Explosive as the Cowboys were on paper, they left far too many points on the field in 2012 as the result of both turnovers and simply stalling out in scoring range. For the season, Oklahoma State led the nation in field goal attempts, and settled for field goals in the red zone more often than any other team in the Big 12. This offense will always rack up the yards, but the difference between going to the Fiesta Bowl (as in 2011) and the Heart of Dallas Bowl (2012) is in the finish.
15. TEXAS A&M. As of this writing, there is still every indication that Jonathan Football Manziel is going to play in every game this season after sitting out the first half Saturday against Rice, in mock contrition for NCAA rules violations that the NCAA agrees there is no evidence to support. So we'll proceed from there. And let's face it: Even if Manziel remains healthy and eligible, the numbers the guy put up in 2012 are fantasy stats no one can be expected to duplicate; eventually, they'll be used against him when he fails to shatter his own records on a weekly basis. Regardless of JFM's fate, the Aggies have more pressing issues defensively, where they're not yet in the same class talent-wise as the other upper-echelon SEC contenders. After Alabama squeezes most of the air out of their national ambitions in September, a midseason lapse at improving—and equally talented—Arkansas or Ole Miss could take out the rest.
16. OKLAHOMA. Manziel did such a number on the Sooners in the Cotton Bowl that Bob Stoops decided to go against type by anointing a scrambler of his own, Trevor Knight, a surprise winner in OU's quarterback derby whose scouting report reads nothing like that of ponderous, pocket-bound predecessors Sam Bradford and Landry Jones. Also, like most Big 12 teams, Oklahoma will play the season without defensive linemen.
17. LSU. Les Miles said earlier this week he "wouldn't be surprised" if last year's leading rusher, Jeremy Hill, made the trip for Saturday's opener against TCU after being charged with simple battery in a bar fight, thereby confirming that even Les Miles has no goddamn clue what Les Miles is thinking at any given moment.
18. BOISE STATE. Boise really did not get enough credit last winter for telling the Big East to get bent after initially agreeing to defect from the Mountain West in 2011. The MWC is the right fit culturally and geographically, offers better long-term stability and probably better competition than whatever's left of the Big East/America after Louisville leaves next year. And if the Broncos keep winning at their current pace, maybe at some point they'll have another chance to ditch it for the Big 12 or Pac-12.