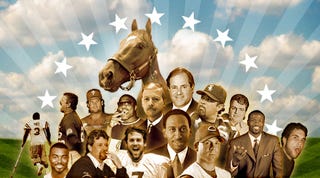 And here we are, the matchup we are personally most curious about, the one featuring the infamous Carl Monday and good ole Barbaro, who would be a late charger if only his hoof would grow. We have been looking forward to this one since this got started.
The polls for the semis will be open all the way through the holidays, until January 4, so feel free to take your time making up your mind. Because it's for all the marbles, as they say. And we mean marbles: We're going to send marbles to the winner. Here's the most recent bracket:
The matchup breakdown:
No. 2 Seed: Carl Monday
2006 Highlights
Blew the lid off a nationwide epidemic.
Inspired one of the few amusing Dilbert parodies we've ever seen.
Went after poor Mike Cooper one more time, just for good times' sake.
Inspired his own minor league baseball promotion.
Hit the big time of "The Daily Show."
Became a popular Halloween costume.