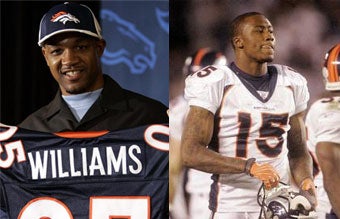 The murder trial of the man accused of shooting Denver Bronco Darrent Williams began yesterday and has already revealed new details of the night of his death—including some that might explain why Brandon Marshall hates Denver so much.
Previous court documents were vague on what happened in the Denver night club on New Year's Day 2007 and how that lead to Williams' shooting, but witnesses testified on the first day of the trial, that it all began with an argument between the group athletes and their friends (there to celebrate Kenyon Martin's birthday) and a gang of drug dealers partying nearby; an argument that either started or escalated when Marahall's cousin got "overdrunk" and sprayed champagne on the gang members. Later outside the club, the cousin had to be restrained from further fighting and the prosecutor says that Marshall even grabbed the head of the accused shooter during the fracas.
Marshall and his cousin did not get in the limo with Williams and his large group of friends as they left, but it's alleged that Willie D. Clark followed that group in his own SUV, pulled up alongside the limo and fired multiple shots, killing Williams and wounding several others.