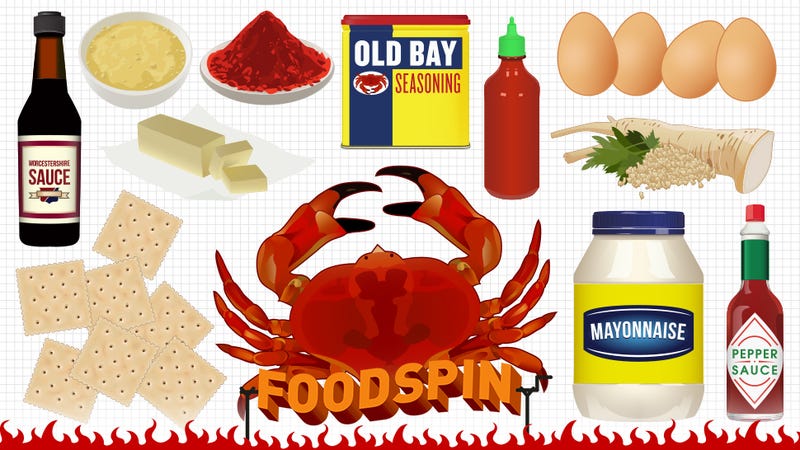 The first step is preheating your oven. Yes, that's right: not your deep-fryer, not your skillet, but your oven. Because you are going to bake your crab cakes.
Perversely, the reason you're using this cake-iest of cooking methods for your crab cakes is that you're making crab cakes that are far less cake-y than the ambiguously crab-flavored bread wads that are the products of most crab-cake preparations. Your crab cakes will contain just enough binding to justify calling them crab cakes and not crab piles or crab puddles or the St. Valentine's Day Massacre of Crabs. This means that your crab cakes will be too delicate to drop into a deep fryer, and far too delicate to be turned over with a spatula in a pan. And the reason for that is that crab is delicious, and bread is boring.
The crab cake exists because, for as delicious as blue crabmeat is—and, just so we're on the same page here, it is the most delicious thing there is or so help me I will fucking cut you—when outside its hideous chitinous prison, it comes in a million annoying little pieces that can seem preposterous to eat when you're not extracting them by hand (and also when you are). Even the portion referred to as "colossal" or "jumbo lump" when pasteurized and sold in tubs is small enough—maybe an inch across at its biggest—to render it kind of silly as a thing to eat on its own. At crab's prices, you're not going to, say, snack from a popcorn bag of jumbo lump crab meat unless you're a millionaire.
And so, somebody out there invented the crab cake, as a way of holding enough of this delicious stuff together to make the eating of it seem less like a creative afterlife punishment for an ancient Greek famous for taking immoderately large bites of things. That is to say, the crab cake exists as a way to make crab easier to eat—not as a way to make wads of bread marginally more seafood-flavored. Since the point of the whole enterprise is the crab rather than the cake, and since the cake doesn't need to add much of anything but binding to the finished product, the smart way to proceed is to minimize the cake, emphasize the crab, and find a cooking method that won't reward you with a sad smattering of dissociated crab shrapnel. Like, say, baking! Isn't that a convincing argument? No? Shut up!
As for how you acquire your crabmeat, suit yourself. Wanna buy some actual crabs, cook 'em, clean 'em, and reserve some meat for crab cakes? Go for it. Wanna buy a one-pound tub of the pasteurized stuff from the seafood counter at your local supermarket? That's fine, too. If you're going that route, do yourself a favor and fork over a few extra bucks for the jumbo lump stuff. The backfin variety is perfectly OK, but the shit labeled "special" is actually just a tub of jagged crabshell shards and parking lot gravel that someone held over a steamer pot for a minute so that it would smell like seafood. Jumbo lump will give you big (or, y'know, bigger), exciting bites of crab in your crab cake, and you will drool and roll your eyes and make a weird gross spectacle of yourself, which is really what any food ought to do.
Let's get started. As we agreed [stares daggers], preheat your oven to 400 degrees.
Now, get a big bowl out of the cupboard, and combine a bunch of tasty stuff in it. A cup or so of real mayonnaise, a teaspoon or so of powdered mustard, a couple of teaspoons of Old Bay seasoning, maybe a pinch of paprika, and a splash of worcestershire sauce. Also, several generous splashes of hot sauce. Now, you could use sriracha here if you like, but in this one instance I'm recommending that you use salty, vinegary, Tabasco-type hot sauce instead, for the minor reason that sriracha's flavor would upstage the other stuff in your crab cake, and for the less-minor reason that it would turn your crab cake pink, and that's just kind of weird. If all you have is sriracha, that's OK, go ahead and use it, but add a couple of splashes of some non-balsamic vinegar, too.