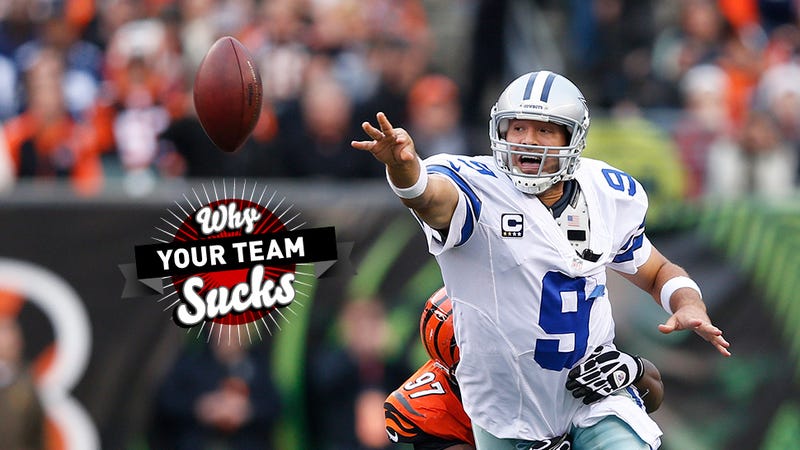 Some people are fans of the Dallas Cowboys. But many, many more people are NOT fans of the Dallas Cowboys. This 2013 Deadspin NFL team preview is for those in the latter group. Read all the 2013 NFL previews right here.
Your team: Dallas Cowboys
Your 2012 record: 8-8.
Your coach: Jerry Jones. I know that the team lists "Jason Garrett" as the head coach, but come on, now. Jason Garrett had his balls cut off and placed in a saddlebag the day he was hired. The title of "head coach" is strictly a ceremonial one in Dallas. The Double J coaches the team, and pissboys like Jason Garrett are left to handle the tedious work of attending press conferences and icing the Cowboys kicker.
Do you think Garrett had any say in whisking poor old Monte Kiffin away from his shuffleboard game and plopping him in the booth as defensive coordinator? Of course not. That's pure Jerry, right there. He picks the players, hires the assistants, writes a few nine-step drop pass plays on the back of a strip club flyer, and leaves Garrett to clean up the mess. It doesn't matter who coaches the Cowboys, and it won't until the Double J dies and leaves his kid with a 30-year head coaching contract.
I love watching the Cowboys play. They are a perfectly devised three-hour sports comedy every week. They're completely and utterly harmless. I can watch them play and know that, even when they appear to be mildly threatening, they will end up collapsing and bursting into flames at some point because, thanks to the Double J's inept personnel management, they are so fundamentally broken. They have no chance, and I don't think that Jerry really gives a shit anyway. Jerry's real passion is his stadium and his new fuckbus, and the Cowboys are the little museum diorama that he walks by every so often to dust off. Even when he does his weekly "Jerry says something stupid" bit with the media now, it feels like he's doing it strictly as a staged exercise. He is on Crazy Old Man Autopilot.