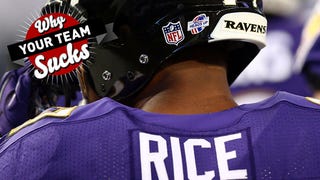 Some people are fans of the Baltimore Ravens. But many, many more people are NOT fans of the Baltimore Ravens. This 2014 Deadspin NFL team preview is for those in the latter group.
Your team: Baltimore Ravens
Your 2013 record: 8-8. God, wasn't it nice to have them out of the playoffs? It felt like a vacation.
Your coach: John Harbaugh, who is the worst Harbaugh. I can't believe any Harbaugh is worse than Jim Harbaugh, but at least Jim has some small, deeply cloaked understanding that he is a psycho who wears terrible pants. John lacks this final, molecular trace of self-awareness, and thus, he is the fucking worst. I hate him. I hate his face. I hate the way he bitches after every single goddamn play, like a scientifically formed hybrid of an NBA player and a World Cup player. Other young coaches are going to fall in line with John's "complain to the refs because the refs don't know what they're doing because the NFL changes the rules every week" model of behavior, and the NFL will become insufferable for it.
Harbaugh fits in perfectly with the Ravens' fanbase, who treat their own personal failings and/or legitimate criticism as some kind of horrific injustice done upon them. I never thought the Ravens would stay quite so hateworthy after Ray Lewis left, but I was wrong. I was so wrong. They're worse, and John Harbaugh is the biggest reason why. Also, Baltimore is the flyover country of the Northeast corridor.
Your quarterback: Joe Flacco. I'll go ahead and settle the meme for you now: He's not elite. Flacco threw more picks than any other QB in football last year not named Eli Manning (Eli is basically Flacco's NFC twin). His passer rating was worse than those of Chad Henne, Christian Ponder, Case Keenum, Kellen Clemens, and Mike Glennon. That doesn't happen with, say, Peyton Manning. Peyton Manning doesn't just go out and have entire season like that. OOPS SORRY GUYS! Flacco is a streaky passer who requires a good line, a top-rated defense, and a quality domestic abuser in the backfield to really flourish.
What's new that sucks: Steve Smith is here! By God, Steve Smith was born to be picked up as a free agent by the Ravens. I bet the Ravens even make their potential free agents fill out a questionnaire.
1. Are you old?
2. Do you like punching babies?
3. Do you have a chip on your shoulder the size of fucking Gibraltar?
4. Is there absolutely no reason for that chip on your shoulder to be there?
5. Has that chip on your shoulder robbed you of any chance to have a sense of humor about yourself?
6. Seriously though: you're old, right?
Fun fact: Smith is listed as "S. Smith Sr." on the team depth chart, which is a real Titus Young move. Owen Daniels is also here, because the Ravens needed a backup tight end who knows how to get hurt once the starting tight end gets hurt.
What has always sucked: Under Harbaugh's direction, the Ravens have become nearly as tone deaf to the general public as their mid-Atlantic counterparts. That shouldn't be possible. No team should ever be as hamfisted and stupid as the Redskins, but here we are. This is an organization that operates under a constant, black cloud of perceived disrespect. The Ravens could employ a war criminal and they would treat him like a fucking prince just because the rest of the world disapproved. This is a whiny, arrogant franchise that is constantly braying for respect even though they've done exactly nothing to earn it. The rest of the world found this out a few weeks ago, when Ray Rice got off with a two-game suspension and the Ravens VP of public relations wrote this column, titled "I Like Ray Rice". Yes, his name is Kevin Byrne and the column is called BYRNE IDENTITY. They made that pun on purpose.