Some people are fans of the Oakland Raiders. But many, many more people are NOT fans of the Oakland Raiders. This 2014 Deadspin NFL team preview is for those in the latter group.
Ohtani has the WBC, but will Mike Trout ever lead the Angels to a championship? | Agree to Disagree
Your team: Oakland Raiders
Your 2013 record: 4-12. In the past 11 years, the Raiders have had five or fewer wins nine times. If you offered any Raiders fan a magic pill that made it so that Hue Jackson and Carson Palmer had never left, they would take that pill and then chop it up, snort half of it, and sell the other half in the parking lot for a street value of seven dollars.
Your coach: Dennis Allen. Here's an actual headline: "Dennis Allen not too concerned with Raiders pass defense deficiencies." O RLY? Why not, guy who's going to be fired four months from now?
"I think when last year we were kind of in a little bit of the same boat… it takes a little while to get that part of your defense down. It's really not a concern of mine."
G/O Media may get a commission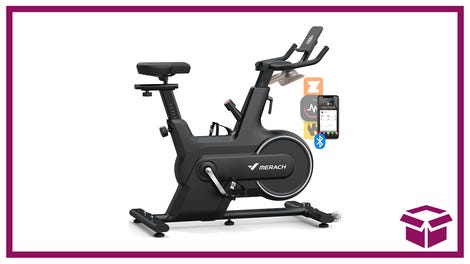 14% off + Coupon
Merach Indoor Cycling Bike
Nor should it be, given that the Raiders pass defense was great last year LOL JK THEY WERE FUCKING HORRIFIC. Guys, they were 28th in the league only because teams passed a lot on Oakland when they were up big! Don't you get it? Not a concern.
Your quarterback: Matt Schaub. Jesus, really? That's who you grabbed off the scrap heap? I hope the Raiders have a grief counselor standing 20 yards behind Schaub for every snap. Here's Schaub, looking like you two months after your girlfriend dumped you.
WHY, CINDY?! WHY? Anyway, the Raiders have spent most of this offseason trying to convince everyone that Matt Schaub didn't die in a molasses factory explosion last season. Here's Schaub praising the Raiders for giving him more control of the offense, because you need the guy who threw a pick six in four straight games to be your de facto OC. Here's linebacker Antonio Smith praising Schaub for his mojo, which must be the saddest mojo in history. And here's Allen saying Schaub is as good as Peyton Manning and somehow keeping a straight face while doing so:
We have a quarterback now that's on par with the quarterbacks in this division.
I bet Dennis Allen is drunk, like, all the time. Apparently, nothing about an imploding 4-12 team concerns him at all, not even the fact that the Raiders still suffer from Rich Gannon Syndrome and will bring in any washed-up QB in hopes that he sees the Raiders logo and magically turns into Football Blackbeard. No one here can admit that they work on the NFL's version of Shutter Island. It's like they all hypnotized themselves before stepping foot in Oakland. By the end of the season, the trance will break and Schaub will be over in the corner of the locker, scrawling out JFK assassination theories in his own feces.
For the inevitable moment in Week 4 when Schaub throws five picks and someone in the crowd launches a Molotov cocktail at him, the Raiders drafted Derek Carr in the second round. I have a soft spot in my heart for Carr because his baby went through the same life-threatening surgery that mine did (both children survived and are now healthy). So I'm rooting for him and I wish him nothing but the best. All that said, we're talking about David Carr's brother here. Fool me once, shame on you. Fool me twice, I am probably the Oakland Raiders. Derek Carr is gonna BLOW. It's only the preseason and he's already gotten concussed. All in the family.
What's new that sucks: Oh, you mean apart from the owner standing out on the curb and flashing his titties at any potential relocation spot that drives by? Mark Davis has already publicly batted his eyes at San Antonio and Los Angeles. Promise him a steak dinner and he'll probably move the team to Branson. The Raiders' lease at o.co Penitentiary ends after this season, and they've already balked at joining the Niners in Santa Clara to be the Jets to their Giants, which means this season probably marks the end of the Oakland Raiders as you know them. There will be a few extra parking lot stabbings this fall, just for old time's sake. And for their farewell tour, the Raiders went out and really Raiders'ed up the joint, snatching up every possible 2008 All Pro they could. Here's Justin Tuck! And half of Maurice Jones-Drew! And Lamarr Woodley! And Carlos Rogers (Skins version, not Niners version)! Pills will be administered at 430pm sharp. Dinner's a 5. Bingo at 6.
But that's not all. The team also stuck to their tradition of drafting wideouts too high and/or paying them too much in free agency by bringing in James Jones from the Packers, because bringing in old Packers wideouts has always worked really well for them. Jones scored three touchdowns for the Packers last season. And that was with Aaron Rodgers throwing him the ball. Eric Berry will catch more passes from Schaub this season than Jones will.
What has always sucked: After Al Davis died, there was a collective sense of relief (well, I mean, I was relieved), a feeling that the Raiders could finally wrest themselves from the old man's grip and become a legitimate NFL franchise again. And yet, here they are two years later, still fucking up in every conceivable way. They can't get the old man stink off, and they haven't done anywhere near enough to distance themselves from Davis' legacy. The Raiders treat Al Davis like Kim Il-Sung. They probably have him preserved like Lenin in the stadium somewhere. His influence still permeates the club, from the shitty facilities, to the product on the field, to the fans.
Oh God, the fans. These moron fans are still living off the rep of Raiders teams from FIFTY years ago. They won't let the team be anything other than an Expendables sequel. They desperately need the Raiders to be RENEGADES and OUTLAWS, all at the expense of moving into the 21st century and learning how to be a functional organization that can actually win football games. It's pathetic. The fans are sad and the stadium is sad. When I watch a Raiders home game on television, I feel confined and depressed by the stadium and I'm not even in it.
Also, Darren McFadden is still here. Christ.
What might not suck: I got nothing. Oh, there are new linemen! That sounds okay.
Hear it from Raiders fans!
(NOTE: There were more typos in these emails than any other fanbase, by far. Get your act together, Raiders fans.)
Halston:
I recently took up disc golf, and when I throw I truly have no idea where my disc will go. It might go straight, it might sail into a pond, it might hit a tree. I am just like Matt Schaub.

Fuck Khalif Barnes.
Chris:
Our stadium is full of hot garbage, literally.
Tim:
There's a guy in my fantasy league that doesn't really follow football, so he always drafts guys that were big names about 4 years ago but have clearly bottomed out. This has been the Raiders' approach to free agency every year that I've been alive.
Kethia:
I once took the BART train the same day there was a Raiders game and a gay S&M festival. Everyone was wearing spikes, chains, and black leather. I didn't know who was going to what.
Joseph:
Because Reggie McKenzie's freckles.
Josh:
Who the fuck knows what Reggie Mckenzie is doing? After two years of being put into a shitty cap situation, Reggie finally got some freedom this offseason. 65 Million in cap space. Instead of re-signing key free agents (Jared Veldheer, Lamarr Houston, Rashad Jennings) he let them walk for cheaper veterans on the downside of their career.

He didn't offer Alterraun Verner, Linval Joseph, Walter Thurmond, and others contracts. Instead, he traded for Matt Schaub and signed Tarell Brown, Antonio Smith, and Carlos Rodgers, Donald Penn, Justin Tuck, MJD, Lamarr Woodley, among others. Pretty much every name I just mentioned is on the downside or middle of their career.

This team is destined for a 5-11 record and the firing of Dennis Allen and probably Reggie, depending on how shitty we look during those last losses.
Tom:
You've got a fan base who screams and threatens anyone and I mean ANYONE (I've seen grown men curse out and threaten a child who was wearing a Bronco jersey) who don't bow to the glory of the Silver and Black. They taunt the rest of our AFC West rivals with the 3 trophies bullshit yet it's been over 30 years since the last one. Teams that didn't exist then have been to the playoffs more times than the Raiders have in that span!

Al Davis is viewed as a god instead of what he really was: a selfish egotistical asshole who ruined his team more than helped it his last remaining years. They tarped off 15,000 seats to avoid blackouts because their fans can't get weekend releases from the halfway house for the day.
Renzo:
The Raiders played the New York Jets last season and the Raiders totally shit the bed. We made Geno Fucking Smith and company look like they were the fucking Patriots.

We open the season against the Jets.
Mike:
My brother, Dad, and I, all huge Raiders fans, like to play this game. It's called "Let's look at who we could have drafted in the first round". Now, hindsight is 20/20 and all that, and I know every fan base can do the same thing, so we take it to the next level by looking at the very next pick, which I will now share with you (first name is the raiders pick, second name is the very next pick). Let's start with 2002, the last winning season:

2002: Napoleon Harris, Ed Reed

2003: Nnamdi Asomugha and Tyler Brayton, Eric Steinbach (oak had back to back picks b/c of Gruden trade, yay!)

2004: Robert Gallery, Larry Fitzgerald

2005: Fabian Washington, Aaron Rodgers

2006: Michael Huff, Donte Whitner

2007: JaMarcus Russell, Calvin Johnson

2008: Darren McFadden, Glenn Dorsey

2009: Darrius Heyward-Bey, Eugene Monroe

2010: Rolando McClain, CJ Spiller

2011: Pick traded for the walking personal foul Richard Seymour (Pats selected Nate Solder with pick, following pick was Corey Liuget)

2012: Pick traded for Carson Palmer (Cincy selected Dre Kirkpatrick with pick, following pick was Melvin Ingram)

2013: DJ Hayden and his exploding heart (this season it's now his exploding foot), Sheldon Richardson

2014: Khalil Mack, Jake Matthews. I feel bad that Khalil's promising career is going to bust, but congrats to Atlanta on getting who will undoubtedly become a HOF LT.

That was fun....also, a lot of our fans think Terrell Pryor was the future and will take Russell Wilson's job in Seattle.
Patrick:
As a California transplant living in Maryland, I never expected Raider fans to exist in my new world. One day I was at a bar when a douche Niners fan yelled "Raiders suck!" at me (I was wearing my Raiders hat) and out of nowhere, five cholos came out of the woodwork and attacked this guy. One gave me a nod while it was happening. I was later questioned by police about the beating...
Matt:
IF Matt Schaub doesn't try to best his personal record with five consecutive games with a pick-six

IF LaMarr Woodley, Maurice Jones-Drew, Darren McFadden, and/or Latavius Murray can manage to stay healthy for at least most of the season

IF the coaching staff remembers that Marcel Reece is a Pro Bowler who is capable of catching the football and running it.

IF Donald Penn doesn't become a human BART turnstile

IF Carlos Rogers and Tarell Brown can cover anyone

IF Khalil Mack can dominate NFL opponents the way he dominated the...MAC

IF Derek Carr can develop into an NFL starting-caliber quarterback BEFORE being thrown to the wolves like his brother was

IF Jason Tarver can figure out a way to stop Jamaal Charles on screen passes

IF word of a move to San Antonio/Portland/Los Angeles/London/Abu Dhabi doesn't get out in Week 8

....we should actually have a damn good year.
Blake:
If I wasn't born into the Raider Nation (4th generation) I would loathe them. Instead, the loathing is converted into a humorous misery, if that makes sense.
Matt:
Really hoping they will move to San Antonio so I can finally stop caring.
Sean:
Mark Davis' hair makes Donald Trump's hair look like John Stamos' hair.

We suck balls.
Alex:
Our history of success ended before I was born.

I drove up from LA to go to my first football game and Raiders game with my girlfriend. We left in the 3rd quarter because the fans scared my girlfriend and the Saints were blowing them out.
Chris:
Asked my 10 year old son if he'd be excited if the Raiders moved to our town, San Antonio. He said, "Why would we want a team with Schaub as quarterback? They already ran him out of Texas once."
Mike:
The last game I went to was against Tampa Bay in 2012, when Doug Martin made our defense look like a JV squad trying to tackle a running back covered in grease. I was with some friends who came from LA and central California, and it was their first time to see a game in person, they were pretty excited. We had great seats — the best I've ever had at a football game — about 10 rows from the field at somewhere like the 35-40 yard line.

After Martin broke 67 yards for his second TD late in the third quarter to go up 28-0, I decided to beat the crowd and hop on the BART train back to San Francisco. My friends looked at me with sad faces, and I told them they should stay, this being their first game and all, but that I had seen this movie too many times to stick around.

As I'm on the train, my buddies start texting me how I left too early and that the Raiders were coming back after Carson Palmer led drives for 3 TDs in the fourth. I told them to wait and see how they'd fuck it up, and sure enough Martin ran for his fourth TD and Palmer threw an interception to seal the deal.

The vindication I felt for leaving early was probably the most joy I felt in relation to the Raiders that entire season.
Alex:
We are the absolute worst at drafting. We are somehow even worse at free agency.

Our fans are the fucking worst. All they do is bitch about being underrated all this offseason. Some of them even have playoff aspirations. Are you shitting me? Have you seen this team? We'd be lucky to scrape five wins together this year, and that was before we got handed the league's toughest schedule. Fuck that.

Fuck this team, fuck the fans, fuck management, and double fuck our clown serial killer owner. Move this clown college organization to San Antonio so I can become a Niners fan already.
Sam:
Oakland sports are having an existential crisis brought on by the state of the Coliseum. Currently, being a fan involves having passing familiarity with city planning, local politics, and environmental law. Superfans like Dr Death address the city council in costume. The stadium shitshow is making us familiar with urban planning legal issues like ENAs, EIRs and CEQA (acronyms so boring, you don't even want to know).

When the Raiders came back to Oakland the city obliged their demands. The current sewage problems? That's because the Raiders renovations required the field to be lowered several feet below what the plumbing was originally designed for. For this, the city of Oakland floated a bond for a quarter of a billion dollars (a lot of money now, ungodly money back then), with none of the Raiders' revenue streams in turn going to the city. Two decades later the city still owes $191.4 million (remember, this is same city that has to fire teachers and police due to perpetual rolling budget crises), and the teams consider the stadium and arena unsalvageable.

The Raiders and the A's are both threatening to leave (the Warriors are gone in 2018) and all parties are trying any semblance of the leverage they can invent against the other two. Oakland, the Raiders and the A's are all bluffing, and all of their bluffs have been called, so they go back to bluffing—it's like a David Mamet script. The Raiders were bluffing that they had a stadium project ready to go as soon as the A's get out of their way, and when that bluff was called they started bluffing that they'll move to San Antonio, where their stadium problems would play out with the Alamodome which may be the only operating stadium in the country more effed than the Coliseum.

The A's were bluffing that they'd get permission to move but when that bluff got called they started bluffing that they're willing to stay in Oakland if given a shit-ton of concessions (such as the dropping of an arbitration suit over one of the only revenue streams the city actually had the right to but failed to collect on: parking lot fees), but the A's new "10-year commitment" to Oakland is basically a 3-year lease followed by a series of 1-year extensions after that, and they've basically already packed their bags and are just waiting for MLB to give up and let them leave.

And the mayor and city council, whose ONE goal in this shitshow is to not lose all three sports teams in one election cycle, oscillate between "playing hardball"—which they understand to be nuking all negotiations over details they themselves don't understand, for the sake of appearing tough—and getting their bluff called in embarrassingly unambiguous fashion, bent over the barrel like they have been for decades, piling on ever more crushing debt on Oakland's impoverished tax base.

Here's a nice embarrassing example of Oakland's unique mix of incompetence, delusion, and perfidy: the mayor gave an interview saying that the literal Crown Prince of Dubai (she literally used the work "literal") was in pocket and would be infusing the funds needed for a giant two-stadium plus arena plus commercial district Coliseum City complex that would solve everyone's problems simultaneously. Easy peasy, lemon squeazy. Except it turned out the Prince of Dubai had absolutely no involvement, and nothing has materialized yet to show that this claim had any semblance of merit, even as a mix-up, or even any semblance of purpose as a lie. Guessing she was taken in by some FBI agent under cover as an Arab investor in what will someday be revealed to be ABSCAM part II.

It's understandable, this temptation to believe in some sort of deus ex machina end-game (whether the Prince of Dubai, or Clorox and the rest of the business community, habitat for humanity, someone can build us stadia!) is palpable. We don't deserve it, and we can't afford it, but we just want both these teams to stay in Oakland and it not come at the expense of the city's budget for generations to come. I would take that over winning in a heartbeat.
Joel:
Me and my mates sat down to watch the Broncos/Chargers divisional game on the beach in Mexico. We were joined by other tourists, and one 45-year-old man in a black 'Woodson 24' jersey. Having no allegiance to any team, I decided to support the Broncos that day, and I let out a little cheer when Demaryius Thomas scored the first touchdown. Biggest mistake I ever made. For the next 2 1/2 hours, I was called 'Denver Scum', told how 'Peyton would choke' and reminded how the Raiders still had more Super Bowls than the Broncos. He got so amped up, that others had to talk to him before he got violent.

In the end, once I passed the initial shock of being targeted by a random guy for celebrating a touchdown, I felt a bit sorry for this poor man: Screaming at a 17 year old from Australia who bandwagoned for the Broncos one day was probably the most football related fun a Raiders fan has had since NSYNC broke up.
Chris:
Think back to the late 1980s, and how dumb it would have sounded for Detroit Lions fans to brag about the three NFL titles they won back in the 1950s. That's how Raiders fans sound when they brag about Oakland's three Super Bowl trophies, the last one of which was won less than 3 years after MTV started.

As if the hordes of face painters and wannabe gang bangers didn't give Oakland a bad enough reputation, now former players are making us look bad. Now we have Super Bowl Truthers like Tim Brown insisting that Bill Callahan tanked against the Buccaneers on purpose. Because that sounds like a totally logical thing for a coach to do, and seems much more plausible than the possibility that he was just a total blithering idiot.

Al Davis had become such an absolute joke as the team's de facto GM that Reggie McKenzie looked brilliant in comparison by doing nothing more than to stop tying up half the salary cap for four or five washed up malcontents.
Marchman:
When I see a guy dressed up like a Mad Max extra in the stands, I assume he works for Uber.
Josh:
Fuck every single Boston fan who tries to fucking call that game the "Snow Game". It will always be "The Tuck Rule Game" because you only won because of the biggest piece of officiating bullshit of all time.

The look I get whenever I tell someone I'm a Raiders fan is the same look you give somebody after they just tell you they had to put their dog down. The best season we've had since 2002 involved trading a first and a second round pick for Carson Palmer. Our best two players for most of the past decade have been an alcoholic kicker and a punter. The only actual football player that was supposedly elite, Nnamdi Asowhatever, was probably only good because our other corners were so bad it made no sense to throw it to his side. He was out of the league 3 years after leaving the Raiders.
Paul:
A few years ago, my buddy was walking into an East Bay Mexican restaurant on a Sunday afternoon for a bite. He's a hipster and not a huge football fan, so as he walked in wearing his normal, non-silver and black clothes, everyone there immediately turned to look at him stunned by his lack of spiked shoulder pads and calm demeanor. He was immediately asked, "Who's your team?" Taking a second, he thought about it and said "probably the Packers" as his grandfather is from Green Bay and a big Pack fan.

The reaction was immediately a nonverbal sense of THAT'S THE WRONG FUCKING ANSWER KID. Thinking quickly, he goes "Nah, I'm just kidding, RAAAIIIIDDDDERRRSSS!!!!" He was immediately given a shot and told he was the funniest person they'd ever met and didn't have to buy a drink the rest of the afternoon.

Also, Raider fans on talk radio still compare Jeff George and JaMarcus Russell's arm strength.
Jonny:
Our fans are the absolute worst. If you could put a Mexican Drug Lord and a Skinhead Hell's Angel in a blender mixed with some tequila and methamphetamine, out would pop a Raiders fan.
Matt:
When I was a little kid in the 80's I was a Niners fan in LA because I played flag football for the Silver Lake 49ers. They had Montana and Rice and were awesome. My Dad shamed me into being aRaider fan because they played at the Coliseum and "You gotta root for your hometown team."

Fuck you, Dad.
Nick:
Remember when the Raiders signed Aaron Brooks, and it was considered an upgrade? Jesus Christ, no wonder I drink.
Brian:
Our first pick in the 2012 draft was so late that we didn't even have a chance to pass on Russell Wilson.
Nick:
We have a milquetoast coach, a GM who couldn't get excited if he was getting a double-beej from Kate Upton and Jennifer Lawrence, and an owner whose idea of a high society meal is running up a $2700 tab at a middling chain steakhouse. You know what San Antonio? You can have them.
Matt:
I had the pleasure of attending a game when our opponents were the Raiders. We sat near four drunken Raiders fans who got kicked out by the third quarter. They were warned about being loud and disorderly on multiple occasions and one security guard was basically posted near them at all times. The final straw came when one of middle-aged Raiders fans threatened to jump the guard rail and jump down to a lower deck to beat up a teenager. The rest of the Raiders fans were sincerely egging him on.
Snax:
This team hasn't made had a winning season or made the playoffs since I was in elementary school. I am now a college graduate.
Marea:
My husband is a Raiders fan. They're the worst. Every Sunday he wakes up so excited and puts on his "uniform" (white or black shirt, depending on the jerseys their wearing that day) and his lucky hat and he has such optimism for the game. Then the game starts and promptly 30 seconds later he's screaming at the t.v. and looking around for stuff to throw. I've mastered the art of controlling my laughs & smirks, because he thinks I'm cursing the team.
Neil:
Art Shell. Twice. Bill fucking Callahan. Lane fucking Kiffin. Norvel fucking Turner, who then actually got another head coaching job. In no particular order. A coaching tree that rivals the 1999-2004 Golden State Warriors.

Oh, and a fucking baseball diamond.
Kyle:
Being a Raider fan is embarrassing. Besides the team being unbelievably terrible for 10+ years, most of the people in the stands at our home games look like they just got back from the Gathering of the Juggalos. Therefore, people lump the 18 of us who are non-paroloees and actually have cheered for this football team through thick and thin into the same, Halloween costume wearing group.

Raider Nation's principal export is knife wounds.
Cameron:
Welcome Khalil Mack! I hope you enjoy playing extremely well on a shit team for the next few years.
Jesse:
Fuck you, Randy Moss.
Omar:
Because any time any person reaches for the cliche fanbase most prone to stupid unwarranted acts of violence, they inevitably land on Oakland, despite teams existing in Philadelphia, Texas, and New York. They have the worst reputation in the league and seem to revel in it. Fights routinely break out DURING PRESEASON GAMES. And now at practices too it seems.

Because the team admittedly wasted last year in order to get rid of half the cap's worth of bad contracts related to the previous regime and all we could manage with the most cap room in the offseason was a washed up MJD, the Packers fifth or sixth best receiver last year, Matt fucking Schaub and, for a moment, Roger Saffold in a contract that was so widely mocked the team scrambled to get out of it and fuck the player over.

Because I still want Pryor to start for reasons despite him likely sucking at slightly above Tebow levels.

Because of Ice Cube's horrible theme songs he rapped about the team because Coors paid him to, and they know anybody watching Raider games likely has a drinking problem and prefers cheap Coors over all that "fancy beer those f*ggots drink in San Fran".

I will likely stick by this laughing stock of a team until a few years after they move out of the shit hole they play in. My life will likely be better for it.
Jake:
Ryan Leaf, the epitome of busts, at least made it through five seasons in the NFL. Jamarcus Russell made it through three before disappearing off the face of the earth. He couldn't even beat out Trent Edwards for the 4th QB spot on the Bears a few years back.

We spent the last decade under Al Davis drafting players based almost solely on their 40 time.
Aaron:
If you peep up with any possible concerns about the current situation, all you get is a barrage of "FUK ALL RAIDER HATERS RAIDER NATION FOR LIFE" from Van-Dyked goons in silver paint and Internet tough guys who take selfies with them pointing Sig Sauers at the camera.
Warderro:
Senior year of college, my two good friends chipped in to by me a JaMarcus Russell fathead (eBay price: roughly $6) and I hung it in the center of my apartment. My mom screamed out of fright the first time she came to visit.

A few years ago, I sat behind a fan at the coliseum who spent the first quarter profanely cursing out a Broncos contingent. He spent the final three quarters passed out from drinking, his cell phone floating in his beer.
---
AFC South: Titans | Jaguars | Texans | Colts
NFC South: Falcons | Buccaneers | Panthers | Saints
AFC West: Chargers | Chiefs | Raiders | Broncos
NFC West: Rams |Cardinals | 49ers | Seahawks
AFC North: Steelers | Bengals | Browns | Ravens
---
Wanna be part of the Deadspin NFL previews? It's simple. Just email me and give me ample evidence of why your team sucks: personal anecdotes, encounters with fans, etc. I'll throw any good material into the post and give you proper credit. Next team up: Denver Broncos.