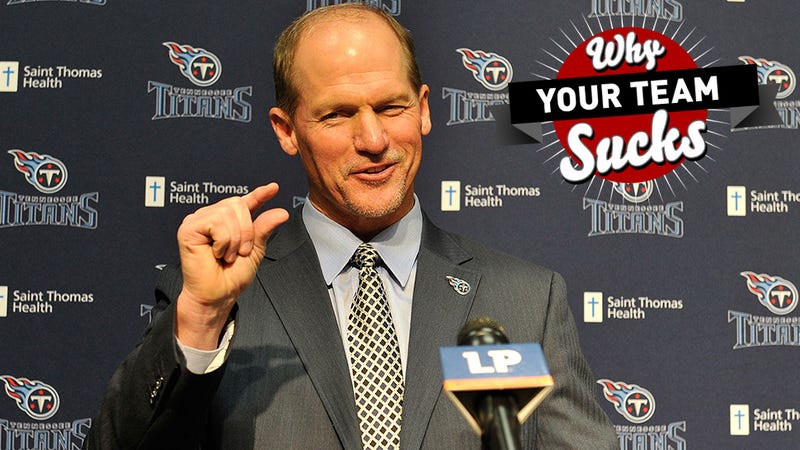 Some people are fans of the Tennessee Titans. But many, many more people are NOT fans of the Tennessee Titans. This 2014 Deadspin NFL team preview is for those in the latter group.
Your team: Tennessee Titans
Your 2013 record: 7-9. Quick! Remember something that happened in a Titans game last year!
(Scanning … scanning … scanning …)
Nope. I have nothing. This team is football wallpaper.
Your coach: Ken Whisenhunt. Yes, it was the Titans who won themselves the Great Whiz Sweepstakes of '014. Sorry, Detroit! You'll just have to make do with Other Stonefaced Retread!
You Titans fans will now get to experience the joy, in real time, of quickly realizing that Ken Whisenhunt is a horrible coach when he doesn't have Kurt Warner around to bail his ass out. In fact, both Whisenhunt and Mike Martz should tithe their career earnings to that man. You can make any coach look like a genius when you're willing to release the ball with your jaw already in the process of being broken by a defensive end.
Whisenhunt is known for acquiring young quarterbacks, picking them up, staring at them, and then putting them back down, confused as to what to do next. Remember Max Hall? Remember when Peter King fell in love with Max Hall? When Peter falls, he falls hard.
Your quarterback: Jake Locker, although saying "Jake Locker will be our quarterback" is hilariously presumptuous. It's like trying to buy a house using future Powerball earnings (the house is also built on a floodplain). Assuming Jake Locker will survive an entire season is a form of blind faith that even Christ himself winces at. You can only get jazzed about the IDEA of Jake Locker playing football. You won't actually get to SEE it. That's crazy talk.
Given that Locker has all the durability of a twice-burnt piece of toast, you'd think the Titans would have gone out and secured a quality backup, or even a challenger for the starting gig, like Josh McCown. The Titans did not do this. Instead, they brought in Clipboard Jesus, possibly the only quarterback who has played LESS football than Jake Locker over the past three years. Kings of Leon here is the Titans insurance policy against going 2-14, which means they are going 2-14.
Behind Charlie Whitehurst is draftee Zach Mettenberger, who had a diluted urine test at the combine. What a coward. DRINK YOUR URINE STRAIGHT LIKE A REAL MAN DOES, BERGER. LSU quarterbacks are fucking awful in the pros.
What's new that sucks: Hey, Bud Adams died! Well played, Titans! I'll miss the old man lumbering around and flipping double birds to random passersby.
Of course, being an NFL owner means you automatically get a series of fawning obituaries when you die. Even if you move your team out of Houston and hoodwink some glorified exurb like Nashville into building you a new stadium by jacking up local property taxes, you still get a death notice usually reserved for heads of state. THIS MAN WAS A GIANT OF THE GAME. He served on the NFL's ways and means committee! And he was really rich for a really long time! Way to hang around forever, old person! I swear, this is why many people decide to buy an NFL team. You are treated as a man of great historic impact even if you just sit there and fart in a luxury box for five straight decades.