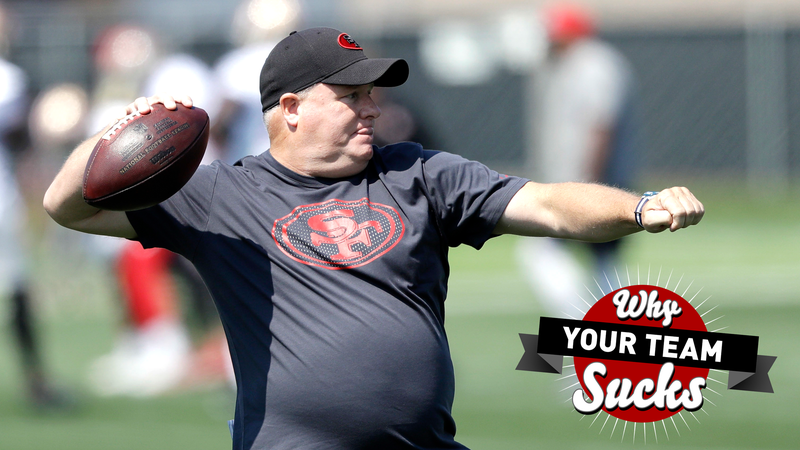 Some people are fans of the San Francisco 49ers. But many, many more people are NOT fans of the San Francisco 49ers. This 2016 Deadspin NFL team preview is for those in the latter group. Read all the previews so far here. And buy Drew's new book here.

Your team: San Francisco 49ers. Oh, did I say San Francisco 49ers? Because I meant Anodyne Exurban Strip Mall 9,000 Miles Away From San Francisco 49ers. San Francisco no longer has an NFL team. The Niners may as well have moved to fucking Alaska. Unless you're a shitbag tech billionaire with a Learjet sharing app account, you'll never see this team again.
Your 2015 record: 5-11. I have to say, that's a good three or four more wins than I expected after this team cut Jim Harbaugh loose, dropped their roster into a garbage compactor, and hired a burlap inspector to coach for a full season.
Of course, Jim Tomsula was fired after all the bad things we knew would happen to this team DID, in fact, happen. I already miss him terribly. One season is such a brief encounter. I wanted three seasons of Hobo Whiskey making these faces on the sideline…
And farting in the press conference!
Oh, memories. Tell me it wasn't worth losing 11 games to have your head coach openly fart out his dignity in front of a hot microphone. Jim Tomsula was the best show on television, and his bosses never realized it. SAD!
Anyway, now that the Lord Of The Highway Underpass is gone, your new coach is… HOOOOOOO BOY
Your coach: Oh, they went and did it.
I don't think any coach in history has gone from genius to chump faster than Chip Kelly. Even Mike Martz had a short grace period before everyone realized he was a CFL coach in disguise. Chip discredited himself within a matter of minutes. He even ruined Christmas. What a fucking asshole. He's like a savant cop on a bad TV show, teamed up with a straight arrow who has to explain his social awkwardness to everyone else. "Detective Farto has a… unique personality. But he'll find your little girl, I swear it!"