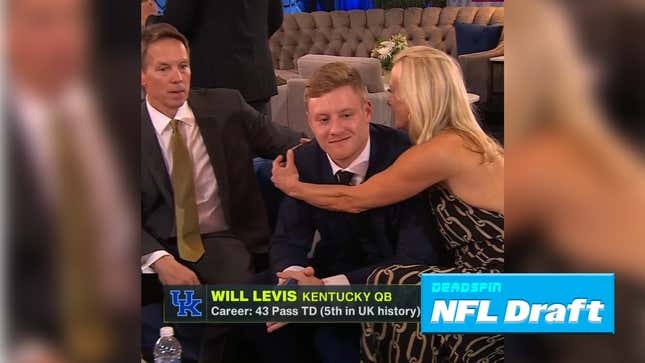 What happened to Kentucky quarterback Will Levis wasn't funny. It felt cruel watching someone experience their most humiliating moment on the night in which their dreams were supposed to come true. But for African-Americans — or at least for myself — it was impossible to ignore the irony. For decades, this league (NFL) and this game have dehumanized, disrespected, and even blackballed Black quarterbacks. And on the day in which four — don't forget about Lamar Jackson, either — of them made history, it was the white one who was stuck on the other side of the coin — for once.
Black Quarterbacks = Big NFL Ratings | The SEO Show
The First Round of the NFL Draft wasn't some type of vengeful redemption. It was the next step of a flawed system rectifying itself.

A historic night for Black NFL QBs
Thursday, April 27, 2023, will go down as one of the most important days in the history of football, as it was the day that the league officially treasured Black quarterbacks more than their white counterparts. Earlier in the day, Lamar Jackson announced that he and the Baltimore Ravens had agreed in principle to a five-year, $260 million contract extension ($185 million guaranteed) — making him and Jalen Hurts the two highest-paid players in the NFL.
A few hours later, Bryce Young became the No. 1 overall pick as he's the new face of the Carolina Panthers. C.J. Stroud was up next at No. 2 to the Houston Texans, as they became the first two Black quarterbacks to ever go 1-2 in the NFL Draft. Two picks later, Anthony Richardson went fourth overall to the Indianapolis Colts.

Three Black quarterbacks were taken in the Top 5 — think about that for a moment.

Another milestone for Black QBs
Now think of Jan. 31, 1988. That was the day that Doug Williams became the first Black quarterback to start a Super Bowl, win a Super Bowl, and take home Super Bowl MVP. Remember April 21, 2001. The day that Michael Vick made history as the first Black quarterback to ever be drafted with the No. 1 pick. And then reflect on what we witnessed in February at Super Bowl LVII, as Patrick Mahomes and Hurts marked the first time the NFL's biggest game featured two Black quarterbacks.
All of those dates and moments led us to what took place on Thursday night in Kansas City. Because from the Super Bowl to the NFL Draft, 2023 has been a historic year for Black quarterbacks.

Now let's get back to the white quarterback.

Will Levis, all hype?
Over the last few weeks, Levis had been experiencing what automatically comes with his whiteness — privilege. Slowly, but surely, his name was skyrocketing up mock drafts, as he became an intriguing prospect that teams were starting to take more seriously. There were internet rumors that he could go as high as No. 1 overall. And ESPN's analytics had him destined to be a Top 10 pick.
It didn't happen. We don't know when Levis will be drafted. It could be on Day Two or even Day Three. Your guess is as good as mine, as we've never quite seen anything like this, with the "coveted" white quarterback having to wait in purgatory while his Black counterparts celebrated at their draft parties.

But, who knows, this might be the best thing for Levis' career. Five years ago, Jackson was left in the green room as he was the last pick of the first round. By Thursday, the former unanimous MVP was the highest-paid player the game has ever seen.
Despite how bad things have been, and still are, for Black coaches in the NFL, the tide has been increasingly changing for Black quarterbacks. And that's what made Thursday night feel so good. Despite how bad of an evening it was for Will Levis, it was a monumental one for any Black boy or man that's ever been under center, or in shotgun formation. Quarterback is the most popular, and important, position in all of sports. And on Thursday, the NFL finally acknowledged that the Black men who play it are not only valued but needed more than ever.