After nearly five years of blogging and writing for Gizmodo, Gawker, Deadspin, the Special Projects Desk, almost Fusion, and the Special Projects Desk again, senior reporter Ashley Feinberg is leaving for Wired magazine. Here's how we will remember her. Rest in peace, Ashley.
From Mario Aguilar, Managing Editor of Gizmodo:
I know a few people have Ashley's cover letter from when she applied to be an intern at Gizmodo. I'll only note one line: "Also, being a Gizmodo reader, I obviously really, really like gadgets; reading about the possibility of playing with some of the things that come into your office caused minor heart palpitations."*
Fake news! I'm pretty sure Ashley never read the page before we hired her. Also, she had no demonstrable interest in or knowledge about gadgets. During her interview, which was the first and only time I ever saw Ashley wear glasses, I think I recall her saying something vague and uninformed about Android as a way of showing her interest in gadgets and consumer tech.
One time, after I wrote a post about a warming rod designed to heat up the silicon sleeves you stick inside Fleshlight male sex toys, Ashley refused to believe, despite my reporting to the contrary, that a lightly warmed Fleshlight would not burn off a user's penis. She ordered a sleeve warmer online, bought ground beef from the grocery store around the corner, and set about heating up a Fleshlight sleeve at her desk and stuffing beef in it to see if it would cook. When that didn't work, she started applying the warming rod directly to the beef, but in the end only managed to "lightly brown" the meat. I believe the followup plan was to bring in a curling iron and use that to see if we could get the Fleshlight sleeve hot enough to cook meat. She never did it, and never finished the post, and left the gross meat-soaked Fleshlight behind when she moved across the office to the Gawker table.
In fact, I think Ashley only ever wrote like three actual posts about gadgets. They were all very good. Bye Ashley.
* Aguilar passed along a copy of Feinberg's intern application from 2012:
From: Ashley Feinberg
Date: August 12, 2012 at 6:07 PM
To: iwannabeanintern@gizmodo.com
Subject: NY Intern

Hi,

I'm writing to apply for the Gizmodo intern position (… just in case that wasn't already clear from the subject line, "to" recipient, tentatively eager tone I will probably be taking as I try to express how immensely I want this position without breaking down into groveling adoration, etc.) As far as professional background, this past May, I graduated from Trinity University with a double major in English and Communication, and I've moved to New York with the intention of working as a writer in some form of online journalism. I want to spend a few years learning as much as possible about the field and where my strengths lie before committing to a graduate program. I have held two past editorial internships – one at a magazine in Dallas and one at an alternative weekly newspaper in San Antonio, but my experience in the online field has been limited mainly to consumption thus far. I'm really looking forward to getting a feel for everything that's involved, and being someone who thrives in a high-energy environment, I think the notoriously quick pace of online journalism would be ideal for me.

Despite my lack of professional online journalism/blogging experience, I do know the interwebs. I'm active on a veritable cornucopia of social media - Twitter, Wordpress, Facebook, Tumblr, Friendster, etc. (Kidding about Friendster. Unless you want me to be on Friendster. I can make a Friendster.) I know basic HTML and can easily pick up whatever knowledge I might be lacking. Also, being a Gizmodo reader, I obviously really, really like gadgets; reading about the possibility of playing with some of the things that come into your office caused minor heart palpitations. Of course, those may have also been due to the bath salts. (Also kidding. I don't do bath salts. Unless you want me to do bath salts.) Moving away from the bath salts and towards nerd credentials, I'm also a diehard Star Wars and Lord of the Rings fan, devourer of science fiction (I have the number 42 tattooed on my wrist in honor of Douglas Adams'Hitchhikers Guide), and am a steadfast worshiper at the altars of Neil deGrasse Tyson and Carl Sagan. Oh, and though I may be a girl, I'm totally down with the genitalia euphemism game. Look, I'll start: Dickey Betts and the Almond Brothers.

Hopefully I haven't made a grave error in my occasionally casual tone, and all joking aside, I honestly am an ardent hard worker, very quick to learn, and am genuinely excited by the possibility of contributing to any aspect of Gizmodo. My resume should be included below; if you have any other questions, please feel free to call or e-mail me, whichever is more convenient for you, and thank you for taking the time to read this.

Sincerely,
Ashley Feinberg
From Brian Barrett, News Editor at Wired:
Ashley Feinberg is fearless, clever, and deeply committed to scouring the internet for incriminating information about celebrities and coworkers alike. Which is why I'd like to take this opportunity to highlight the first post she ever wrote for Gizmodo: This Coffee Table Looks Better and Assembles Easier Than Your Ikea Furniture.

Already, you can see the traits that make Ashley so widely respected today. In a mere 90 words, she captures the coffee table's true essence as a "marriage of utility and style, and a welcome reprieve from having to choose just one." Why choose, indeed! Astute, too, is her observation that "the double layer design leaves ample storage space."
I could go on, but it feels selfish not to let you discover her work on your own. And don't worry, Feinberg fans. Starting next week I get to be Ashley's editor again, and I can promise she'll get back to her roots: Reblogging coffee table concepts from a site called Design-Milk.
From Sam Biddle, Technology Reporter at The Intercept:

When I brought Ashley on as a Gizmodo intern it was mostly because we needed someone to help organize our supply closet, so I had no idea what greatness was ahead for her. Ashley is without a doubt one of the only people who has a more deranged and sick relationship with the internet than I do, but unlike me she's always been able to turn it something beautiful and lovely and fascinating. There are very very few writers who can find turds and pond scum online and make it all vivid and amazing and readable and excellent, and among them Ashley is the absolute best. Still, she could probably use some serious counter-Twitter electroshock therapy, which I hope the Condé Nast health plan will accommodate. As a big fan of Ashley's work I'm excited to see her heading back to covering gadgets and e-sports, her true passion. When she's inevitably prosecuted for going through Ted Cruz's garbage or something, I will probably not testify against her.
From Tim Burke, Video Director of Deadspin:

I have had the pleasure of working hand-in-hand with Ashley on some of her biggest projects, and have enjoyed every moment of those experiences. That pleasure, alas, is more than mitigated by her insistence that we share over to Deadspin her posts on such irrelevant subjects as hungry monkeys, expensive toothbrushes, and Jewish werewolves. I wish her new colleagues luck in fending off such requests.
From Joe Brown, Editor-in-Chief of Popular Science:
Thanks for your note. I'll be out of the office with no access to email until June 1st. If it's urgent, please contact Kevin Gray, PopSci's executive editor (email redacted) or Amy Schellenbaum, PopSci's online director (email redacted).

Best,
Joe
From Emma Carmichael, Editor-in-chief of Jezebel:
When I was hospitalized after a car accident in summer 2015, a lot of lovely people reached out and sent notes and flowers. So nice.
Here's what I got from Ashley: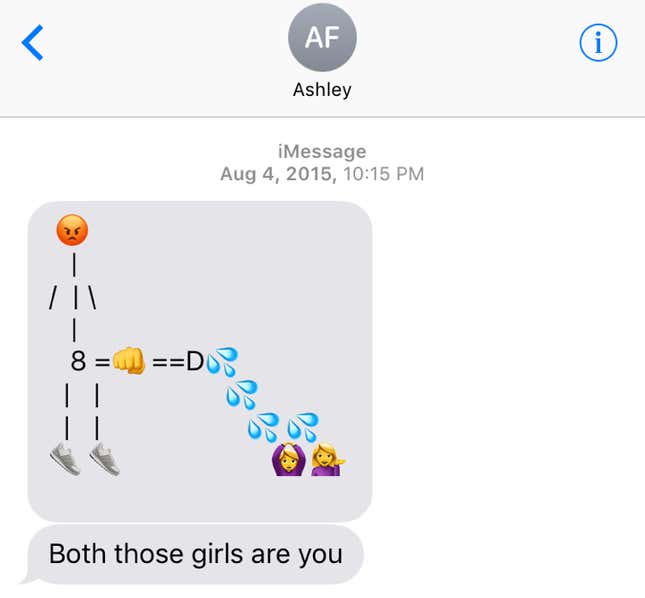 So that's what I'm sending her off with today. Good luck, Wired!
From Aleksander Chan, Senior Editor at Fusion:
Just before joining Gawker, Ashley had written a (very good) post at Gizmodo, "The Creepiest Things You Can Do on Facebook." I remember thinking, "What kind of depraved maniac would have the time and interest to see something like this through?" Had I only known that those few months Ashley and I sat next to each other in the very back row of the former Gawker Media's dimly lit, downtown blog cave—right next to the freight elevator where the trash men would haul out engorged sacks of discarded "free" lunch scraps—would serve as the coming-out party for her deranged inner genius. I now live in genuine, endless terror of Ashley's talents. There is no adversary too large, no moron safe. I am laughing right now at the image of Condé Nast lawyers, towering stories above a gorgeous view of Manhattan in One World Trade Center, screaming across a boardroom table about the journalistic merits of publishing the Pee Tape, which Ashley will undoubtedly obtain.
From Kelly Conaboy, Writer at The Hairpin and Elsewhere:
I once played in a fantasy football league with Ashley. She came in second to last place, which was not last place. I guess I'll always remember that about her.
From John Cook, Executive Editor of the Special Projects Desk:
I assume most of Ashley's colleagues are using this opportunity to memorialize her performatively bizarre obsessions, her skill at making routine social interactions intolerably awkward, and her utterly dark view of humanity.

I'm personally grateful to have worked alongside Ashley during a trying time—she was a reliable sounding board for questions about how bad things can get, how bleak our future is, how low this whole thing can go. Her answer was always "lower" and she was usually right. It was always a comfort somehow.

But the two things I will always remember Ashley for are things I read on a web site called Gawker.com. The first was this essay, published on Father's Day, about her father's suicide. It was courageous and honest and bracing. Ashley is known for juvenile hijinks—trolling politicians, etc.—but her account of grief and depression and confronting darkness is one of the most profoundly adult and wise things I've read. The message is that there is comfort in talking about the things that terrify us.

The other thing is this post, about family values activist Josh Duggar's Ashley Madison account, which Ashley worked on with her mother Lacey Donohue. In many ways it's an unremarkable Gawker post—a mendacious hypocrite exposed by the internet. But it came at a very dark time for the company, and it was the perfect antidote to the clamor of condemnation surrounding Gawker at the time. Ashley solidly laid out the evidence and the case, and seeing that post do well and do good lifted a lot of spirits and reminded us all what Gawker was there for. Then Gawker got murdered.

Bye Ashley.
From Jim Cooke, Art Director of Gizmodo Media Group:
I don't need to get into Ashley's multiple eccentricities and crazy Slack conversations because I'm sure everyone else already has. But whenever Ashley would round the corner to ask me to work on whatever insane idea she was obsessed about at the time, I knew I was about to have a very weird and very fun day. Watching her in action is something I have treasured and admired and I will truly miss her. Congratulations to the folks at Wired. They are going to have a lot of weird and fun days.
From Tommy Craggs, Former Executive Editor of Gawker Media:
In my last job, I tried to hire Ashley away from whichever piece of post-Gawker flotsam she was clinging to at the time. Or, more precisely, I urged my boss there to hire Ashley away, on the thinking that we sorely needed the kind of frisky, 4channer-manqué, dark-side-of-Jupiter reporting she specializes in. This was a mistake. There are no two people on this planet less alike than Ashley and my former boss. My former boss is the sort of person who talks openly about professionalism and decorum. Ashley is the sort of person who texts things like: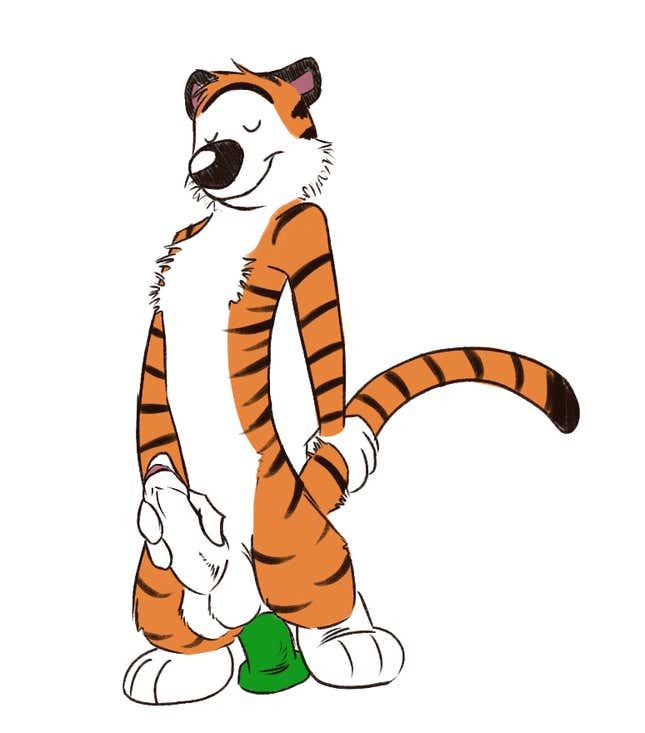 And: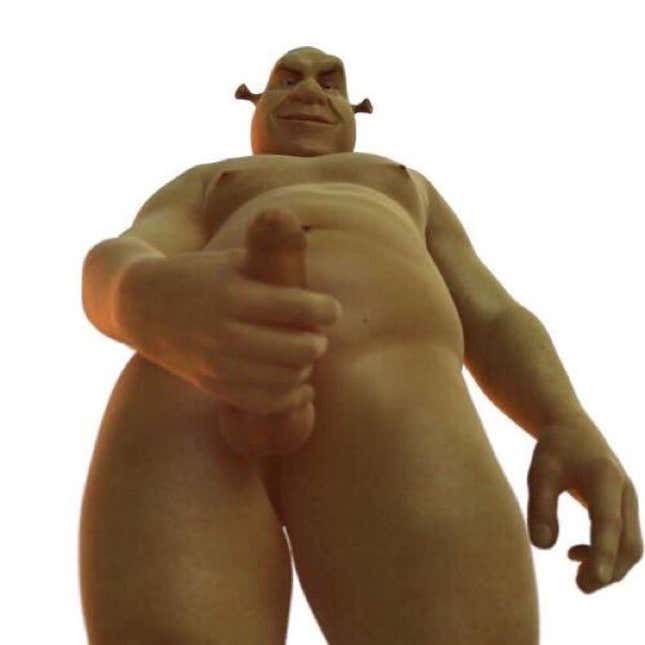 And: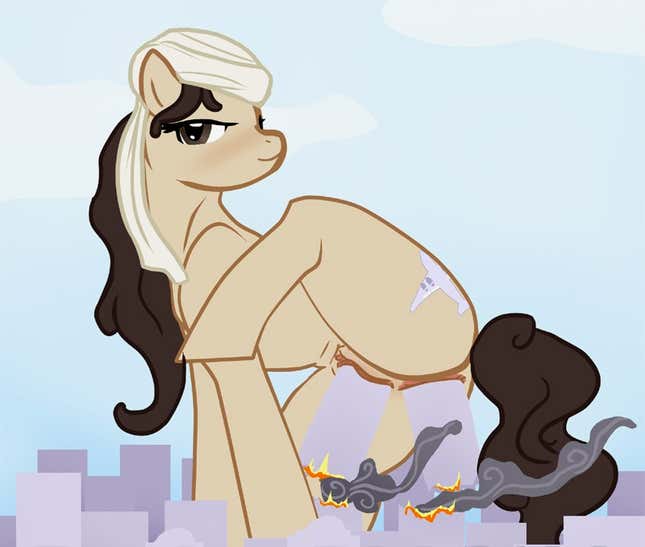 And: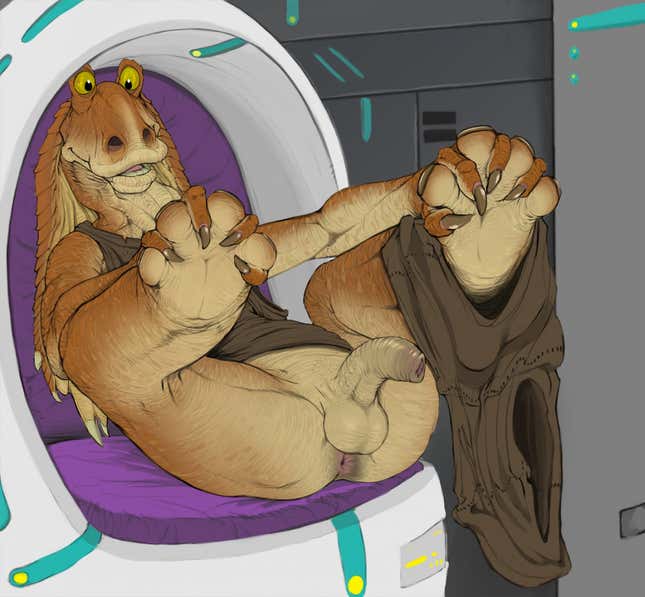 What Ashley does best is pull everyone around her, friends and colleagues, into the great sucking center of her neurotic episodes, particularly the ones involving her career. We have counseled her when she wanted to leave Gizmodo. We have counseled her when she wanted to leave Gawker for the first time and the second time and the third time, and when she wanted to leave Deadspin, and every time she has wanted to leave the Fusion Media Group Scooby-Doo Mystery Machine. We have edited her memos and coached her through routine emails to potential employers. We have bought her drinks to celebrate a new job only to learn the next day that she'd had second thoughts. We have suffered with Ashley, and we have suffered Ashley, too.
Her many-monthslong courtship with my previous employer ended disastrously. Ashley, facing several more months in the grip of the magazine's trademark irresolution, finally pulled herself out of contention in a tartly straightforward email. "As it seems like you're not particularly interested in hiring me," she wrote, "I'd rather not invest any more time." My boss didn't like it.
"An absurd response," my boss said to Ashley.
"Juvenile," my boss said to me.
Hell fuck yes Ashley Feinberg is juvenile.
Journalism is a dumb and degrading profession that rewards the people who learn to strike postures of seriousness. Don't be frisky. Don't be tart. Let the grownups in the room do the talking until you've learned how to play-act at being a grownup yourself. Gawker Media was put on trial in Florida for, essentially, aggravated unseriousness in the first degree, for being unable to act respectable enough. The verdict handed down by a jury of affronted citizens of Pinellas County was affirmed by the media industry itself, which deemed even the name of Gawker too toxic to be allowed to survive. Juvenile is out now. The market is bearish on juvenile. Juvenile gets you sued now and juvenile gets you tsk-tsked by journalism's smarm caucus, even if juvenile also gets you Josh Duggar's Ashley Madison account and Jim Comey's Twitter handle.
"Absurd," my boss said. "Juvenile," she said, declaring that she had no interest now in ever working with Ashley. I wanted very badly to write something mean and cutting about Ashley here, not just in keeping with the spirit of the roast but also because I have spent so much time being dragged through the briarpatch of her professional anxieties that I felt I was owed this opportunity to drag her in return. But I couldn't do it. Ashley is juvenile and absurd, and thank god for it. All anyone should want out of journalism is to work with people like her.
From Andy Cush, Senior Writer at SPIN:
Here's a problem you would only ever have with Ashley Feinberg. When I got the email about contributing to this post, I immediately thought about the time that Ashley texted me, unprompted, in the middle of the night, an extremely realistic rendering of a fully nude Shrek, stroking his own dick, with a sort of greedy and angry expression on his face that still chills me to the bone to this day. This interaction captures a lot of what you need to know about Ashley, and a lot of what makes her so good at her job: the love of mischief, the brazenness (not everyone would be willing to frankly ask Ben Carson's spokesperson if her boss suffers from brain damage), the fact that she conducts her daily life even more bizarrely than you might expect from reading her work on the page. But then I remembered that if I wrote about the Shrek dick, I'd risk repeating someone else's entry, because Ashley sent it not just to me, but to seemingly every single person in her phone book. Still, just in case no one else sees fit to mention it, I'm giving the dick a humble little remembrance here. And if you're an unlucky soul who still hasn't received a Shrek dick of your own, feel free to get in touch with Ashley and ask. Her DMs are open.
From Madeleine Davies, Senior Writer at Jezebel:
The first conversation I ever had with Ashley Feinberg was when she cornered me at a house party to talk about a conspiracy theory linking the missing Malaysia Airlines flight MH370 and one of the 9/11 planes. My thought, as I desperately and unsuccessfully tried to escape her, was that this person was extremely coked up and I never wanted to talk to her again. Soon, though, as I began (reluctantly) speaking to her more at work and other social events, I realized Ashley was not coked up—she is just naturally one of the most intense and exciting people you'll ever met. I also came to learn that she's extremely intelligent, funny, and a very good friend...even if she's rarely nice to you and often text messages you .gifs of Shrek masturbating.
What makes Ashley exciting to know also makes her an extremely good writer and reporter. Once she's deemed a subject worthy, she devotes herself to it wholeheartedly, never losing sight of a story or the joke that humanity is always, always ridiculous. Despite her efforts to convince me otherwise, I've come to know Ashley as a journalist of true integrity. This being the exception that proves the rule.
I love Ashley and will truly miss her at the office. Much in the same way MH370 likely missed that wormhole to 2001.
From Veronica de Souza, Head of Audience & Social at Gizmodo Media Group:
I'm very sad Ashley is leaving because we order lunch together several times per week and it's really hard for me to meet the high Seamless minimum at the Good lunch spots by myself. It was tough to think of a single best Ashley moment, so I left it up to Slack. I have one message pinned in our Slack DMs. It's from a conversation we had after I sent her a gif of someone's eyes but the pupils had been replaced with pulsating buttholes. Ashley has a chronic case of slack fingers, and now this great typo will live forever.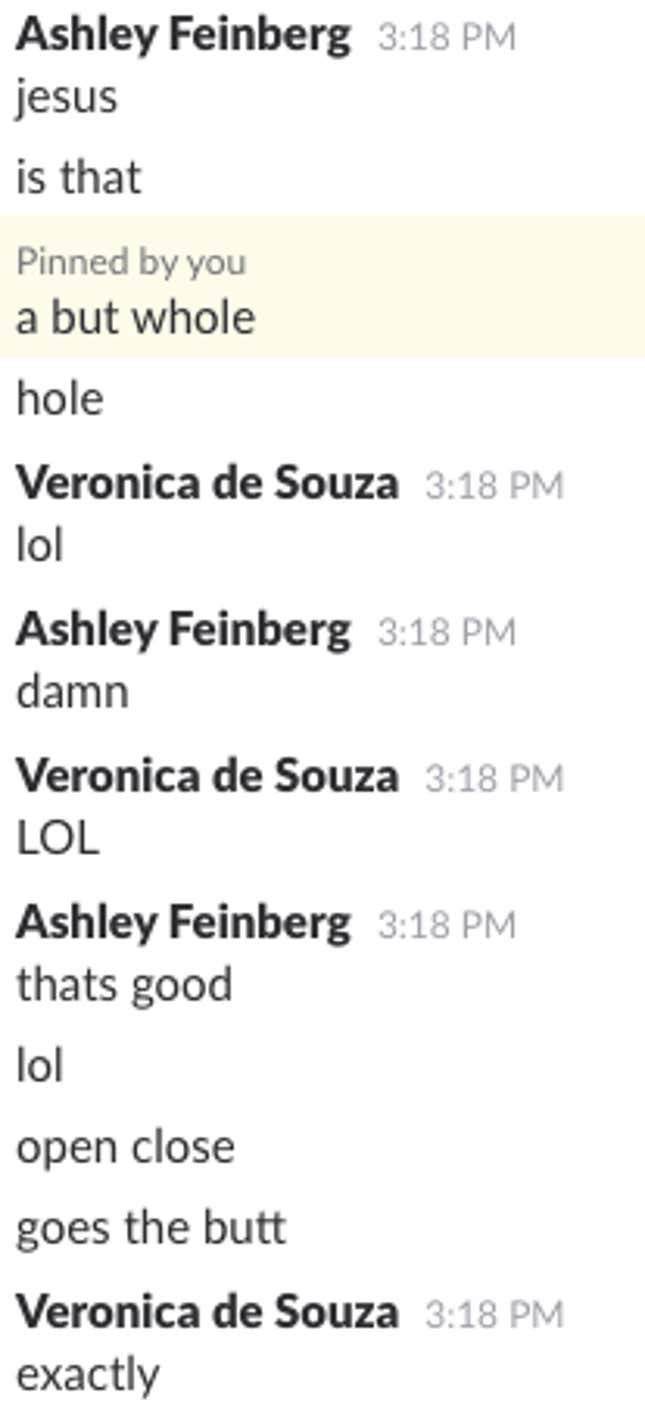 I will miss Ashley's slack typos very much. I'm happy to have her as a friend even though she sent me bugs in the mail TWICE.
From Lacey Donohue, Senior Editor at Hulu:
Ashley Feinberg is the daughter I'll never have, the coworker I never wanted, and easily one of my top five favorite people in the world. When she reads this, she'll wonder who the other four are and then she'll probably ask via text, slack, and—if she gets really desperate—email. And I'll never ever tell her.
I love you, Ashley, and I won't make fun of you and talk about the huge stories I paid for that you never filed. I'll never talk about how you spent months of work not working and then not filing those stories. I'll never talk about how instead of writing those stories, you spent years slacking and texting people looking for life advice. Including me: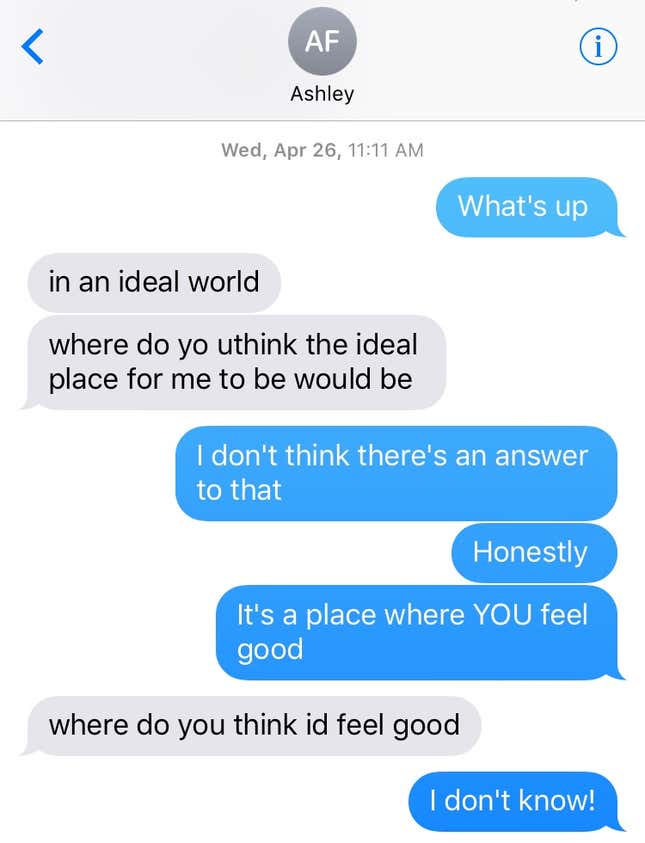 I chose to include this text image because every other screenshot I have of our conversations would immediately give any Condé Nast HR person a seizure.
So here's to a future of feeling good, don't forget where you came from, and please invite me to your wedding with Jimmy Fallon. Remember the Jimmy Fallon incident? Just another fucking story you should have written.

From Kate Dries, Deputy Editor at Jezebel:
Ashley Feinberg knows more about the Duggars than you would ever want to know, knows more about Ted Cruz than you would ever want to know, knows more about a lot of things you'd never want to know.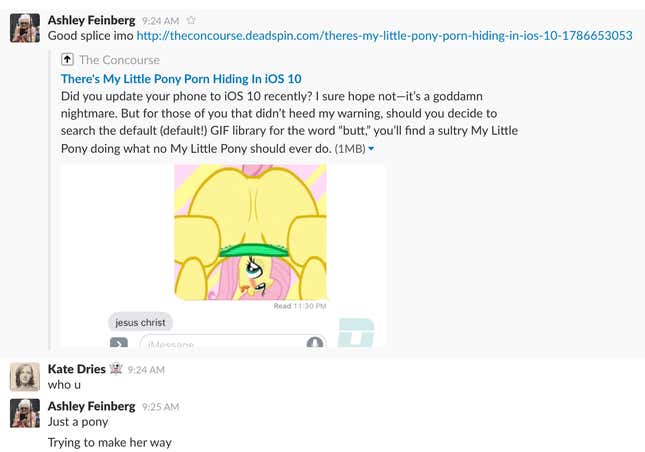 ​But someone needs to know them, and for that, we are lucky to have had her around.
From Katie Drummond, Executive Editor of The Outline:
What I'll remember most about Ashley aren't the highly trafficked blog posts, the incessant Slacks, the occasional and wildly inappropriate text messages, or the pitches that straddled some blurred line between brilliant and unbelievably bad. What I'll remember are those moments, at least ten of them during my time at GMG, when I would be sitting at my computer in the office, concentrating intently, and suddenly feel the rough, slow scratch of five long nails running down the back of my neck. I would look up, and there would be Ashley, smiling like someone who'd just been released from the asylum and was about to shove a meat cleaver into my skull. Good luck trying that shit at Condé Nast, you fucking creep.
From Dayna Evans, Senior Writer at The Cut and New York magazine:
One thing many people don't know about Ashley is that she has a savant-like talent for remembering useless shit (and forgetting everything else). Want to hear one of a dozens of Shakespearean sonnets or soliloquies? Ashley will happily recite one for you. Love the lyrics to a Queen or Third Eye Blind song? You're gonna love them even more when Ashley sings them to you in double time, as she makes extremely direct, intense eye contact. I always wonder what she could accomplish if she freed up that part of her brain for literally anything else.
Ashley and I met when we both worked at Gawker and became instant friends. Over the course of the 3+ years I've known her, I can say with relative certainty that she's never fully listened to anything I've said. In fact, one Friday night together at a bar, I looked over at her phone to see what could possibly be so important for her to be glued to it all night and she was, I'm not kidding, refreshing Chartbeat.
I once told Ashley that I was Banksy and she actually believed me. Good luck to her bosses at Wired, who definitely have no idea what they're getting themselves into.
From Leah Finnegan, Senior Editor at The Outline:
One time Ashley came to my house to "help me paint my apartment" and she ended up taking photos of all my personal documents with her phone. Another time she texted me a photo of Shrek masturbating. Yet another time she texted me a picture of a woman who had period blood smeared on her face. Ashley is insane. But she is also an incredible person, and I will never forget working with her on pieces like this.
From Marina Galperina, Features Editor at Gizmodo:
Ashley is a legend and has consistently made the internet a better place. Except for that time she introduced me to the erotic horror of clown forums. That was really fucked up. Other than that incident, I spent the bulk of my time at Gawker in quiet awe of Ashley, and just how insanely good she is at what she does, which is writing about Pokemon. I remember distinctly one late afternoon when we were all very distracted with a thing, and Ashley was writing a good post about Pokemon. I trust she will continue investigating Pokemon and being insanely good, undeterred, while the world continues to get infinitely shittier.
From Hudson Hongo, News Editor at Gizmodo:
Ashley is a relentless journalist, one of my favorite writers, and an even more talented troll. Across a half dozen websites, she's written hundreds of Good Blogs—a form of expression widely regarded as our era's greatest art.
Back when my job was writing about horrible murders in the middle of the night, Ashley was one of just a few people who would message me regularly, making Gawker Nights a far brighter place. Sure, those messages were more likely to be Shrek nudes than legitimate work questions, but I appreciated it just the same. In any case, I'm glad HR is finally addressing this issue and have numerous screenshots if additional evidence is needed.
From Greg Howard, David Carr Fellow at the New York Times:
I don't remember how or when Ashley Feinberg and I became friends. Sometimes—like when I ask her to walk a few blocks over my house to hang out on my birthday, and she says she's going to come, and then doesn't come—I don't even know if we're friends. But I remember when we started spending time together. Two summers ago, back when there was a Gawker and a Gawker Media, we moved from a good office in SoHo to a toilet office in like Flatiron. I developed a new habit of taking my laptop to a four-top table away from everyone where I could stretch out a bit, take the seat with my back to a wall and more generally be alone as I pretended to blog.
Feinberg joined me soon thereafter. We didn't talk much. Nobody talked much, because few of us genuinely liked our coworkers, and everyone was sad, and the office had bare walls that made it feel slightly sacred, like purgatory. So Feinberg and I Slacked often, even though we sat a couple feet apart. This is how I came around to thinking that Feinberg, much like her blogs, was generally funny, thorough, and good.
Because she truly lives for this blog shit, Feinberg often got to the office before I did. When she did, she would often take my seat, working with her back to the wall. This is how I learned that at some point while working in the new office, my preference of working with my to the wall had turned into a mild phobia of people walking up behind me while I was writing. I told Ashley this on several occasions—jokingly at first, and then more urgently. Feinberg would laugh, but she never moved. Sometimes, if I had to use the phone, or went to a rare meeting or the bathroom, she would take my seat. I would look at her, and she would smile, and that would be it. It was a cruel, silent torture. I realized only after I left that she was trolling me, and delighted in doing so. So, fuck you for that, Ashley.
From Rich Juzwiak, Senior Writer at Jezebel:
Ashley's brilliance is so self-evident that I hardly feel it necessary to present supporting evidence (Google her), but I will say that "The Creepiest Things You Can Do on Facebook" astounded me, as did "How to Talk About Suicide on Father's Day."
From Kate Knibbs, Staff Writer at The Ringer:
During my first week at Gizmodo several coworkers warned me that Ashley was an "evil genius" whom I "absolutely shouldn't trust" because she'd "find all my secrets"—and she's terrific at uncovering the most messed-up corners of the internet. I'm sure that's why Wired hired her, but I hope that her new bosses don't forget that, above all, Ashley is an enthusiast. She doesn't love everything, but when she does love something, she loves the hell out of it. And I love her for it.
I love Ashley almost as much as Ashley loved being the San Antonio Current's foremost rock critic. I love Ashley almost as much as Ashley loved this IKEA coffee table, which she voluntarily blogged about and then tagged it as "beautiful."

I love Ashley almost as much as Ashley loves recycling tweets about how much she hates it when people use "feels" as a noun.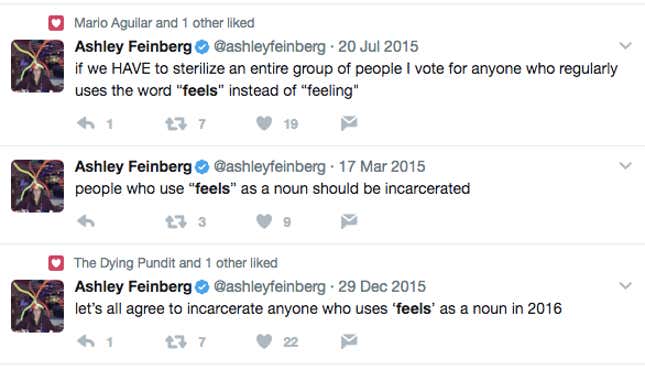 All the feels for my special girl.

From Eric Limer, Deputy Editor of PopularMechanics.com
Yes, it's fun to watch Ashley dox an FBI director, but personally I'm hoping this move will give her a chance to go back to her first talent and deepest passion of design writing. Just take this brief excerpt from a classic:
"In a world plagued with difficult decisions, Max Ptk's Kitara coffee table is marriage of utility and style, and a welcome reprieve from having to choose just one."
I mean, it's never been truer than it is now, right? Excited to read more at Wired!
From Tim Marchman, Editor-in-Chief of Deadspin:
The thing I think it's important for everyone to understand about Ashley is that while some may not realize this, her greatest talents are probably as an artist: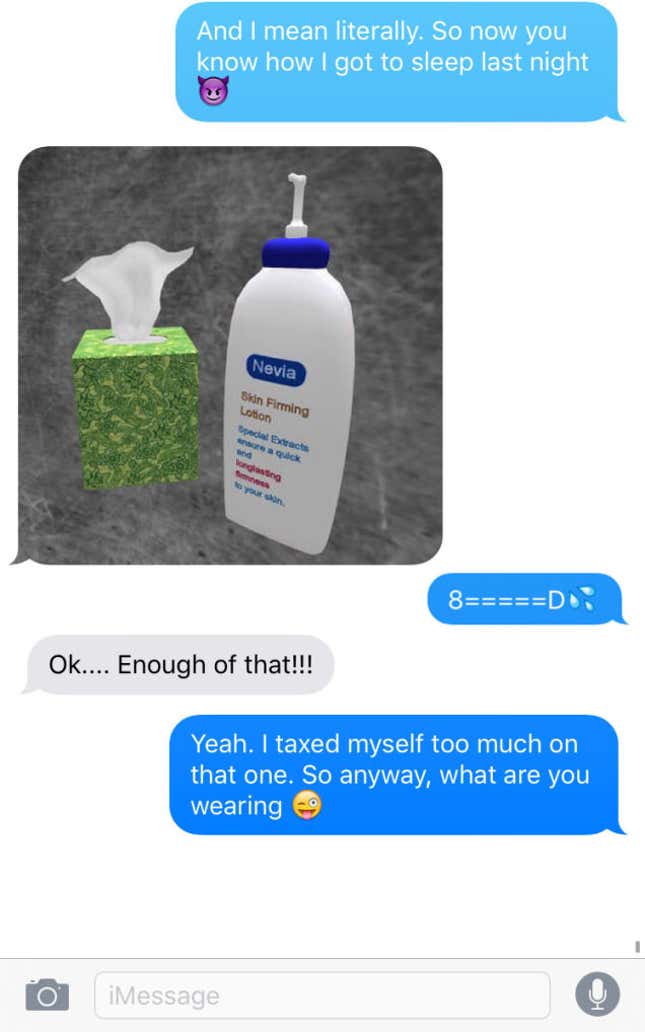 From Surya Mattu, Data Reporter at the Special Projects Desk:
Losing Ashley is going to be a blow for our tech investigations. Her dedication, work ethic and head accessories are amongst the finest in the tech journalism community.
Mattu attached the following screenshot of a tweet, referring to Feinberg's report on former F.B.I. Director James Comey's secret Twitter account: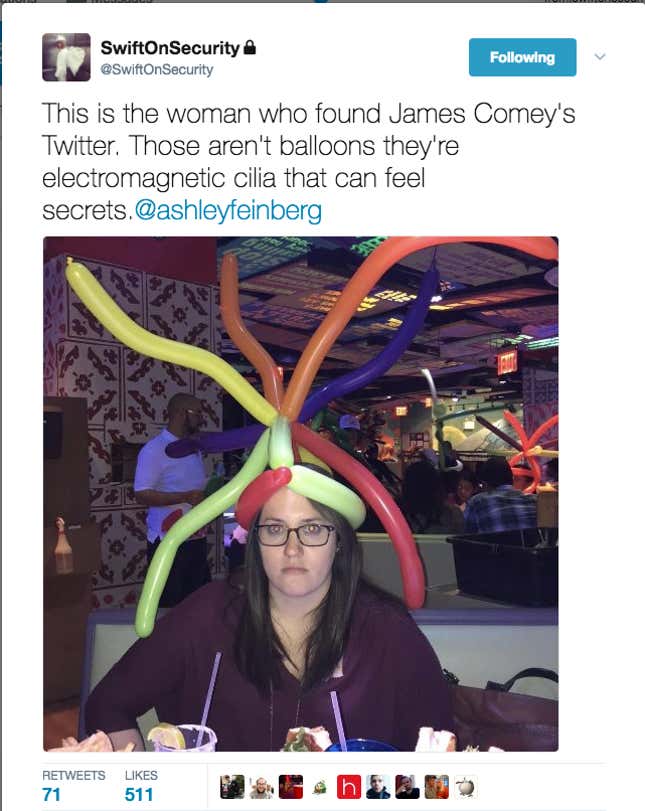 From Anna Merlan, Senior Reporter at the Special Projects Desk:



From Hamilton Nolan, Senior Writer at Fusion:
From day one, Ashley Feinberg's journalism has always been driven by one thing: a desire for "retweets." She's proven over and over again that she is willing to do or say anything in order to amass the "retweets" that sustain her like water sustains plants. Truth, ethics, and basic human decency have always taken a backseat to her voracious appetite for "retweets" from the internet's basest citizens. Now Wired will have to deal with this. After Ashley's destructive "retweet" addiction brings down Wired, we will be happy to take her back, because we don't care. God bless Ashley Feinberg.
From Brendan O'Connor, Staff Reporter at the Special Projects Desk:
Ashley Feinberg's brain is broken and ever should remain so.

From Andy Orin, formerly of Lifehacker:
Ashley's pretty funny. That's my first thought. It's a stupid thought given the breadth of her work, but there's something hilarious about the way she happily makes people uncomfortable. There's more to it than that, though; to effectively mess with people you need a deep sense of intuition and empathy and understanding. How else can you troll your friends constantly and somehow make them love you more.

Paired with her laser-focused obsessions with weird shit and bad politicians, that's what makes Ashley's work like nothing else. Anyway, Ashley's passion for gadgets is exceeded only by her love of sports, and I look forward to reading about it in Wired.
From Alex Pareene, Politics Editor at Fusion:
A fun parlor game is "what will be Ashley Feinberg's career-ending fuck-up?" Perhaps it will be a simple bad tweet, or perhaps eventually she'll find an editor pliable enough to let her run one of her classic pitches like "9/11 Didn't Happen" or "Jews Are Bad." Wherever she ends up, she will try to convince her employer's lawyers to allow her to commit a federal crime—most likely bribery of a public official—and perhaps someday one of them will say yes. Or she may end up joining a cult, "for a post," but then for real. Maybe she will just be jailed for sending a Shrek Nude to Barron Trump (reminder: email or DM Ashley if you would like her to send you a Shrek Nude). There are a lot of ways it could go! I wish the best of luck to her future editors as they work to protect her from herself.
From Adam Pash, Lead Engineer at Postlight:
Before Ashley became the world's greatest SJW cuck-troll, she was, in college, a serious journalist for a local alt-weekly, the San Antonio Current. To understand where she is today, it's helpful to look at where she came from.
I learned, for example, that Ashley is strongly in favor of unpaid internships. I learned that she's always known how to find a provocative angle, as illustrated by an article titled "Smoking the Sex Panther" about a newly opened hookah lounge. (Ashley thought that smoking the eponymous sex panther "was pleasant enough." A recent commenter called the piece "Inappropriate.")
But the most important thing I learned is that Ashley's true passion is not gadgets, sports, politics, or memes—but music criticism.
My favorite, Ashley's review of Queen's re-mastered first five albums, demonstrates a budding interest in technology that would later lead her to Gizmodo:
While it may come as a shock to today's whippersnappers (what with their digital music and XM Radio), there actually was a time you could physically hold music in your hands.
And she was already a master of the metaphor:
Still, their assault on the singles chart was fruitful (think "Killer Queen"), and that fruit entered the world as an iron-codpiece-clad vaudevillian belting harmonic love-melodies with operetta sensibilities.
You should take the time to read all of Ashley's work at the SAC to really understand Ashley, but for me, this lonely comment left on Ashley's Queen piece four years ago sums up the way I'll always feel about her:


From Puja Patel, Editor-in-chief of SPIN:
Ashley is a brilliant, singular weirdo who truly deserves to see the pee tape. And I mean that with all of my heart.
From Barry Petchesky, Deputy Editor of Deadspin:
Every holiday I can expect one of these from Ashley: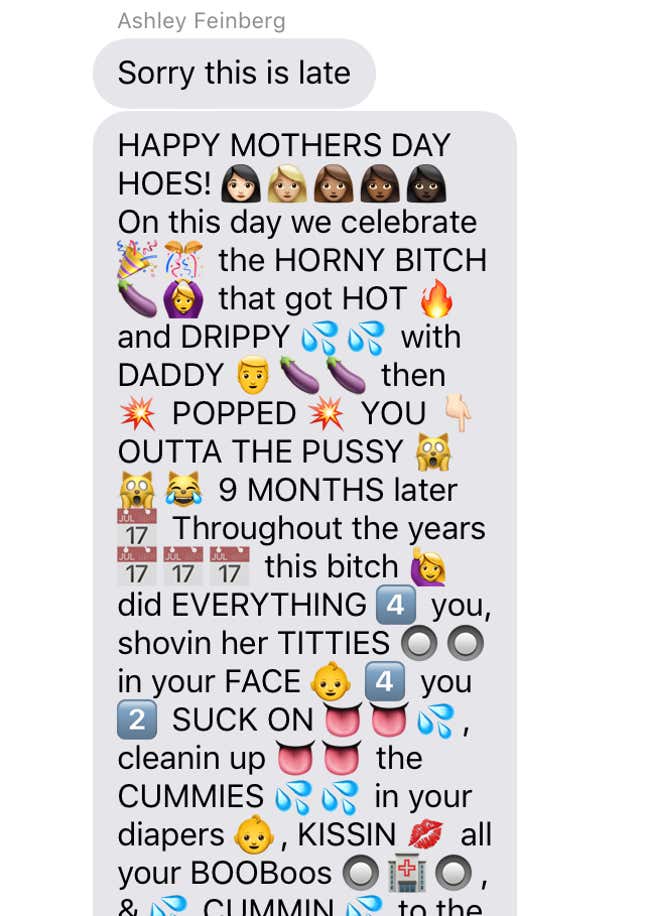 It goes on like that for a while.
From Max Read, Senior Editor at New York Magazine:
Hi! I'm on vacation till Tuesday 5/30 and will be checking email infrequently at best. I'll do my best to get back to you when I get back.
Addendum:



Update, 6 p.m. — After this post was published, Read asked us to include the following paragraph and screenshot. According to high-level sources close to the former Gawker editor, he composed it while traveling abroad in the Italian Republic:
A few decades ago, when Ashley was still working at Gizmodo and I was still editing Gawker, she decided one day that she should work at Gawker instead. She was just about the only person who thought so. Her then-current boss didn't want her to work for Gawker; her boss's bosses — my bosses too — didn't want her to work for Gawker; I didn't even really want her to work for Gawker, seeing as my hands were full trying to get Sam Biddle to stop sending me his Amazon purchase orders. Nevertheless, Ashley cornered me one day and told me she was going to work for Gawker. And then, over the objections of at least four people who had the power to stop her, she did. In retrospect it was inevitable. Like any driven professional, Ashley seeks out authority figures from whom she can learn, mentors who can help her develop her skills, and then, like any great reporter, ignore everything those people try to teach her. There is a small support group of people whose advice Ashley seeks, only to brazenly ignore. I can't wait to see what she will refuse to learn from Wired. Maybe Condé will give her the resources to finally report out her white whale: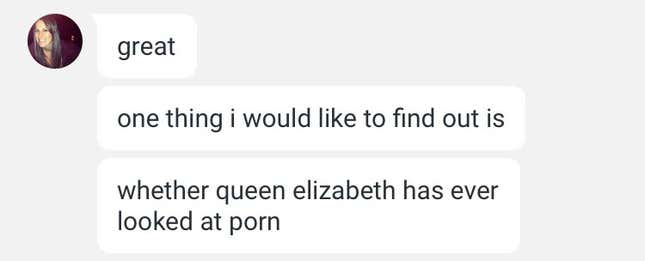 From Patrick Redford, Staff Writer at Deadspin:
My contribution is this.


From Kavi Reddy, Deputy General Counsel at Gizmodo Media Group:
I will always remember when Ashley peppered me with questions about wizards. I thought she was punking me, but she was actually attending wizard school.
From Will Sansom, Senior Office Manager of Gizmodo Media Group:
I love Ashley and I will miss her heavy boots jangling in the office.
From Jordan Sargent, Associate Editor at SPIN:
Ashley has the most unique brain of anyone I've ever met. Everything you need to know about Ashley's brain is encompassed in her instant classic Facebook prank post, which had the entire then-Gawker staff in awe. She is inspiring and insanely hilarious, and living in the same city as her is terrifying. Wired is making her move to San Francisco, right?
From Tom Scocca, Deputy Editor at the Special Projects Desk:
Ashely Feinbreg wasa n extreoardnary bloger adn obsrever o ftehcnology, sepecially cnosidering thah seh wasn ot cpable ofo preating as tnadred cmoptuer kyeborad. Utlimately taht wsaA hsley's gfit, teh ablity t prusue aan ieda wthiout freao r hseitatoin, whreever ti mghit tkae hre, evne thoguh itm ad eno snese toa nyonoe sles utnil seh wsa dnoe. Itw asn'tt hat seh cloud orvecome ab rkoen keybroad (ltireally whenshe lotshers pcaebar forafwedays) ase saily ass he colud overcoem stoenwalling srouces ro hddien olnine hitsories toget teh sorty; itwsa taht form Ahslye's ponit fo veiw tohse obsatcles didn ot evne exsit. Teh poeple ta WIDER magzaine cant' imgaine waht tehy ar ein fro.
From Kelly Stout, Senior Editor of the Special Projects Desk:
Ashley was constantly pulling demented/lighthearted pranks on her friends here, such as sending around nude imagery of a beloved figure from children's literature, trying to convince editors from every GMG site to run her blog on whether Bob Dole is dead or not even though I killed it like four separate times, or tagging herself in other people's engagement photos. She never included me in any of these pranks, and I confess that I felt left out every time. The pain has not subsided with time, and yet I still like her. Hm. It doesn't add up. It must be because she's an excellent reporter who is exceptionally fun to be around when she's not begging for a splice, and embodies the spirit of things around here. Also, despite what she wants you to think, Ashley is a deeply kind person.
From Keenan Trotter, Senior Reporter at the Special Projects Desk.
Ashley Feinberg left an indelible mark on both this company and the internet at large. My favorite posts of hers are:
I will miss her very much.
From William Turton, Staff Writer at The Outline:
A lot of people are probably going to say really nice things about Ashley in this post. They might talk about how funny and kind she is, or her talents as a writer and reporter but what we all need to talk about is how Ashley needs our help. Nobody can be obsessed with Chemtrails and Newt Gingrich to the degree Ashley is without something being a little off. I hope all the lucky folks at Wired get her the assistance she so desperately needs.
Also I was going to include a slack screenshot that was from Ashley to me that said "Your my best friend," because, well, we are.
Turton also sent this picture he took of him and Ashley in the Gizmodo Media office: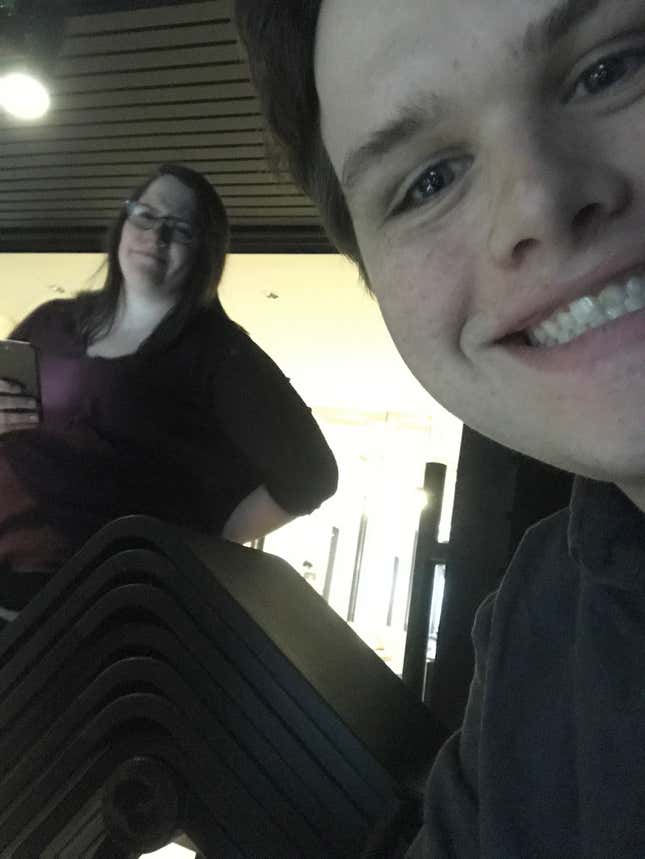 From Kyle Wagner, Senior Writer at FiveThirtyEight:
Here is a post by Ashley Feinberg:
Here's the First Instagram of North Korea (Probably)
Kim Jong Un's hip, young reign over North Korea continues today as the mobile operator Koryolink officially turns on its data services, opening the gate to Instagram, Foursquare, and Twitter, among other social apps.
Hm, OK.
In true North Korean style, though, only foreigners will be able to access the network, leaving locals to continue sepia-toning their weekly meal in their heads for the time being.
Hm.
Still, this is a major step forward for the notoriously internet-restrictive country, and this may or may not (but probably not) be due, in part, to a recent visit by Google CEO Eric Schmidt over this very topic.
Hm.
Jean H. Lee, head of the Associated Press bureau in Korea, sent out the first North Korean tweet (that we're aware of, there may have been others) from a mobile device.
Hm.
The image at the top soon followed as the (also potential) first ever Instagram, which Lee described as a sign "welcoming nuclear test scientists." And a beautiful welcome it is. Whether the gloomy filter is the work of "Earlybird" or the country's collective, crippling sadness, however, remains yet to be determined.
Politics!
From Sam Woolley, Illustrator at Gizmodo Media:
Ashley would always buy me a Diet Coke if I'd go out and pick up one for each of us. She will be missed.
---
This post was produced by the Special Projects Desk of Gizmodo Media Group.