You can get away with murder, you know. It's just easier for those of us who don't murder not to think about it. To some extent, it's baked into the system, one designed in theory (though not always in practice) to start out with a presumption of innocence. The other factors that come in usually do nothing more or less than reflect human fallibility and imperfection. We make bad decisions, we miss clues, we misremember, we make assumptions, and we screw up. It's nice—comforting, even—to think that the men and women who get away with murder are devious geniuses drawing up intricate, Hollywood-worthy plots, executing them with precision, then leaving the scene without a trace. But it isn't always so.
Often, the person who gets away with murder is some jerk like Aaron Hernandez. He's rash, he's sloppy, he leaves witnesses, he drops evidence, he has obvious motives, and he doesn't even always kill the person he's trying to murder. He is, in terms of his criminal history, an utter idiot. He made mistakes so obvious that anyone who's binge-watched The Wire or The Shield or the latest Prestige TV Cop Show of Choice can recognize them. And yet, until June 2013*, he was a free man, and, as his trial nears to a close, there's still the very live possibility that he will be found not guilty of murder.
How is this even possible? Let's start at the beginning, with the first attempted murder he's connected to (that we know of).
Attempted Homicide, Gainesville, Fla., Sept. 30, 2007
It was a little after 2 a.m., past closing time for all the clubs, when someone (possibly Aaron Hernandez) walked up to a Crown Victoria and unloaded five bullets, which struck Corey Smith in the head and Justin Glass in the arm, although both survived to talk to the cops. Multiple people saw what happened in the 1200 block of West University Avenue, a busy stretch right by Florida's campus. But the shooter has never been arrested.
G/O Media may get a commission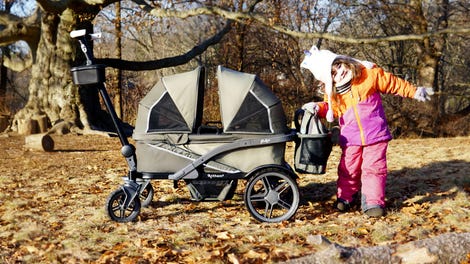 30% off
The Anthem All-Terrain Stroller Wagon Adventure Bundle
Go everywhere with your kids
This must-have bundle nets you either of Gladly's award-winning Anthem2 or Anthem4 All-Terrain Stroller Wagons as well as must-have accessories like a parent cupholder, a removable storage basket, extra-large canopies, a nap system, quilted comfort seats, a cooler bag with a padded shoulder strap, and a travel bag.
Randall Cason was inside the car. Here's what he told Gainesville police, according to a collection of reports they released. The beef went back to the prior weekend, when his brother got in a fight with some Florida football players at a club called Venue. Cason was back at Venue that night, without his brother but with friends for backup, and the football players were there too. Cason said the players group included Maurkice Pouncey, Mike Pouncey, Reggie Nelson, and a "Hawaiian" with a lot of tattoos. Is that Hawaiian Hernandez? Hernandez's name comes up later in the reports; we know that because even though the mentions of him were redacted out due to his age at the time—he was 17—ESPN got a copy missing one of the redactions. The groups confronted each other, and Cason said, "So what are going to do about this?" One of the football players tried to snatch Cason's gold chain before getting kicked out of the club.
This is a horrible start. The fight and getting kicked of the club makes for clear motives, to which witnesses can attest. Cason recognizes most of them, which makes sense. (Who wouldn't recognize Florida football players in Gainesville?) About 45 minutes later, Cason and his friends met the football players in a parking lot, where Cason said they talked, shook hands, and left with smiles. Cason's group piled into Smith's Crown Victoria and left, heading down University Avenue until they hit a red light.
As they were waiting for the light to change, the Hawaiian football player and Reggie Nelson walked up to their car on the right side. Then without saying a work the Hawaiian pointed a small handgun in the front right window and fired five quick shots. Cason saw Smith slump over with blood coming out of the back of his head, at which time the Hawaiian and Nelson took off running towards "McDonalds."
Two men were shot in the middle of the street! That's incredibly brazen. There are witnesses, there are people calling the police, there may be video cameras recording from nearby businesses. This should be easy to solve, right?
The police search immediately after the shooting didn't find anyone, although they briefly had a man in custody who wasn't the shooter, according to the reports. The descriptions given by witnesses outside the car vary. Many agree it was a man with cornrows, but they disagree on the color of his shirt. Glass said he saw a person in a white T-shirt and later a white flash before he got shot. Smith worked with cops to create a composite of the shooter, which was not included in the released reports. Cason at some point had identified Hernandez and Nelson, but later rescinded his identification of them. Nelson spoke to police, denying any knowledge of the shooting, with police noting they "believed Nelson may have been covering up some aspect of the shooting." When authorities tried to talk to Hernandez, police said he "invoked his right to counsel."
As for video, one investigator wrote: "All businesses in the area were contacted. There are no surveillance systems that cover the vicinity of the shooting." A nearby McDonald's had video, but didn't respond to a request. The results of a subpoena for the video aren't mentioned. And though there's nothing to suggest it in the reports, it is worth mentioning these are football players for a team that won the national championship just a year before. Many powerful people in Gainesville had a vested interest in having them on the field.
To this day no arrests have been made. The investigation remains open.
Homicide, Boston, July 16, 2012
Daniel Abreu and Safiro Furtado were two Cape Verdean immigrants who worked together as housekeepers. Both were at the nightclub Cure, as was Hernandez. It's unclear if Abreu and Furtado ever even had contact with Hernandez; a lawyer for their families told the Boston Globe last year that "there may have been words exchanged between Hernandez and his accomplice and the victims' friends." Abreu and Furtado left the club about 2:10 a.m. and were killed when an SUV pulled up alongside the black BMW they rode in as it was stopped at a light and fired six shots inside.
This sounds familiar! Group is at club with Hernandez; group leaves club; group stops at a traffic light and is shot, this time fatally. Then there's the lengthy list of evidence prosecutors gathered, which includes the SUV used in the homicide (found at the home of Hernandez's uncle) and the murder weapon, found in the car of a woman who told police it belonged to her football-player friends. Who doesn't destroy the murder weapon and ditch their vehicle? Maybe someone who's gotten away with it before.
This time Hernandez was much less lucky. Surveillance video showed his SUV circling the block until Abreu and Furtado left, then pulling up alongside them before the fatal shots were fired according to authorities. A man in the backseat of the fired-upon car said he saw Hernandez's picture after the 2013 arrest and recognized him as the trigger man. This all sounds horribly damning, but leaves one question: Why did it take so long to arrest Hernandez in the first place? The murders happened in 2012, but Hernandez wasn't charged until last year—after he was already behind bars on charges he orchestrated the killing of Odin Lloyd. From the Globe:
Investigators knew that Hernandez, 24, had been at Cure on July 16, 2012, but initially did not pursue him as a suspect because he had left about an hour before the victims. But when news broke about the Lloyd slaying, Boston detectives took a closer look at Hernandez's moves that night. They studied earlier surveillance camera footage at the club and on the streets.

So Hernandez said, "Not me, boss," and the cops said, "Okay, cool, now get back to Patriots practice." Hernandez was sloppy, but the less-than-stellar inquiry of the Boston police helped.
(With Hernandez the night of the Cure shooting was Alexander Bradley, who says Hernandez shot him less than a year later.)
Shooting, Palm Beach County, Feb. 13, 2013
The night started at a Miami-Dade County strip club, Tootsie's, where they got in a fight, according to Bradley's civil suit. Prosecutors in a separate case later gave this account of what happened that night. It started as a fight over how to divvy up the bar tab and continued after they left. When Bradley realized he had left his phone at Tootsie's, Hernandez refused to turn around, and Bradley made "disrespectful remarks."
Shortly thereafter, the car pulled over in an isolated industrial area where Bradley was shot between the eyes. The defendant exited the car and quickly dumped Bradley's body on the ground before fleeing the scene.
Another fight at the club, and another shooting into a car. If you believe all these shooters are Hernandez, he sure follows a pattern—one that should make him easy to investigate. But once again, Hernandez gets a boost, this time from Bradley himself. When it happened, Bradley was found bleeding from the head near a John Deere store by employees who heard the gunshots, according to the Palm Beach Sheriff's Office report. Bradley refused to cooperate with investigators! On the ride to the hospital, a deputy asked Bradley several times if he knew who shot him. His answer, the deputy wrote in his report, was, every time, "No." When the deputy asked where this happened, Bradley wouldn't answer. Video was obtained from one nearby business, but was "determined to be of no value," according to one PBSO report.
Without Bradley's help, the case fizzled, labeled "inactive due to refusal to cooperate by the victim." Bradley filed the civil suit four months later. Hernandez responded to the civil suit in a four-page filing that mostly consists of him asserting his Fifth Amendment right to not incriminate himself.
Homicide, North Attleborough, June 17, 2013
It's Father's Day and Hernandez hits the club. This time, he's heading to a spot in Providence called South Street Cafe. His group runs up at $273.45 tab—mostly on Hennessy and Sex on the Beach shots with bar vodka—and closes it up at 12:18 a.m., about two hours before he picks up Lloyd, a semi-pro football player dating the sister of Hernandez's fiancee. And pretty much from here, as described by prosecutors, Hernandez follows the same pattern he always has.
He leaves his home surveillance system running, and it shows Hernandez coming home with his fiancee, Shayanna Jenkins. Carlos Ortiz and Ernest Wallace already are there. The video shows Hernandez walking through his living room with an object that's hard to make out, the Associated Press reported. But a later image, captured less than an hour after Lloyd is murdered, shows Hernandez back home holding what sure looks like a gun. While at some point Hernandez realized he should be deleting text messages, he didn't get around to deleting all of the recording done by his own home security system, which he didn't turn off. Here's an image that was shown in court.

Hernandez's attorney says that's something else, maybe an iPad, iPhone, or remote. To which I say, "Awww, the defense lawyer made a funny." Between when he left his home and returned, Hernandez drove all over town while all sorts of devices track his movement. Here's how well Hernandez and Lloyd's movements were tracked, as summed up by ESPN's Lester Munson.
Cellphone technology tracks the route that Hernandez and two others followed in the rental car from Hernandez's home in North Attleboro, Massachusetts, to Boston, where they picked up Lloyd early on the morning of June 17, 2013. Security photography shows Lloyd entering the rental car at 2:32 a.m. Cellphone technology then tracks the rental car south out of Boston to an industrial yard near Hernandez's home, where Lloyd's bloody and bullet-riddled body was later found amid .45-caliber shell casings.
Hernandez had one good idea in here—use a rental car—but he screwed up that part by renting it himself. He defeated the entire point of using a car that can't come back to you by making it a car that 100 percent came back to him! He couldn't be bothered to clean out the Nissan Altima before returning it, and the rental car company found chewed up Bubblicious and a shell casing inside, which eventually got to investigators, who also found Lloyd's fingerprints inside the Altima. And the shell casing was fired from the same gun as those found at the scene.
Then there's all the evidence at the scene. Keys to a Hernandez rental car were found in Lloyd's pocket, tire tracks on the ground were matched to the rented Altima, .45 caliber shells were left behind, and the shoe prints have been matched to Hernandez's Air Jordan 11 Retros. Hernandez's DNA was found on a joint found at the murder scene. So much stuff was left strewn about that the prosecution was able to come up with this beautiful crime scene map for jurors.
And back to the not-so-complete deletion of footage from the Hernandez home security system. The prosecution also has these images of his fiancee carrying a large trash bag of maybe (probably) evidence out of the home. So far, Jenkins hasn't testified so what was in the trash is a guess. Here's the entire video, which also was presented in court.
Holy hell does Hernandez sound guilty! (And that's without his to-do list that includes the odd " send rounds.") But is he certainly guilty? Legally guilty? That's where things get squishy. The murder weapon has never been found, and prosecutors don't have a clear motive. The closest thing to one? According to prosecutors, the two men were at a Boston nightclub a few nights before the murder, Lloyd saw some friends, and "Hernandez left the establishment angry, even though he exchanged no words with those friends of Lloyd," as the Globe reported. And prosecutors weren't allowed to admit into evidence Hernandez's connections to other shootings or text messages Lloyd sent to his sister before his murder saying he was with "NFL." (His sister has said that was a nickname for Hernandez.)
Then there's the difficult dance prosecutors are doing by not directly calling Hernandez the shooter. They've focused on saying that Hernandez orchestrated the killing. Did he pull the trigger? Four men went into the woods that night and three came out. None of them are talking. The case, as guilty as it makes Hernandez look to you and me, isn't perfect. Legally speaking, anyway.
So is this guy going to prison, or what?
Probably? He faces a slew of weapons charges alone in the Lloyd case, and those will likely turn into convictions. And he can be convicted of murder without having been the triggerman, thanks to a part of Massachusetts law that allows for shared intent. After this case, he still has to deal with the charges from Abreu and Furtado's murders. Somewhere in there, something should stick.
But damn did it take a long time for him to get caught, and Hernandez certainly didn't avoid the law through skill. Being a high-profile football player and the access it gave him to great lawyers probably helped. Some less-than-stellar police work helped. Having people afraid of speaking out against him definitely helped. And he got lucky.
Hernandez is connected to the shootings of six people over six years, and walked freely among us until 2013*. The often-quoted Blackstone's formulation says, "It is better that 10 guilty persons escape than that one innocent suffer." Benjamin Franklin later tweaked the quote, changing the 10 to a whopping 100. Logically, Hernandez has been and might continue to be one of those 10, or 100, and it wouldn't change the impulse that says there's no cause to argue with the great minds who say this is how it's supposed to work. On an emotional level, though, that provides little comfort. Justice is at best an iffy proposition, a great idea doomed in its reliance on unreliable humans. Hernandez appears to have benefited greatly from that, so far, and he's far from alone.
All images via Associated Press