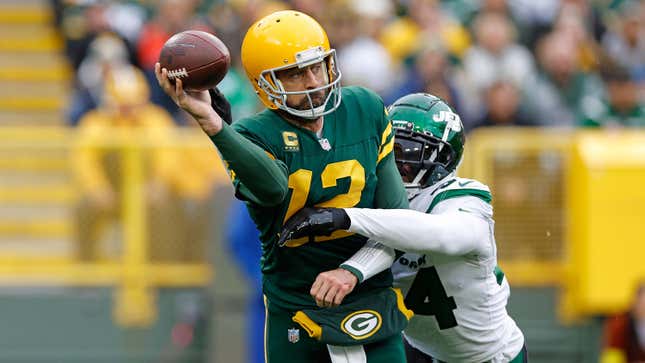 Nathaniel Hackett to the Denver Broncos was thought to be a way to entice Aaron Rodgers to request a trade to the Mile High city. Obviously, that didn't happen, but it's possible his being hired to the New York Jets' staff is an attempt to make Gang Green — with its young stars and playoff-caliber defense — an ideal landing spot for the Packers signal-caller.

Will Aaron Rodgers stay in Green Bay or is he New York bound?
Hackett should be honored this year at the NFL Honors ceremony with the biggest shyster in the game award. He convinced the Denver Broncos he was worthy of being a head coach and failed miserably. Now Hackett allegedly persuaded the Jets into employing him due to his "relationship" with Aaron Rodgers. Like he's got the power to talk Rodgers into leaving the safe, cozy confines of Green Bay for New York and that cantankerous media market.
If the Jets only hired Hackett to help facilitate a trade for the four-time MVP, they might be in for a rude awakening when it doesn't happen. Then the Jets will be stuck with Hackett coordinating the offense and calling plays with Zach Wilson under center. For the outside world, it'd be comedy. For the team and Jets fans, not so much.
Half the football world seems to want Rodgers to follow in the footsteps of his Packers predecessor, Brett Favre. Rodgers isn't exactly built for the prying eye of the New York media. Green Bay is the safest place for Aaron because he can say what he wants without much pushback. The same goes for the organization that let him walk around their facility unvaccinated for nearly an entire season. He's enabled in Green Bay by everyone.
The reality of the situation
The Packers are free to trade him wherever they please, but A-Rod will likely have some say in his final destination. Well, if he truly follows the Favre blueprint, this won't be the last stop for Rodgers. If he does it the way Favre did, he'll wind up in Minnesota to end his career.
In all seriousness, I wouldn't count on Rodgers landing with the Jets. Hackett leveraged his way into another coordinator's job after flopping in Denver as the man in charge. Although Hackett was with Rodgers for a couple of good years in Green Bay, no one gives him much credit for any of that success. And just because it happened there doesn't mean it will translate to NYC.
Imagine the fallout if Nathaniel can't Hackett and get Rodgers to the Jets. For week 1 of the 2023 season, the Jets would trot Wilson out on the field with Hackett calling plays. That's going to be hilarious.