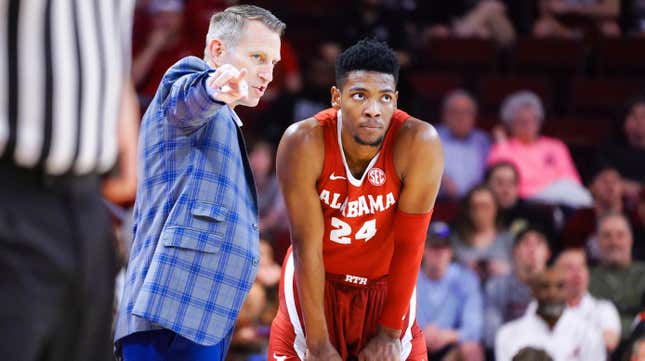 Alabama hoops star Brandon Miller hit the game-winning shot against South Carolina in Columbia last night, amidst chants of "Lock him up! Lock him up!" raining down from the rafters. The chant referred to Miller's presence when 23-year-old Jamea Jonae Harris was allegedly shot and killed by a longtime friend of former teammate Darius Miles with Miles' gun. Miller has admitted to delivering the gun to Miles and being present when the shooting occurred. While both Michael Lynn Davis and Miles have been charged with capital murder, Miller has been treated, thus far, merely as a witness to the events. He's played in every Alabama game since the Jan. 15, 2023, shooting, and Crimson Tide coach Nate Oats only drew more scrutiny Miller's way by his nonchalant treatment of Miller's entanglement in the case. Miller's lawyer issued a statement denying any wrongdoing on Wednesday.
Lots of questions, but no answers
So should Miller play? Should he not? Should Alabama even be playing, given that two of their players were allegedly present at the murder of a young woman? Should the NCAA get involved? How can Miller not be charged with something? How can Alabama not discipline him for delivering a murder weapon to the scene of the crime? And, above all else, what does this do to Alabama's chances come March? Is a national championship still a possibility? And what about Miller's draft stock? 


Her name was Jamea Jonae Harris
You'll notice that one name is never mentioned in the seemingly never-ending dialogue about Miller and Miles and Alabama and basketball: The name of the victim, Jamea Jonae Harris.

Harris was at a club in Tuscaloosa visiting her boyfriend and cousin at the University of Alabama. What happened next is still unclear, but reports say there was a disagreement between Harris' group and Davis and Miles' group outside. When Harris and her boyfriend attempted to leave the club, Davis reportedly danced in front of the black Jeep she was riding in and tried to get her phone number. Miles allegedly texted Miller to bring him a gun left in the backseat of Miller's car. When Miller arrived, Miles is accused of telling Davis about the gun before Davis then allegedly fired two shots into the windshield of the Jeep, Harris was in killing her.

According to Harris' mother, DeCarla Heard, Harris' murder was the direct result of her refusing Davis' advances, saying in a Facebook post, that the gunman "took my baby's life because she wouldn't talk to him." According to Heard, Harris and the other women in her party told Davis and Miles that they didn't want to talk to them, that they had boyfriends, shortly before the shooting. No other motive has been set forth by either the defense or prosecution. Heard said shortly after the shooting that she still hadn't told Harris' 5-year-old son, Kaine, that his mother had died.

Nothing new
This isn't the first time a woman has been executed for the crime of refusing to give her attention to a man that demanded it. As Jamilah Lemieux writes of the murder, "There is no official record of all the women and girls killed for telling a man or boy 'no.' Likewise, no one keeps track of how often women and girls are harmed for refusing the advances of someone who finds them desirable. Yet, these stories circulate often enough for us to know just how dangerous it can be for a woman or girl to exercise her agency when a man declares his attraction."
In 2016, Mic Magazine published a piece titled, "These 14 Women Were Brutally Attacked for Rejecting Men — Why Aren't We Talking About It?" Back in 2018, Jessica Valenti wrote "Refusal Killings Need to be Tracked" after two more women were murdered for rejecting men's advances. In 2020, Essence Magazine did its own list — "Eleven Black Women Who Were Killed for Saying 'No.'" Do your own Google search for "Woman killed for refusing man" and see how many results come up. There are a lot.

So here we are in 2023, a young mother has allegedly been killed by the friend of a D1 basketball player, while two others reportedly looked on (Alabama's Jaden Bradley was also allegedly at the scene), and all sports media can talk about is how this incident affects college basketball. Breaking News: It doesn't.

Harris' death won't affect college hoops one bit. It won't affect gun laws in this country, which is quickly resembling something like a shooting gallery next to the O.K. Corral. It won't affect March Madness or Miller's NBA draft stock or even Nate Oats' job. In the world of sports, women are just the collateral damage of the men who play the games. Harris won't be more than that because it appears that no one in the Crimson Tide's athletic department, or the state of Alabama, or the entire country, for that matter, cares about women more than March Madness or a potential national championship. Too many men don't want the murder of a woman to get in the way of their sports, and too many of us women let them feel that way.

In a few more years, after a dozen or so more women have been killed by men who feel entitled to them, we'll get yet another slideshow from hell. And they'll keep coming. Because at the end of the day, no one is telling boys and young men that they aren't owed anything by women. Including their time, attention, or phone numbers.

And that is what we should be talking about.