Employing a merciless onslaught of Mikal Bridges three-pointers and suffocating defense, Villanova turned a five-point halftime lead into a 25-point advantage in just six minutes of second half play, sending Alabama home in pieces in the process.
The No. 1 seed Wildcats routed the Crimson Tide 81-58 in Saturday's first Round of 32 contest, staving off the embarrassment of another early top-seed upset. Jay Wright's squad relied on a solid first half outing from guard Donte DiVincenzo to maintain a slim lead over Colin Sexton and the Tide before exploding for one of the most efficient halves of basketball played in this year's tournament. Bridges finished with 23 points to pace Villanova; Sexton was the only Alabama player in double-digits Saturday afternoon, finishing with 17 points.
Bridges blossomed into a full-on star this season, his third with Villanova, thanks largely to a marked improvement in his long-range game. He's now taking 6.0 treys per game and converting 2.6 of them, making him the ideal kind of versatile three-and-D player needed in Jay Wright's high-tempo attack. The 6-foot-7 junior nearly doubled his scoring average in 2018 despite picking up just three more minutes per games, going from 9.8 points per game last season to 17.6 this year as the Wildcats's No. 2 offensive weapon—they still have Big East player of the year Jalen Brunson, after all.
But against Alabama, both Brunson and Bridges were uncharacteristically silent in the first half, with the lanky junior shooting 0-for-5 from the field and securing just a single rebound. This allowed the Tide to hang around
G/O Media may get a commission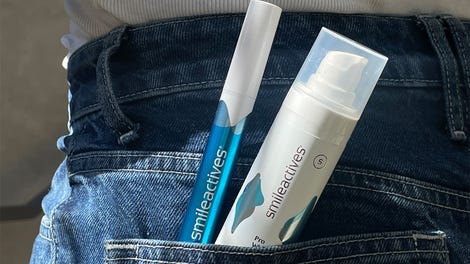 58% off
Whitening Powerhouse Pen & Gel Duo
Come the second half, thanks to either their knack for drama or Jay Wright chewing their ass out during the break, Bridges and the Wildcats began playing like a championship team, starting with their defense. Villanova stuck with the man defense it employed during the first 20 minutes, only this time, they forced the Tide offense to become a stagnant, stationary dribbling mess, forcing the Alabama guards to face the help-side rotation at the rim or take a contested three-pointer. Because Villanova rolls five-deep on defenders capable of at least slowing down a guard like Sexton, the Wildcats had no problem switching their screens, leaving the Tide looking confused, out-of-synch, and vulnerable. Alabama's first made field goal didn't come for a full five minutes; by then, Bridges' work was nearly done.
The Malvern, Pa., native was unconscious for nearly every minute he was on the floor in the second half. He opened the Wildcats scoring with a jumper just 14 seconds into the half, then followed it up 30 seconds later with a trio of made free throws. Then, from 17:16-14:30, he lost his mind. After a dunk, Bridges put on the following display, which, mind you, came after a 15-0 run by Villanova, draining three consecutive long balls and notching a perfect pin block all within 60 seconds of regulation play.
After adding another three-pointer for good measure, Bridges was mercifully pulled from the game with 13:31 remaining when he picked up his third foul—by then, with Villanova up 23 and the defense still holding a vise grip on the Tide offense, Alabama's tombstone was carved and the hole was dug. The Wildcats will now face the winner of tomorrow's West Virginia-Marshall contest in the Sweet 16.