Soccer is a game of goals, so naturally almost every transfer window is defined by the movement of the players that score the goals. This summer has been unique in that front, though, as a clutch of mostly young, established and/or wildly promising strikers have all been seemingly available for the right (exorbitant) price, just as a handful of big teams have been looking to beef up their attacking ranks at any expense. We've already seen a couple big-money moves with Alexandre Lacazette going to Arsenal and Romelu Lukaku heading off for Manchester United, but Chelsea snapping up Álvaro Morata, a deal that is by all reports all but done, should spur on a new flurry of expensive striker signings, as the clubs still participating in this game of musical chairs try not to be left without a fancy striker when the music stops.
Let's not overlook the Morata deal itself, though. Morata is a good, versatile striker who's proved that he can be a very productive player in some of the biggest teams and situations in the game. He was La Liga's most efficient scorer last season, with the best non-penalty goals-per-minute rate in the league. His 15 goals also made him Real's second-highest scorer in league play even though he only started 14 matches. Before that at Juventus, where he played intermittently for two seasons for current Chelsea manager Antonio Conte [UPDATE: Morata was purchased when Conte was Juve manager but never played under him], he didn't get all that many minutes but still came up big, especially in the Champions League.
Now, it is maybe a little risky for Chelsea to peel off a cool €80 million for a 24-year-old striker who's never been a regular starter and whose scoring record has probably benefitted from both his reserve status (it can be easier to score goals as a late sub when either the game is already out of hand or the team is in all-out attack mode to grab a result) and his presence on superteams that set up and score goals for fun. And it remains confounding how the Blues have let this Diego Costa situation deteriorate so far that they're willing to give up on the incredibly dynamic and well-fitting world-class striker they already have in exchange for Morata, who will be lucky to ever be as good as Costa already is today. Nevertheless, Morata does have all the tools necessary to be a legit world-beater himself in the right set-up, and has every chance of doing so at Chelsea.
It's the fate of Morata's temporary teammate Costa that will probably be the next of a succession of dominoes to fall in reaction to this move. Now that Chelsea have officially gotten a top-quality new forward—something that was a little touch and go there for a minute after United swooped in and stole Lukaku out from under their nose—they can go ahead and find a new home for the disgruntled Costa. Atlético Madrid are big favorites to re-sign their former star, with Costa so desperate to get back to Madrid that he's willing to either sit out the first half of next season or spend it on loan somewhere due to Atleti's transfer ban. He had been reportedly flirting with another of the contestants in this summer's New Striker Sweepstakes, AC Milan, but Chelsea's loss will likely be Atlético's gain. If Atleti sign Costa for anything under €50 million, which seems likely, that move could prove the steal of the summer.
With both Costa and Morata—both players AC Milan have been rumored to be interested in—off the table, the resurgent Italian giants will need to turn their attention toward another forward to complete their offseason overhaul. Luckily they appear to be on the brink of bringing in Torino breakout star Andrea Belotti. Belotti going to Milan in conjunction to everything else probably means the other name linked with a possible move this summer, Borussia Dortmund's Pierre-Emerick Aubameyang, will stay put.
G/O Media may get a commission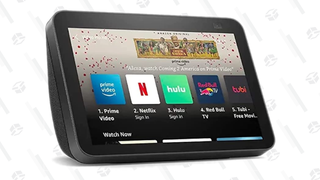 Once AC Milan get their shiny new goal man, that will probably spell the end of the big clubs seeking a starting striker this summer—though it won't necessarily mean the end of all the big moves. In fact, the most expensive transfer of all, and what would almost certainly be the new record fee for any transfer, could still be in the cards. With Morata gone and with no major moves thus far in the window, back-to-back reigning Champions League title holders Real Madrid have to be thinking about splashing the cash on a goalscorer. This should be the moment for the Blancos to put on the full court press for Monaco wonderkid Kylian Mbappé.
The 18-year-old Frenchman has been linked with Real all summer, a pursuit by the Madrid club that dates back to when Mbappé was 14. Mbappé and his handlers are as ambitious for his future as they are savvy about realizing their lofty plans. They have made it clear that Mbappé expects to play at one of the world's elite clubs in the near future but also knows that, in order to thrive once he does get on that stage, he'll need consistent playing time in the short term to make good on his immeasurable potential.
While Mbappé wouldn't be the unquestioned starting forward in Madrid that he is currently in Monaco (not when the former is still built around Cristiano Ronaldo in a system that requires a striker with the particular qualities of the selfless, creative, support-oriented Karim Benzema to get the best out of Ronaldo), it would still be hard to pass up on the opportunity to go and fight for a place on in that team when it's so clearly on offer.
Real have lost Morata and James Rodríguez so far this summer, and will need to account for the substantial minutes those players ate up with somebody of similar quality if they are to be something close to what they've been the past couple seasons. With Real's heavy rotation policy, the zillion games on their schedule, the injury-prone nature of Gareth Bale, and the rest Ronaldo will regularly see as manager Zinedine Zidane tries to keep him healthy and fresh all year, Mbappé would surely be in line for a lot of playing time even as a backup for Real. And who knows? Perhaps he could beat out Benzema and become the starter before season's end.
Maybe Mbappé wants at least another season as a surefire star of a team and winds up turning Real down. Regardless, it feels inevitable that he'll be Madrid's soon. It wouldn't be a surprise at all if the club convinces him to begin his Spanish excursion now rather than waiting for it in a year or two or going to the other club reportedly moving hard for him, PSG, and getting trapped there and never being able to get to one of the Spanish giants à la Marco Verratti.
(As an aside, the biggest winners in this whole thing might be a club that didn't make any big striker move: Tottenham. Spurs' big English rivals all have expensive, young strikers on the books. Tottenham fans should jump for joy over this, since it should greatly increases their chances of keeping Harry Kane home for at least the foreseeable future.)
In total, this transfer window has already or will probably see the pricy sales of strikers Morata, Lukaku, Lacazette, Costa, Belotti, and André Silva, with a solid chance of adding Mbappé to those ranks—not to mention wide-forward Neymar who probably won't move but might. And there's so much time left in the window, as it's only mid-July. We can predict that the Morata transfer will probably start a chain reaction of striker deals, but there's no telling exactly where this all ends up.