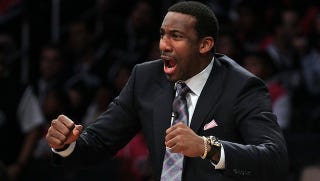 Ever since the final round of negotiations ended unsuccessfully on Monday night, the NBA players have been goin' rogue in the only way that they know how: With Twitter tirades! Oh, and also with media circuits to help push their personal sneakers so that their bank accounts stay flush throughout the lockout.
Amar'e Stoudamire, for his part, has been out slinging his new Nikes, the Air Max Sweep Thru. Even Paula Deen has worn them. He was on Fox & Friends today, where he successfully refrained from making any Hitler-Obama comparisons; he went on Scott Van Pelt's and Ryen Russillo's ESPN Radio show, where he said that NBA players could "go years" without the league; and he went to a Foot Locker near Madison Square Garden, where he told the New York Post that the players could start their own league (a sentiment he also repeated on ESPN Radio). From the Post:
"If we don't go to Europe, we're going to start our own league, that's how I see it," the Knicks forward said. "It's very serious. It's a matter of us strategically coming up with a plan, a blueprint and putting it together. So we'll see how this lockout goes. If it goes one or two years, we've got to start our own league."

Stoudemire...declined to say if there's financial backing in place.

"We want to play NBA basketball but if it doesn't happen, what are we going to do?" Stoudemire said. "We can't just sit around and not do anything. We've got to figure out ways now to play basketball at a high level against top competition and have fun doing it, so that's the next step."
And from the Van Pelt/Russillo show, courtesy our friends at Sports Radio Interviews:
We can go years man. We've been preparing ourselves for this lockout for three years now... It's humbling in a way for you to be able to humble yourself and really learn how to budget and spend your money. A lot of times when you're bringing in a certain amount of income, you spend out of your means. I think now it's going to humble the guys to understand it's very important to save, very important to budget.
It is, we presume, especially important to budget if one is not a franchise player with a shoe deal. (That's where the "sacrifice" talk comes in, I suppose.)
This kind of talk hasn't inspired much more than a few eye-rolls, especially since the optimists' opinion seems to be that the season will start some time in early December—which is about two months before most of the general public usually takes notice of the NBA, anyway—and the optimistic pessimists are shooting for February. (The cameramen are just fighting.) So for now this is just a lot of talk, and we'll hear a lot more of it over the next few months, because that is all players who aren't going overseas will be doing. That, and selling shoes.

Knicks' Stoudemire says players will start own league [NY Post]
Amar'e Stoudemire Believes Players Could Start Their Own League, Confident in Solidarity [SRI]