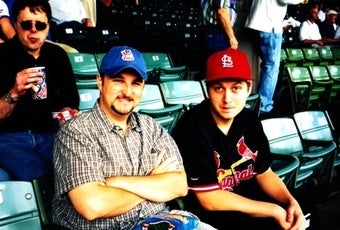 If you've read Are We Winning?, you know my friend Mike, a Cubs fan who goes to the game with my father and me and worries about his young son becoming a Cubs fan. Well, he still exists.
Friday night, I have a a reading at The Book Cellar in Chicago. If you're in the Chi-town area, you should come:
Book Cellar
4736 N. Lincoln Ave.
Chicago, IL 60625
Friday, May 28, 2010
7 p.m.
We'll all be drinking afterwards too, so do come. This is all based around the Cardinals-Cubs series at Wrigley — the book, which you should buy, revolves around one Cards-Cubs game there in September 2008 — that begins on Friday. It's the first Cubs-Cardinals series of the season, and neither team is blowing the doors off the place so far. But the Cubs look in serious disarray. I talked to Mike about how the Cubs are doing, about Eddie Vedder's shifting fandom, about that bachelor party Daulerio put together and about his role in the book, which you should buy.
I generally use you as a gauge for how Cubs fans are feeling. (You were the first person to let me know how disliked the 2005 Cubs really were, long before their late-season collapse.) So, how are you feeling about the Cubs? Is everyone distracted by the Blackhawks?
There's not a whole lot to be optimistic about, but at least this team isn't as full of jerks as was that 2005 team. Look, the Cubs as currently constituted probably missed their opportunity to go to the Series. The fans now are resigned to hoping for a little luck — for several players to bust out and have inexplicable, career years — which is really a return to how most of us rooted for the Cubs pre-2003. Times have changed, and that kind of blind hope really doesn't cut it for me anymore. Maybe that's why I haven't committed to this team, nor have I really been able to shake off seven years of blown chances. As for the Blackhawks, there's an awful lot of people jumping on the bandwagon right now, but I don't get the sense hockey will ever be anything but the fourth most popular sport in town.
Is there a way to fix these guys, or should they blow it up and start over?
The Cubs are in a tough position with high-priced untradeable parts like Carlos Zambrano and Alfonso Soriano. We all knew when they signed Soriano that the back end of the contract would be an albatross, and even though he's having a solid season, there are numerous better uses for that money. And it's only going to get worse because he still has four years on his contract. As for Zambrano, he's always been portrayed as this loose cannon — yes, he has thrown the occasional temper tantrum — but outside of the last two seasons, he's been pretty dependable on the mound. The funny thing is, even with Zambrano contributing next to nothing this year, the starting rotation has been solid. It's middle relief and aging stars like Derrek Lee and Aramis Ramirez who have weighed the Cubs down. You have to hope — there's that word again — the guys you once counted on to carry the team can eventually bat better than .160. It's also probably time for Lou Piniella to call it quits. I just fear the front office will promote Ryne Sandberg as his replacement; not because it's the right move (it may be), but because ownership thinks that's what fans want. It's not what we want. We want a championship.
What's the mood with the new owners? Are they regular presences? Do they mean no harm? Do you wish they were all eight foot tall Russians?
I thought the Tribune -– particularly in recent years -– got a bum rap as owners. The company really opened its wallet in the last decade, and it showed in the product on the field. That's all fans can hope for with the Ricketts family. Don't cheap out. The new owners are fans of the team, but we shouldn't kid ourselves; they're here to make money. There have been some controversial park signage deals, and who knows how Wrigley will be impacted by planned improvements that I'm sure are being designed to help the bottom line. That's all static to me. Do what you want, but spend the damn money to bring in talent. It's great that they come to the ballpark, but I don't need that. A faceless, monolithic corporation is fine by me if the checks cash.
What's your favorite Cubs team of all time? Oh, and does anyone ever play that Eddie Vedder Cubs song anymore?

I can't really say 2003 because my gut still hurts to think about it. So I'll go with 1989. The subplots of the playoff series, particularly how the two first basemen -– Mark Grace and Will Clark -– figuratively carried their teams was just wonderful to watch unfold. And the pleasant surprises, from Jerome Walton to Dwight Smith to Mitch Williams, made that team fun to watch. And what self-respecting Cubs fan can forget the June 1989 incident when Grace threw a punch at Cardinals' pitcher -– and former Cub — Frank DiPino that landed him on DL? I was so proud that Grace went after one of the hated redbirds, even if he did dislocate his shoulder, that I hung in my junior high locker the newspaper clipping of Grace throwing that roundhouse punch. In the end, '89 was my favorite because it was the first good Cubs team I remember rooting for.
As for Vedder, you know how much I love the Cubs and Pearl Jam, but that song is just about the worst abomination ever. May it and "Bu$hleager" never be played again.
One of the subplots of the book is your ongoing campaign to make sure your son Jack is a Cubs fan. How's that going? There's still time to make certain your son has a happy life by turning him into a Cardinals fan.
I'm more worried about him becoming a White Sox fan. Like many Cubs fans, I'm indifferent toward the Sox. I'm worried, though, that indifference won't be a strong enough deterrent. Unless he cannot resist the pretty red bird on the bat, I'm quite confident Jack will not become a Cardinals fan. I just have to prevent him from liking soccer. That's really all a father can ask.
By the way, uh, you weren't pissed about anything in the book, were you?
I don't know. Let's see if anyone gets upset at me for something I said in the book. Then I'll just say you misquoted me. Oh, and that Grace/Vedder picture you say is hanging in my bedroom — totally made up.
You survived my bachelor party. Deadspin readers are assuredly starving for inside stories. Got any? (Note: Please don't have any.)
Let's just say AJ made some promises upon which he did not deliver.