Well, that was fast. Today, Tottenham Hotspur have announced that André Villas-Boas and the club have mutually agreed to terminate his contract on the heels of a 5-0 home routing at the hands of Liverpool. This is his second mid-season sacking in three seasons, and we wouldn't be surprised if he never wanted to step foot in London ever again.
The move isn't exactly shocking. After a fairly strong start to the year, the pressure has steadily grown with each successive disappointing performance. Still, though, you'd think that with this season's general craziness, there would be a sort of moratorium on an early sackings, until there was more evidence of who's good and who's bad. A penny for David Moyes's thoughts right now.
At least early on there was a sense that this new squad, which sold off superstar Gareth Bale and introduced at least seven important players who were new or returning from loan, would take a while to gel. Despite not playing very consistently, they still find themselves only five points outside a Champions League berth. Plus, there was AVB's maiden season with the club, which saw Spurs earn their highest ever Premier League point total.
If anything this proves once again how cutthroat this new Premier League really is. There are now multiple rich clubs outside of the traditional big four who have enough money to field a team of very good to great players and will expect top four results. According to Forbes, Tottenham are the 11th most valuable soccer club in the world. With that status and summer transfers reportedly of over £100 million, the team's board was not content with hopefully fighting for the fourth spot.
G/O Media may get a commission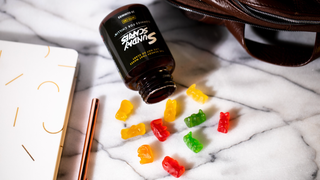 10mg CBD Gummies (22-Count)
The names currently bandied about as his successor further drive home that point. There is the odds-on favorite, the legendary Fabio Capello, who currently manages the Russian national team. Then there are a couple up-and-comers like Ajax's Frank de Boer and Swansea's Michael Laudrup.
Whoever gets the job, here's to hoping that Spurs can start playing up to their potential and keep this season as exciting as it has the chance of being.
Photo via Getty