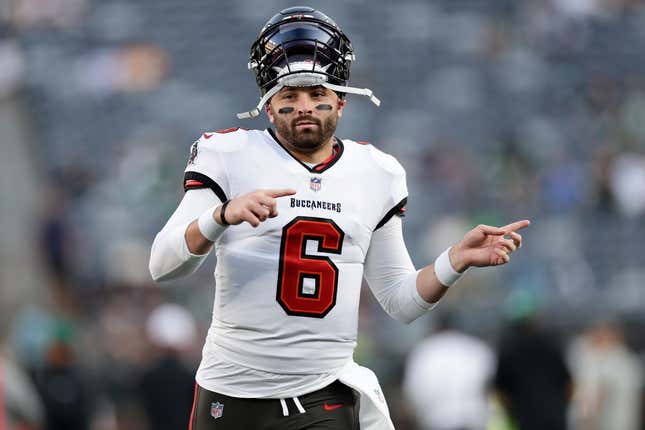 Baker Mayfield didn't do anything wrong. The crime that keeps getting committed is done by the owners, general managers, and coaches who keep giving him endless opportunities. If Mayfield can keep being named a starter in the NFL, then Nathan Peterman will always have a shot at being on a team's payroll.
Which NFL QB will be the first one benched? | Agree to Disagree
"Baker's our starting quarterback, Kyle's our No. 2," said Tampa Bay Bucs head coach Todd Bowles on Tuesday about the quarterback that has more memorable commercials than NFL moments. "We love everything Kyle has done. And he's gotten leaps and bounds better than he was in the spring and he's continuing to get better and we're excited about him. But Baker's our guy right now — experience-wise and just understanding the playbook just a little bit better. But Kyle's on the come [up]. But we like both guys. We like where we're at. Baker's [No.] 1, Kyle's [No.] 2."

Before Tom Brady, there was Jameis Winston. After Tom Brady, there's Mayfield. Labeling that as a wild ride would be disrespectful to what Bucs fans have had to endure.

The No. 1 pick in the 2018 NFL Draft has already crashed and burned with the Cleveland Browns, Los Angeles Rams, and Carolina Panthers. At some stops, he was the problem — 21 interceptions in 2019. At others, he may have been given a raw deal. But in the end, Mayfield is the common denominator — he doesn't have a signature stat or play to hang his hat on, sans one playoff win — despite what he says.
"No. I expect to be the starter," he said. "I know how talented I am. I know what type of leader I am. Now it's time for the real thing. We're about to have the real games and everybody's excited here."
Race is impossible to ignore in Mayfield's story, and not just given the moment — there's history to prove that this is unchartered territory. Week 1 of the 2023 NFL season could see as many as 13 Black starting quarterbacks — which would be the most in NFL history — just months after the Super Bowl featured two Black quarterbacks. At a time in which Black quarterbacks are experiencing a moment in the NFL Draft, as starters, and in the Super Bowl, here comes the decision to start Mayfield as he's on his fourth team to remind us that white quarterbacks always find a way to stay gainfully employed in this league.

And then there's the historical aspect — which is a slap in the face to every Black quarterback that's hoisted the Heisman. Since Andre Ware became the first Black quarterback to win the award in 1989, there have been nine more to claim the honor.

None of them have been allowed the same opportunities as Mayfield.

Zero.

Charlie Ward didn't even get drafted and had to go play in the NBA due to racism. Troy Smith started 8 games in his NFL career. Cam Newton only played for two franchises, even if his second stint with the Panthers was forgettable. Injuries derailed Robert Griffin III's career. Jameis Winston has also only worn two uniforms in his NFL career. Lamar Jackson and Kyler Murray are still with the teams that drafted them. Bryce Young will be the Week 1 starter in Charlotte. And Caleb Williams still has a year of college left.

Beyond making the point that most, if not all of them, were better college quarterbacks than Mayfield — on top of some of them also being overall No. 1 draft picks — most of them haven't had to need as many opportunities as Mayfield, as they've been more productive on the field.

Newton was Rookie of the Year and won an MVP. RG3 also has a Rookie of the Year trophy — over Andrew Luck. Winston has better numbers, despite throwing 30 interceptions in 2019 — nine more than Baker. Jackson was a unanimous MVP and has the second-highest per-year quarterback contract in the league. And Murray has experienced better highs, despite some of the lows in Arizona.

When compared to his peers, Mayfield is the runaway worst of the bunch. Jackson won the Heisman the year before he did. Murray won it the year after accounting for more total yards and more total touchdowns at the same school. And Joe Burrow won it the year after that, as they were part of a four-year run that was dominated by quarterbacks.

You could make the argument that Mayfield has been given more grace as an NFL quarterback than any other Heisman winner not named Tim Tebow — regardless of race. Nonetheless, he's the best option the Bucs have as he went 8-for-9 for 63 yards, one touchdown, and no interceptions in his first preseason game with Tampa Bay, as Kyle Trask was his only true competition in training camp.

"All-around — he can throw it, he's very smart, he understands football very well, he can read defenses, he's very good for the scheme we're using — as is Kyle, I'm not denying that either," Bowles said about Mayfield. "But Baker's the guy we're going with right now and we're comfortable with that."
Baker Mayfield isn't the right choice in Tampa, he's the "white choice." He's experiencing a level of privilege we've rarely seen in the NFL for someone with similar accolades on their resume. But to be fair to him, he's not the problem. The unfair chances people with his skin color always get are.